My sister called me up from Wisconsin and said she wanted in this upcoming Team Big Trouble shark trip. I told her it was going to be rough, possibly boring at times, round the clock trip with many cold nights and bug filled days and that under no circumstances was I getting off the beach for anything unless it was absolutely necessary. To make a long story short she told me she was down, and on the 15th of October I picked her up in Wilmington NC at the hotel room she was staying at to begin the trip.
That first day of the trip the surf was rough everywhere with 7 to 9 foot endless walls of waves breaking back to back on the beaches. While waiting for the waves to lesson later on that evening I took her on a little site seeing trip as this was her first time to NC. We walked the Wilmington pier while talking to surf fisherman with the chilly wind beating across our faces and marveled at the monster waves relentlessly rolling into the shore-line. We then took the south-port ferry to Oak Island where we looked for a suitable location to fish.
OAK ISLAND: (Two Tigers; One Sand-Bar)
. Finally we settled on a spot I have fished before with success. Tina was a trooper through the start as she enthusiastically helped me set up a four rod spread on the beach through a light sprinkle. The rough surf and high waves made deploying baits in a yak a little tricky but all rods were out and ready to go slightly after sun-set the first night of our trip.
A little later in the evening the Duel 12/0W started a slow but steady roll. Before you know it one thing led to another and Tina landed her first ever land based shark a 6 foot6 sandbar.
SHARK 1 PIC: :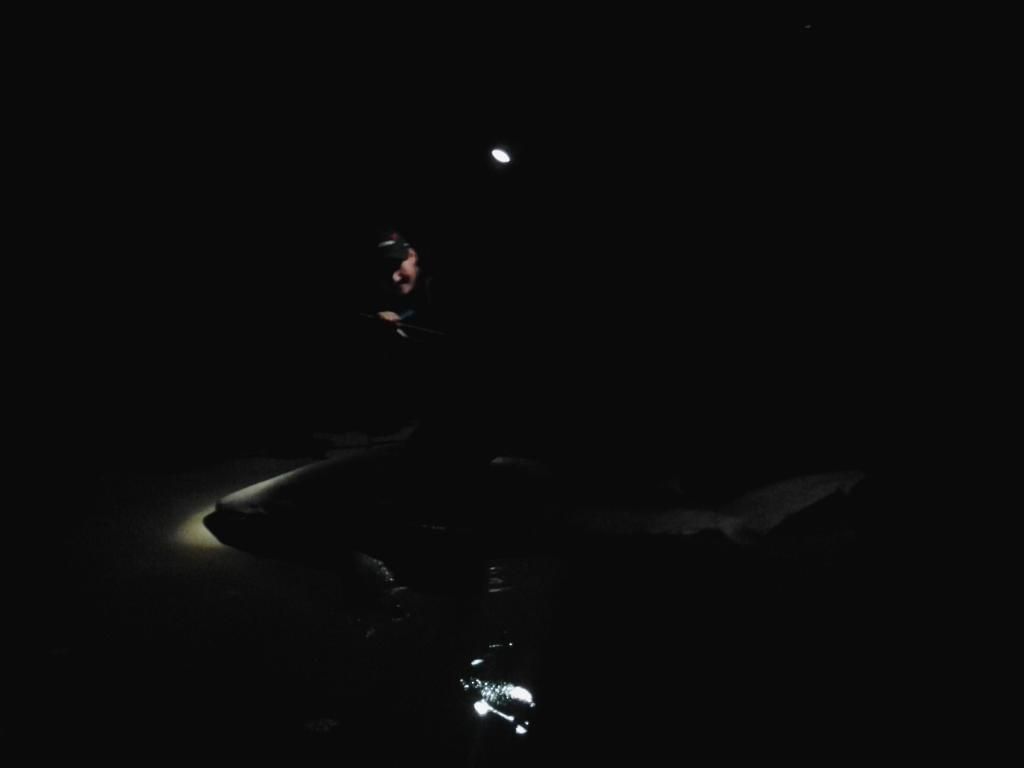 Later on that evening another slow and steady roll began and the reel screamed for a brief moment or two as I set the hook. Second Shark of the night was a 7 foot 9 Tiger Shark on the beach. Picture was a little hazy but here it is. A Nice set of sharks to getting the trip rolling and off to a good start.
SHARK 2 PIC:
All was quiet throughout the next day. The next evening Tina started things with her first ever Tiger Shark measuring 7 foot 6 . Not more than 24 hours into fishing she had already landed two sharks. The shark fought her viciously as she wrangled it in. I think the shark fishing addiction started for her the moment she started fighting this shark. Unfortunately we did not get a good picture of this nice Tiger.
SHARK PIC 3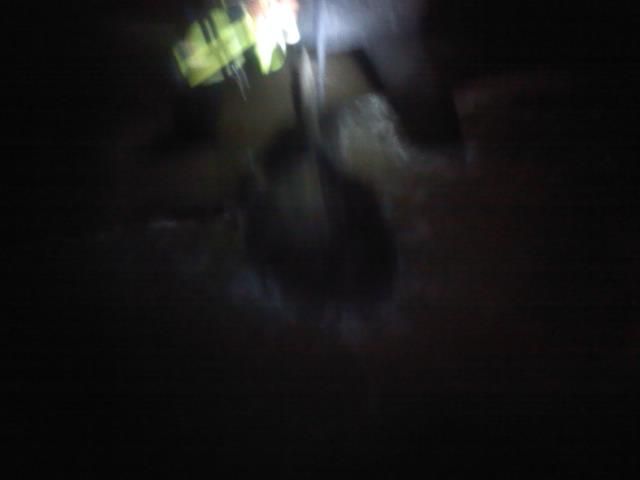 The next bite was a monster something, either stingray or school bus your pick. I gained about one inch per every 10 seconds of the fight. Finally after 45 minutes at about 70 lbs of drag on the ATD 130 I started to make headway and gain 10 inches every 10 seconds or so. Mistake was I tried to hoss it in (bad decision) when the mono popped due to the wear and tear of the abrasion on the sand-bar. Oh well still early in the trip, but was a fun fight. Check out this Rod bounce; I have never experienced anything like it.
VIDIO: To be posted at Later Date.
The following morning the vehicle would not crank and ended up needing a jump start, After starting it we took it to a Triple A + Shop in Wilmington using the South Port Ferry for repair. While the vehicle was being repaired Tina and I met up with Greg and made plans for the next day. We ended up watching a movie and crashing out in a hotel room waiting for the vehicle to be repaired. It was really cool having Tina on this trip; she can hang with the best of them. Almost like having a mini – me along. It was awesome to have a little down time to catch up on things. Last time we saw each-other in person was almost 9 years ago.
FORT FISHER: ( Two Tigers, Two Duskies, Three Sand Tigers, One Black-Tip, Five Sand-Bars,)
9 am the next morning we picked up the vehicle; got loose ends together; linked up with Greg and made it to the specific location where I wanted to fish just prior to 1500 hours. I had a hunch that this specific location held monster fish in early June when we landed an 8.5 Fat Tiger there. Fishing was slow at first and to top it off we were fishing in the thick of a surf fishing tournament at this location. Thankfully John had gotten to the spot a little earlier and staked out some ground. Despite the difficulties we determined to stick it out and not move. Not much was biting during he day-time. John did manage to catch this though:
PIC: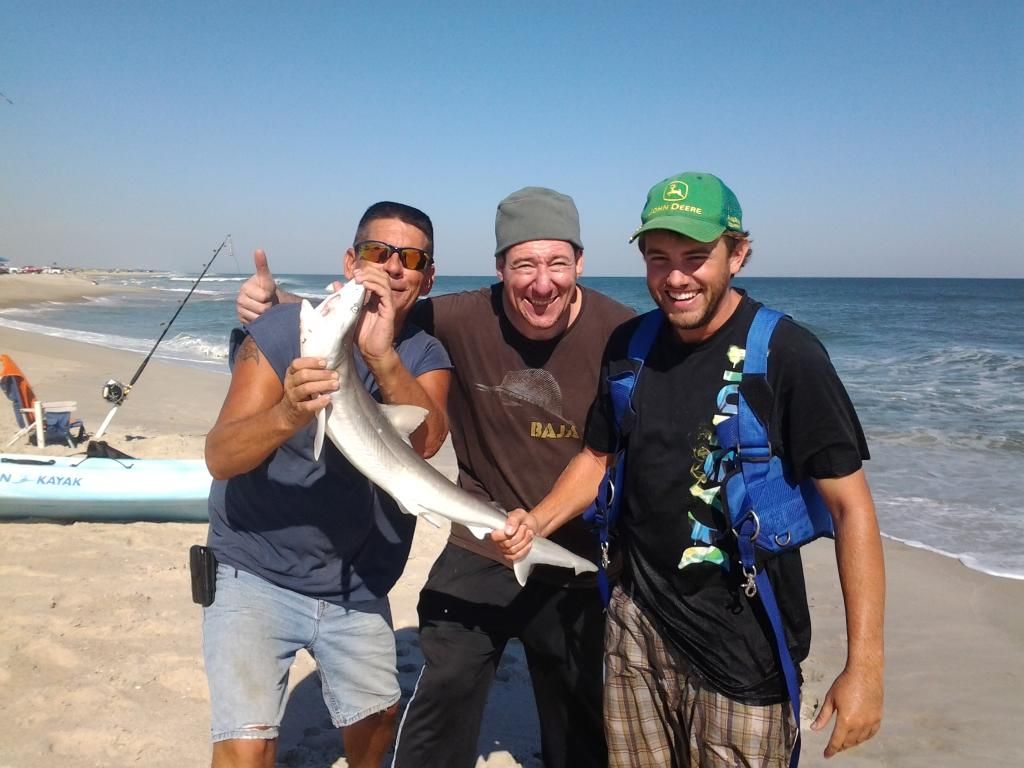 The next Day Tina managed to hook up with a nice 6 ft 6 sandbar and a 4 ft 9 Blacktip. Great Job Tina. She is now rocking at this point at 4 sharks.
SHARK 4 PIC: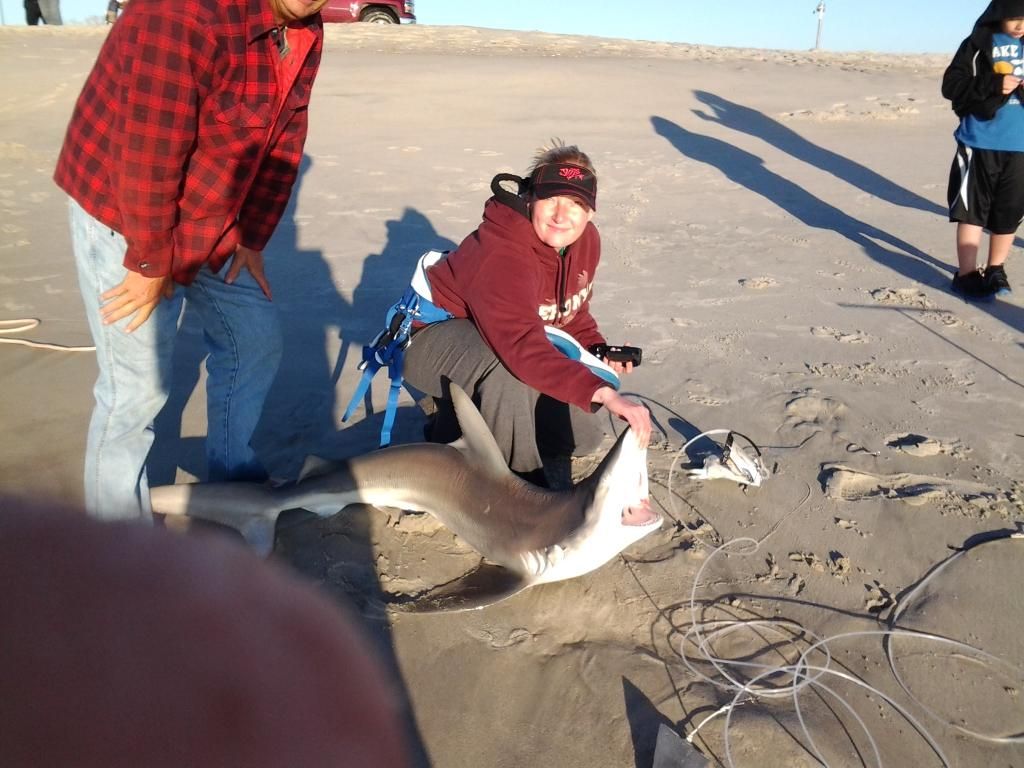 SHARK 5 PIC: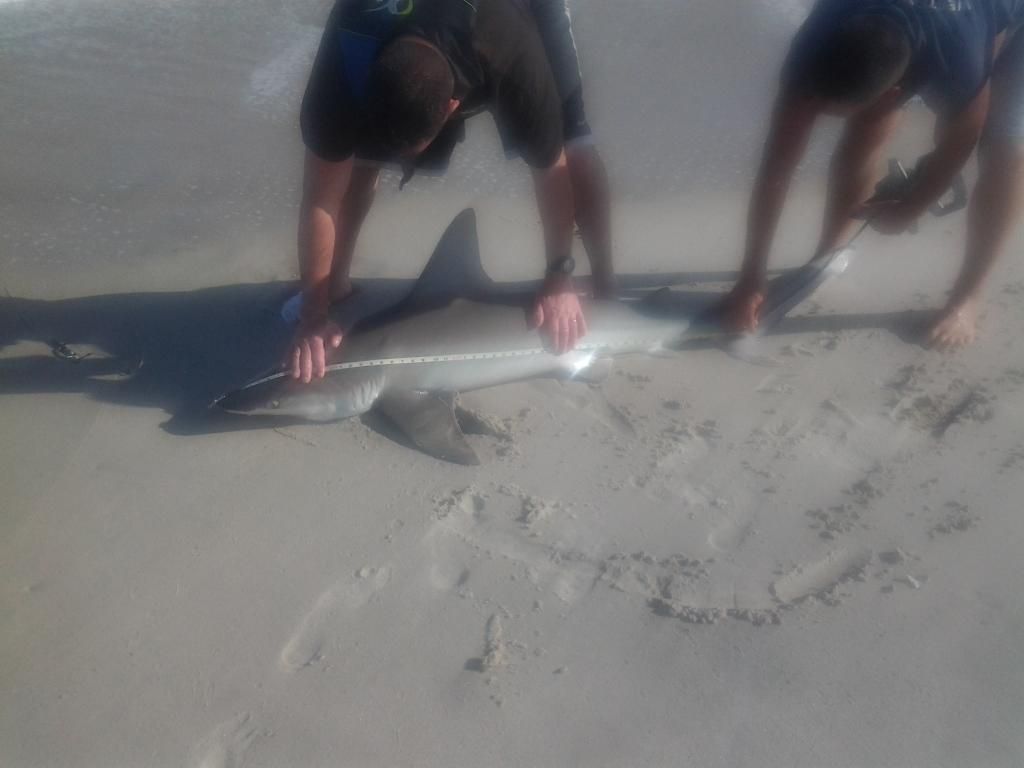 The following evening while Tina was making an ICE Food Run Greg had his 12/0 Take Off. We knew it was a nice shark. He fought it in for 20 minutes. Turned out to be a 6 foot 4 Sand-Bar.
SHARK 6 PIC: NONE; Video to be posted.
Later on the next morning Tina Landed her 5th Shark of the trip. She reeled in a 6 ft 6 Sandbar.
SHARK 7 PIC:
The following morning the bite was on. A shark took off on the ATD 130 like it was going out of style. He just would not cooperate and then got lazy on us. I think this was not his first rodeo as he decided to roll up into the line, and then roll up into the line a good ways beside it. Once I eased him in he ended up being an 8 ft 5 Tiger.
SHARK 8 PIC: I think neatest coloring of all tiger sharks caught this trip.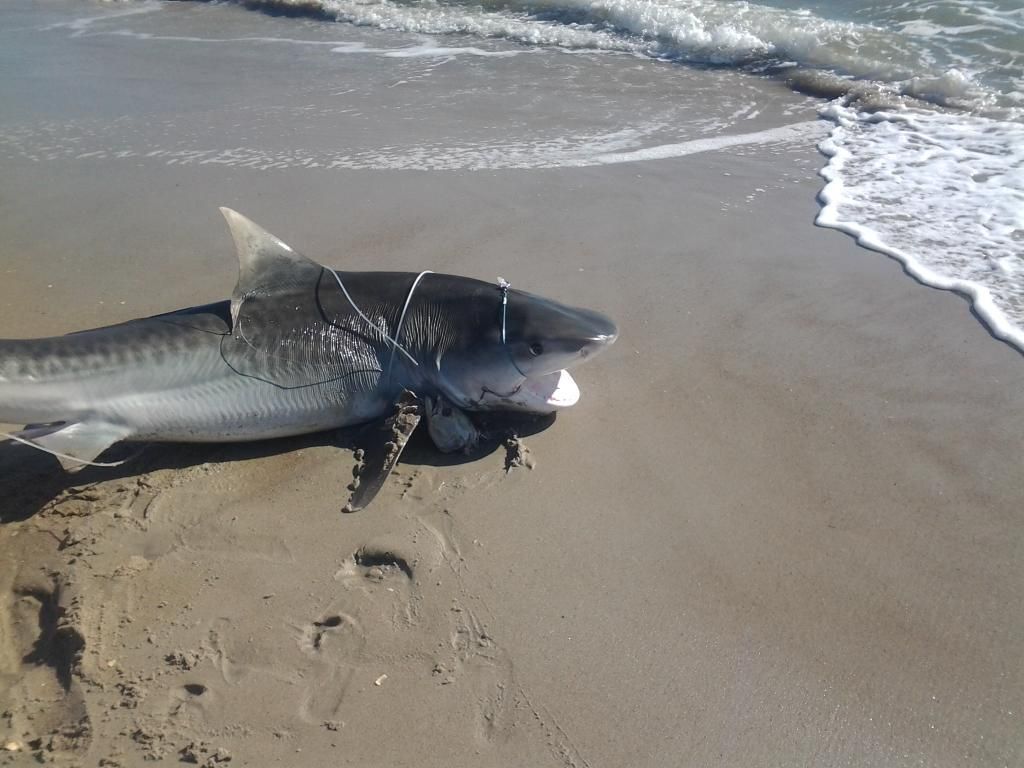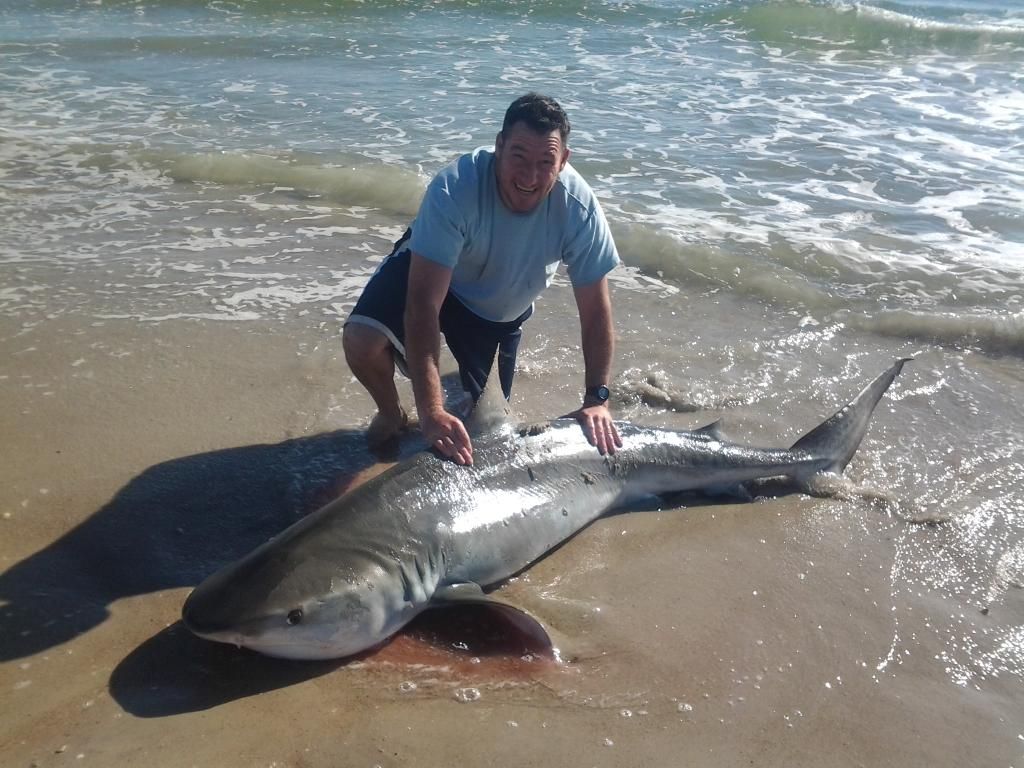 The following Night we had our first Double Header. Matt had just joined us for the fun and had to leave the next morning. The 12/0 Penn Senator fires off. I grab the reel. I was going to give it to matt but he had serious complications due to harness issues. As I was mid way through the fight Greg takes off as the ATD 130 screams, he throws 70lbs of Drag on it and it slows it down to almost a screeching halt. Greg ends of landing his first and his shark is hanging out in six foot of water while we are waiting to land mine. This shark was no match for the 20lbs of drag the 12/0 gave to it; but it never surrendered and peeled off drag a couple of times at max drag. Mine 6 ft 9 Gregs 6 ft 6.
SHARK 9: Just Video; Sorry You get me racked out instead during the little downtime we had. Think this is day 2 Oak Island. Surf was crazy to yak.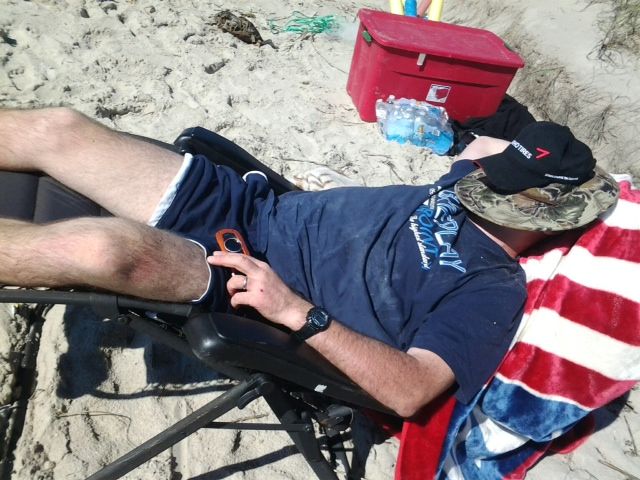 OK Found Shark Number 9:
SHARK 10: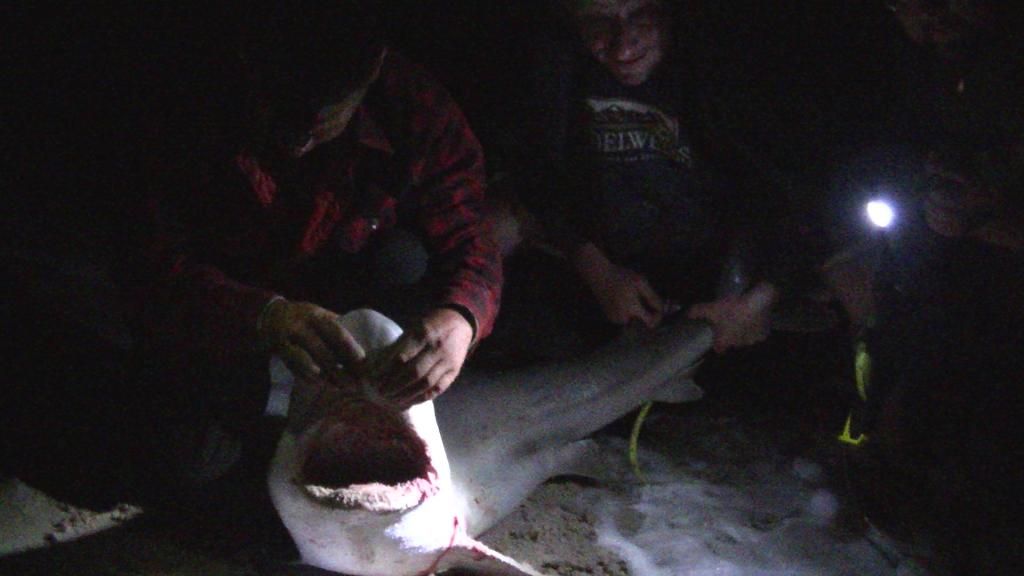 All was quiet throughout the Night. The next morning Tina and I took a walk to Bald Head Island. John told us it was a four mile round trip; Ya Right try four miles one way but we made it. Just as we got back my Duel 12/0 started a gentle roll. I grabbed my harness and about 20 minutes later I got my PB 9.1 PB Tiger . So far Four tigers for the trip. Here are some pics.
SHARK 11 PICS:
A.
B.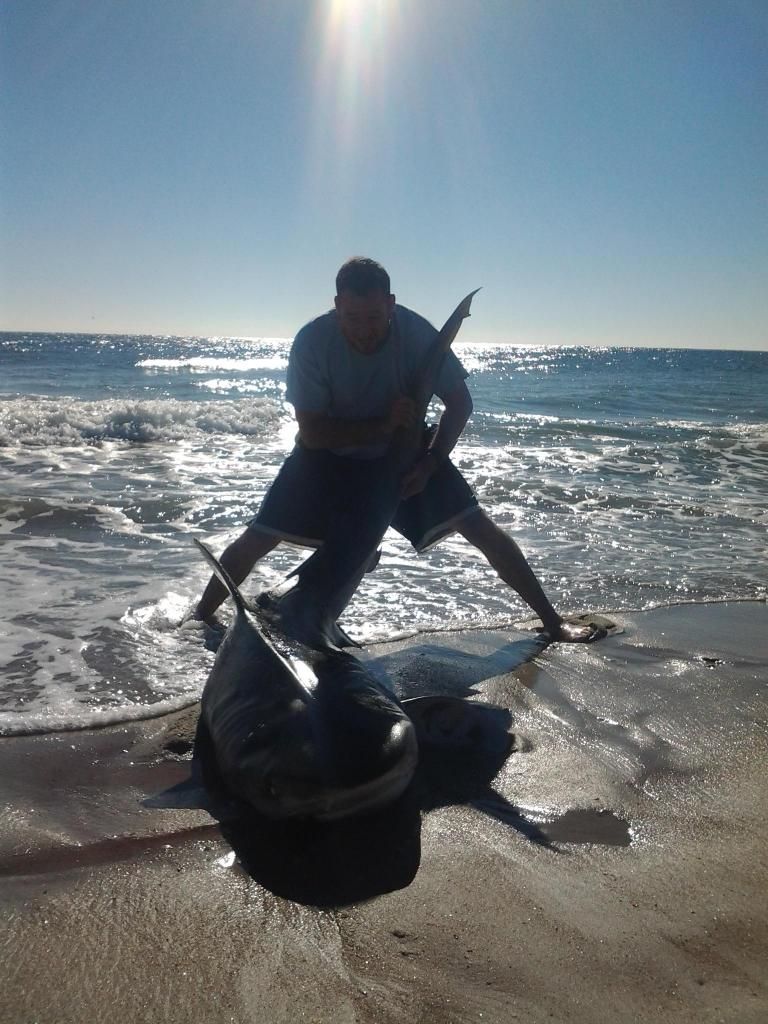 C. Click on Image (Jaws Chomp)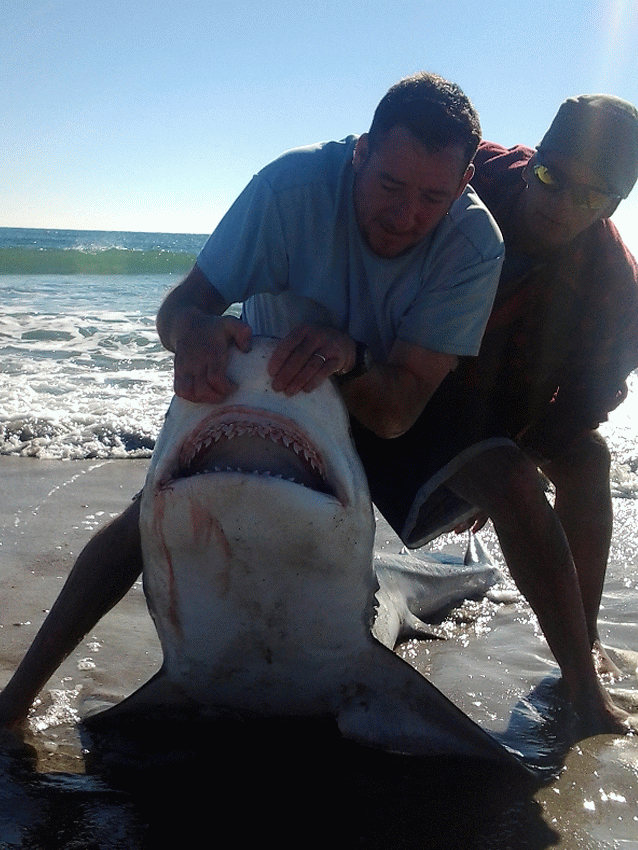 D. Tagged and released sharks this trip.
Dustin was kind enough to come as our guest. First Picture is of Dustin and I in his cool yak; this drop resulted in a massive fat 8 ft 9 Sand Tiger for him later that evening. Unfortunately we only have video footage of that hoss. Dustin you set the bar high buddy. We will get that video footage up in the next report. Dustin on a side note we appreciate you being our teams guest, we appreciate your tips and welcome you always as a guest to fish with us anytime brother.
SHARK 12 PICS: NONE. VIDEO TO COME.
A.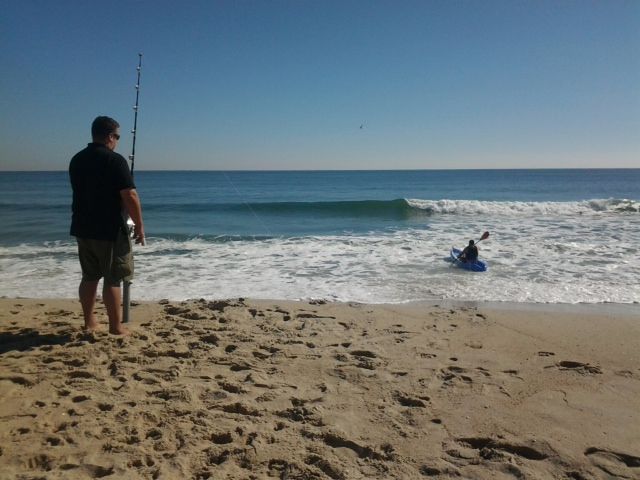 B.
On a side note here are some other Pics of the Crew:
Tina my sister and I: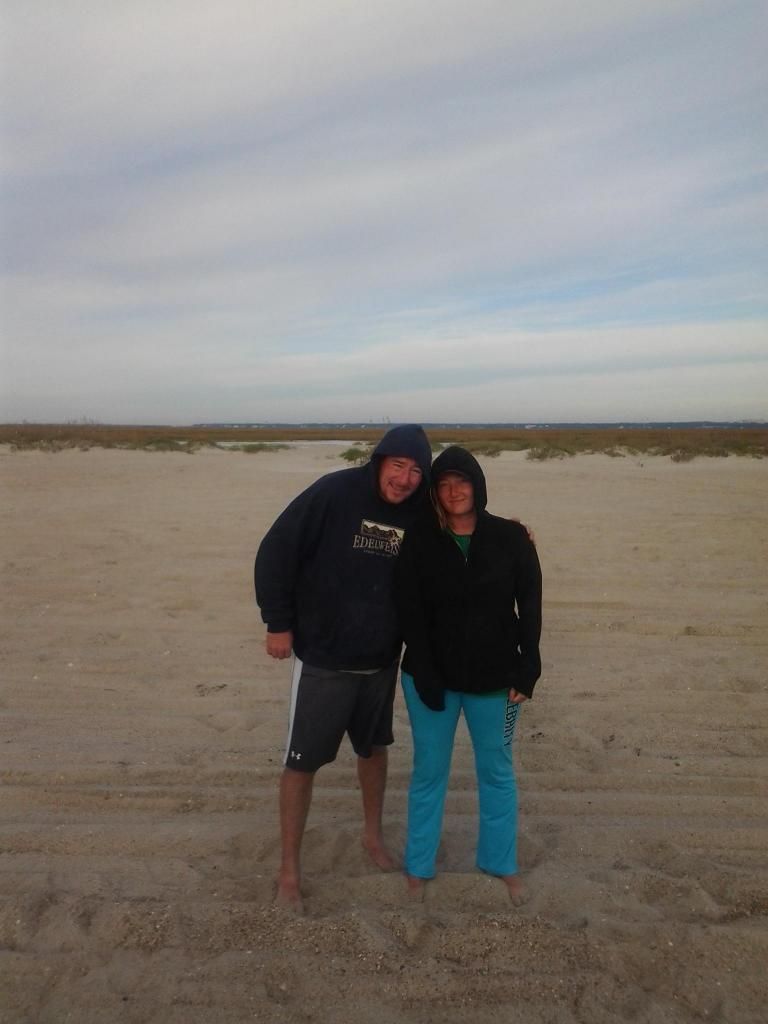 Greg, Matt, and Bill: Prepping for BTC.
Tina and Carly: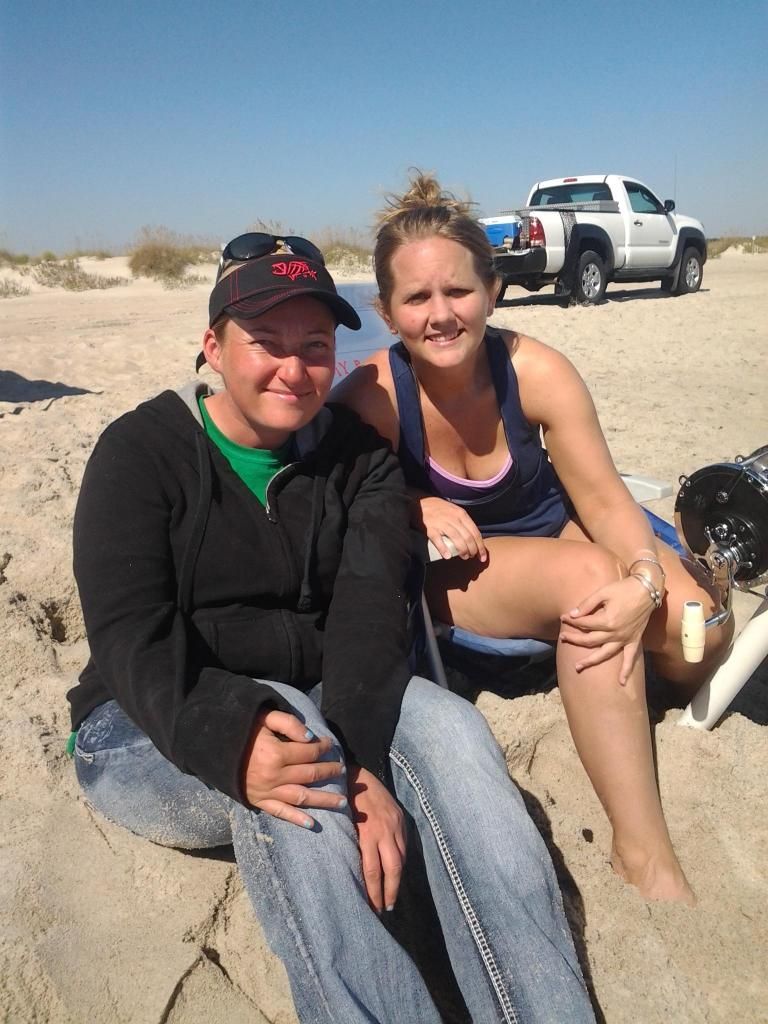 My first ever 26 inch red-fish NC: We used for bait; something ate it, the wire, and the hooks everything except the 3/8 cable middle section of leader and Sliding trace. Would have served better on the Grill.
Here is Tina fixing to get some much deserved down time when not on her guard shift: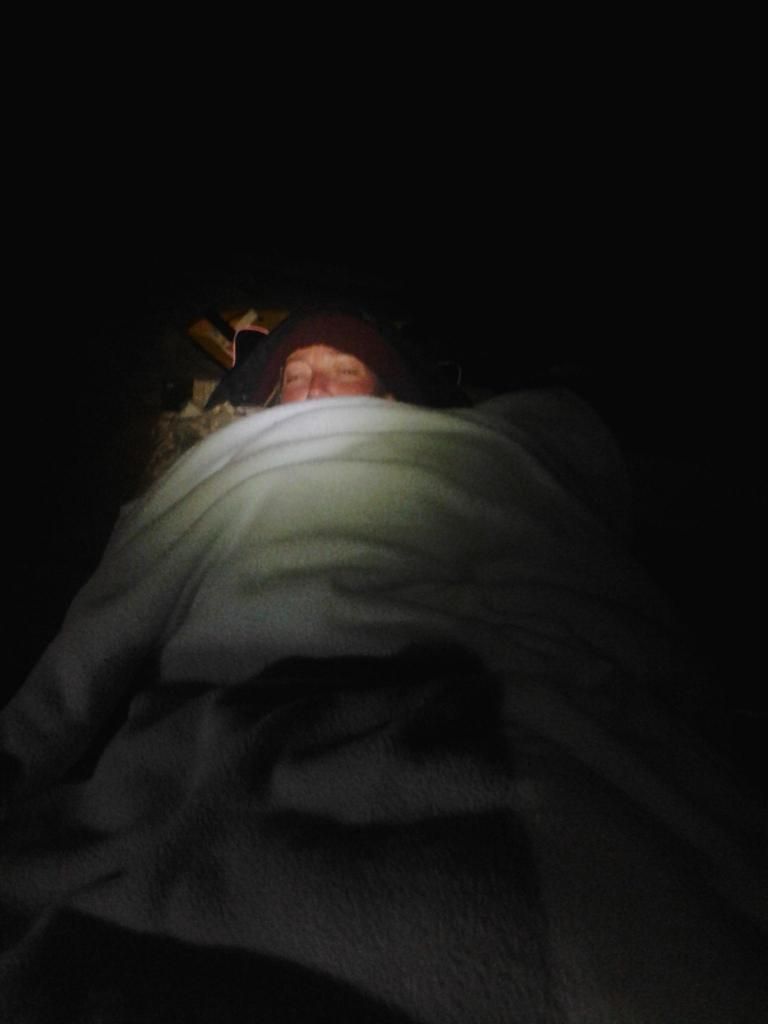 Then the following Day I ran out the ATD 130 on a Day Drop. I saw the rod move one foot at a gradual pace and it stopped. John went with me to where the rod was that afternoon and bam. Fish On, it turned out to be a very lazy 8 ft 11 Sand Tiger.
SHARK 13:
A.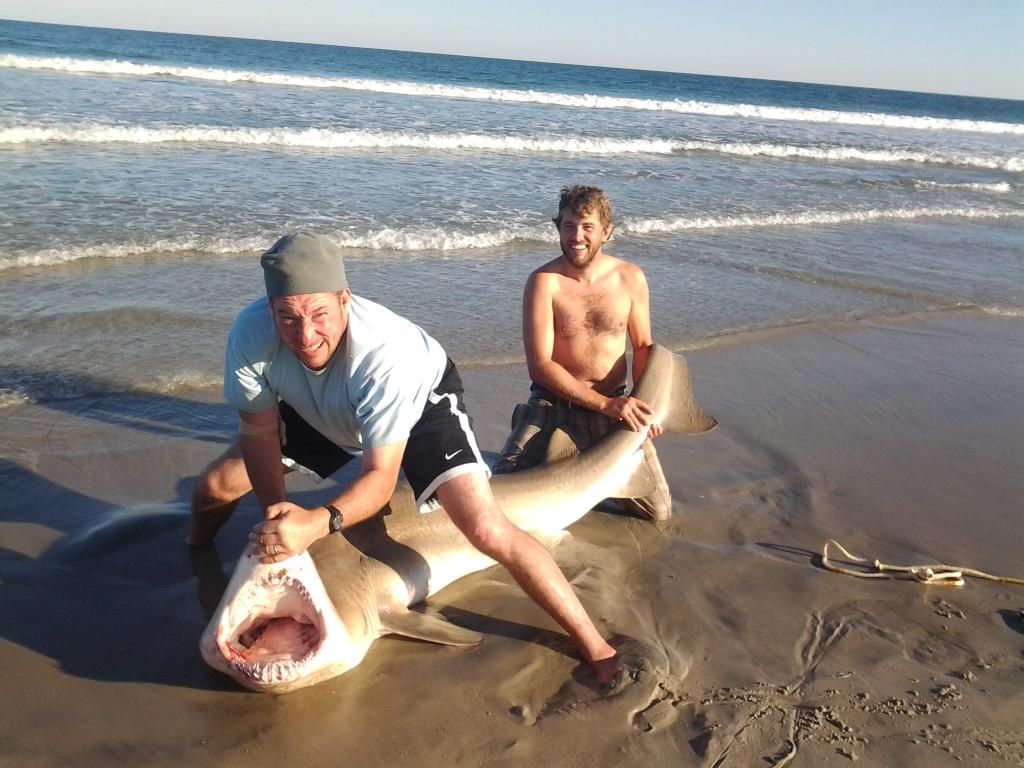 B.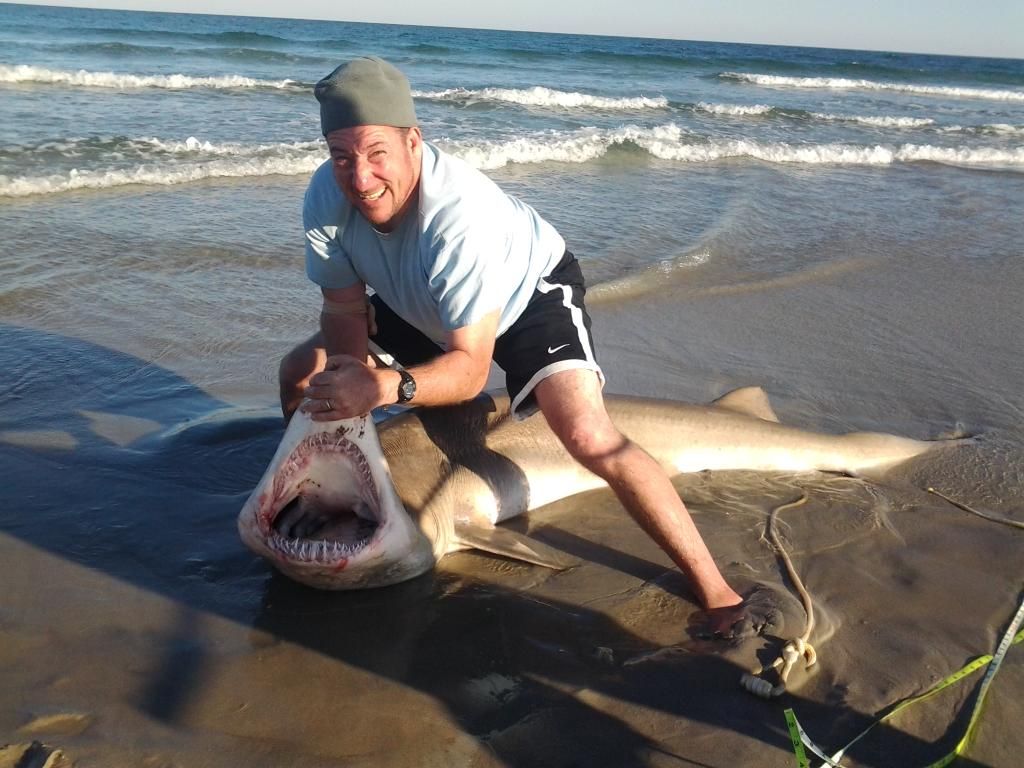 C.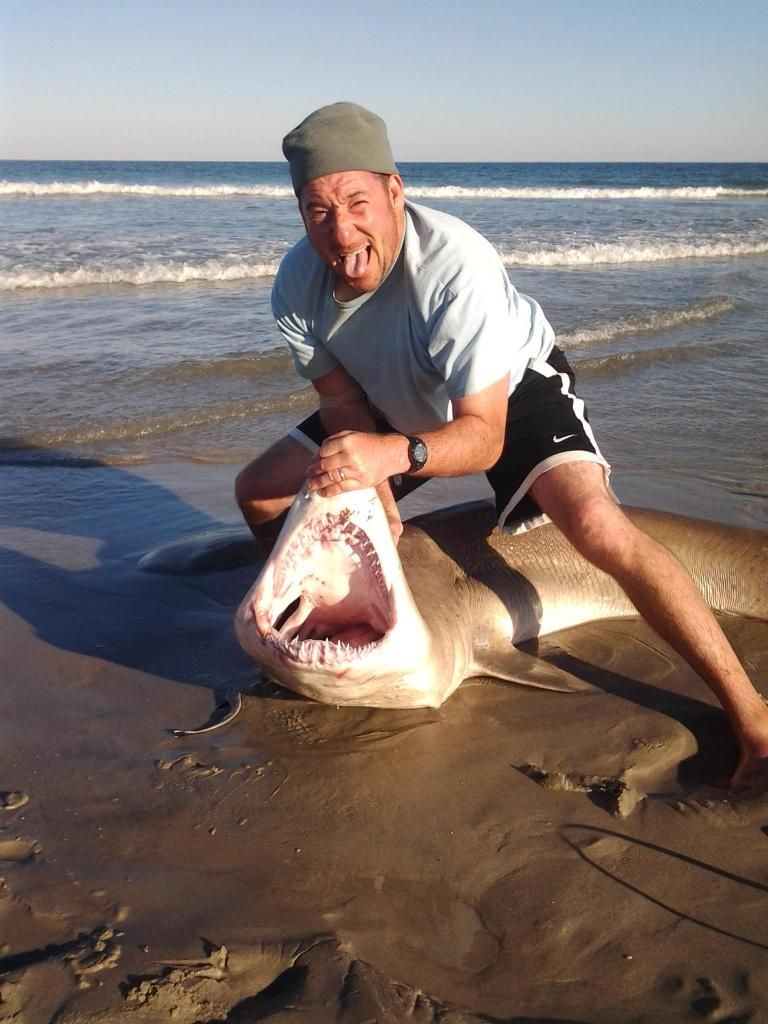 Just after that John and I ran two baits out simultaneously side by side. I showed him where to drop his and ran mine out way deeper. I came back and ran out the final bait. As I was coming in I saw everyone run to the ATD 130 as it got hit hard. The run stopped. Then not more then 10 seconds later everyone ran to the Everol 18/0. Next thing John picks it out of the rod holder slams it in strike and is getting dragged from the beach into the surf-line. Wow; By the time I had gotten back John was reeling in the Everol with a fight and a half on his line. I checked the ATD 130 and confirmed we had a double header. Carly grabbed the ATD 130 and simantaneously they reeled in their double header. How cool. The 130 came under the everol and so I instructed John to leave his fish out there, and we took care of Carlys Shark first. It measured 8 ft 9 and pictures don't do it justice like the video footage. We cut the band, tagged and released the shark. I believe we saved its life. Next we focused on Johns Shark. It was green and took about 10 minutes to get it into where I could grab it. That shark was smaller but put up an impressive fight. After wrangling it to shore we tagged and released it. This was both Carly and Gregs PB Dusky and Biggest Sharks per date. Congrads guys.
SHARK 14: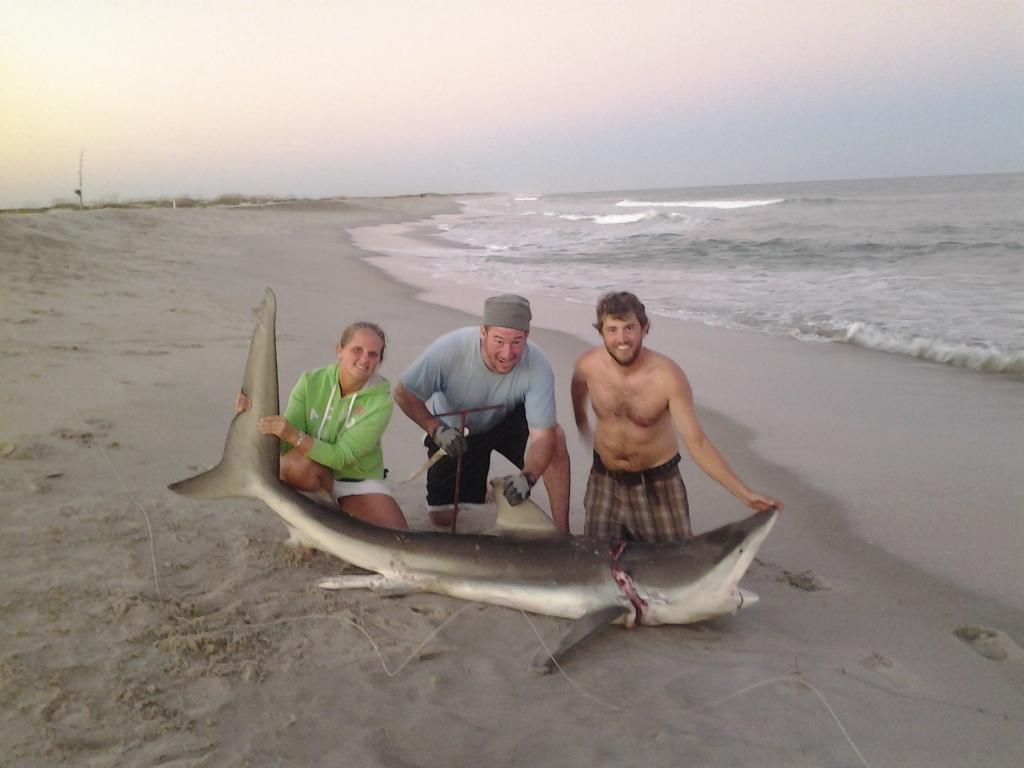 SHARK 15: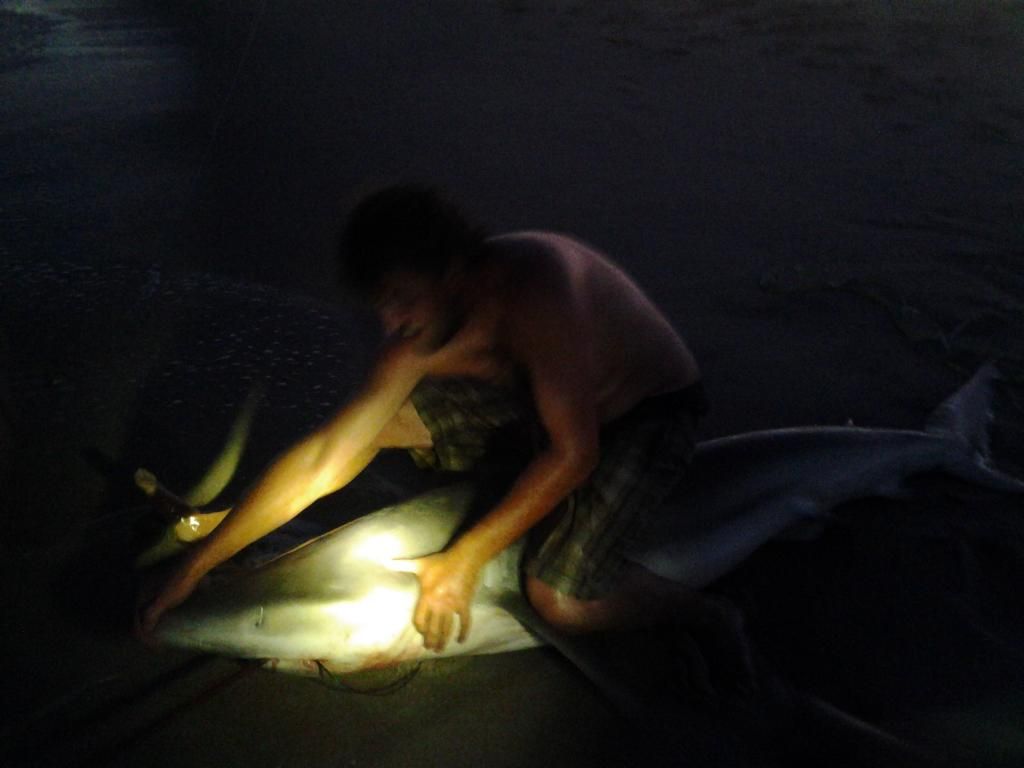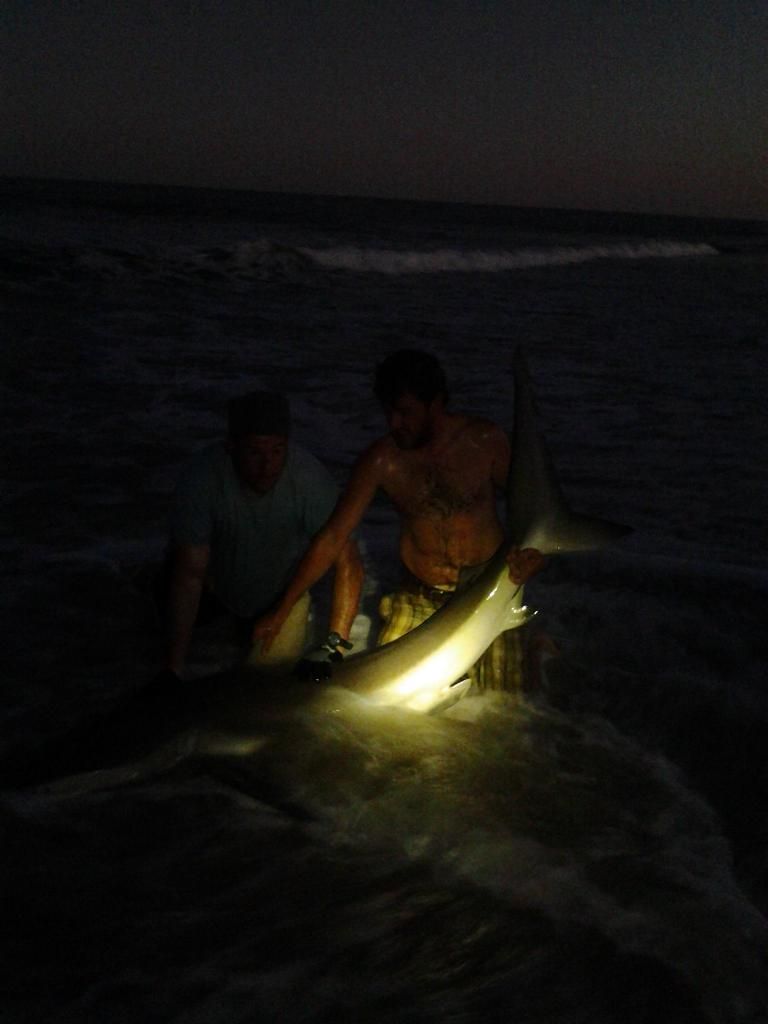 Well Day number 10: I said my farewells to Tina and Greg. I was fishing Solo and all was quiet throughout the day and night. I did make some new surf fishing friends. Johnathan came out about dusk that evening. We caught 4 blue fish which made for a good dinner for John and Carly the next day. It was day number 11. I had put a full 10 days into this trip and was reluctantly winding it down. Sure enough it paid off as the last shark of the trip turned out to be an 8 ft 3 Sand Tiger.
SHARK 16: No Photo Video
All in all I was pleased with how this trip turned out. Pat I appreciate your visit, Matt thanks for coming brother, Greg you did a hard core seven days with us I appreciate You, Dustin appreciate you coming out and contributing with helpful pointers and that hefty Sand Tiger you contributed to our teams numbers, John and Carly Congrads on your PBs, and lastly Tina your fierce never ending work ethic, and positive can due attitude, and willingness to learn, and unselfish spirit was a tremendous boost to me during this trip. I know I pushed you hard but I knew from experience you could take it; thanks for sticking it out the entire trip round the clock. Sorry Post is so late, and if you stuck with it hopefully proves to be a good read. I am glad I am not in Italy or Afghanistan and can finally contribute to SOS reports. We are all blessed to be packing in these consistent numbers as we all know droughts of shark fishing happen and can be rough; but its times like this that pull us through. Although I didn't hit my personnel goal of a 10 foot plus Shark we faired exceedingly well nailing 7 sharks this trip over eight foot and one at 7 ft 9 and another at 7 ft 6. Many PB this trip for nearly everyone. This trip we only fished two spots that being Oak Island and Fort Fisher.