This is my first official post on SOS. I have been shark fishing for a couple of years, but only recently joined this forum. A couple of my closest friends got me interested and hooked on these amazing adventures. I know this is a little late for a summer post, but as an athletic trainer and teacher at a high school sometimes life gets in the way.
One of my closest buddies and his family decided they would spend 2 weeks at the gulf shark fishing in June. I was fortunate enough to be able to ride down and spend a couple of long weekends of fishing, mental healing, and fellowship.
The first weekend we were fortunate enough to haul in a few sharks. My first night on the beach I landed this nice 7'6" Lemon Shark.
Then on the next evening, I was able to land my first Tiger shark. This beautiful 7"2" fish. The thing I love most about this picture is how the beautiful colors of a Tiger shark are expressed in this photo.
After a quick trip back home, and a week of viewing pictures of all these wonderful sharks my buddy was pulling in left and right, I was able to bring the whole family down for a weekend. We landed several sharks, but on the last night when my rod started clicking I handed it to my 14 year old daughter.
After quite a good battle for her stature, she was able to land this nice 8'11" Tiger Shark.
My family with Bailey's amazing Tiger....without my youngest daughter because she would not get close
And of course, I had to get the money shot.....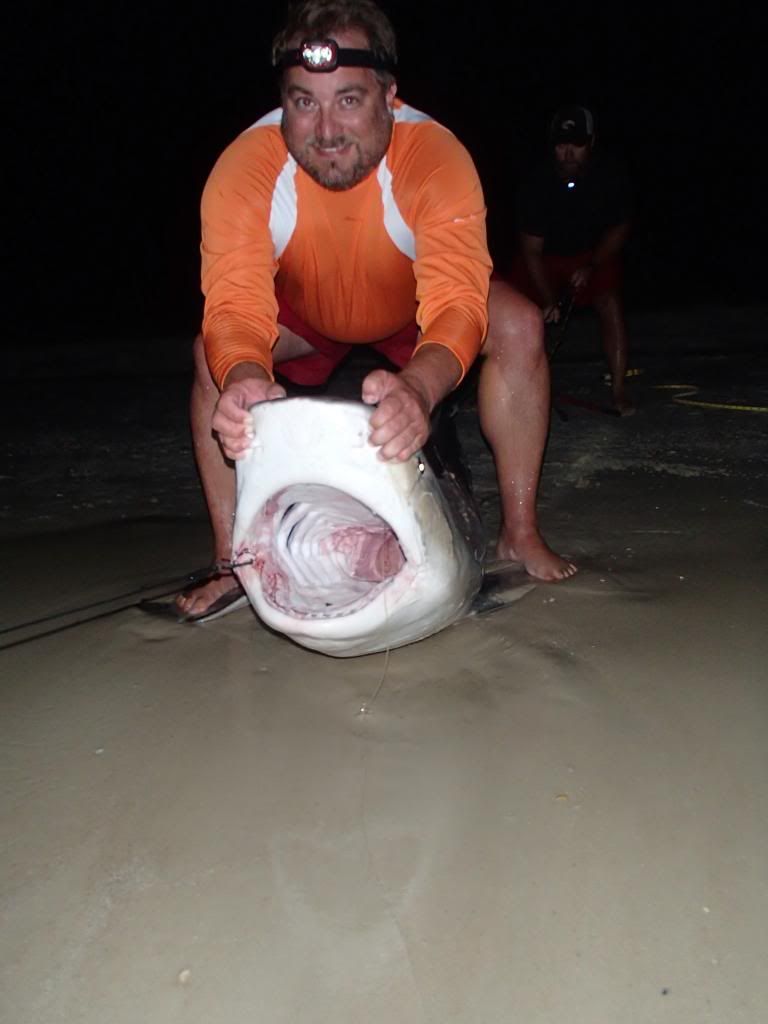 My youngest daughter did get some action too....
Addi was very proud of her catch....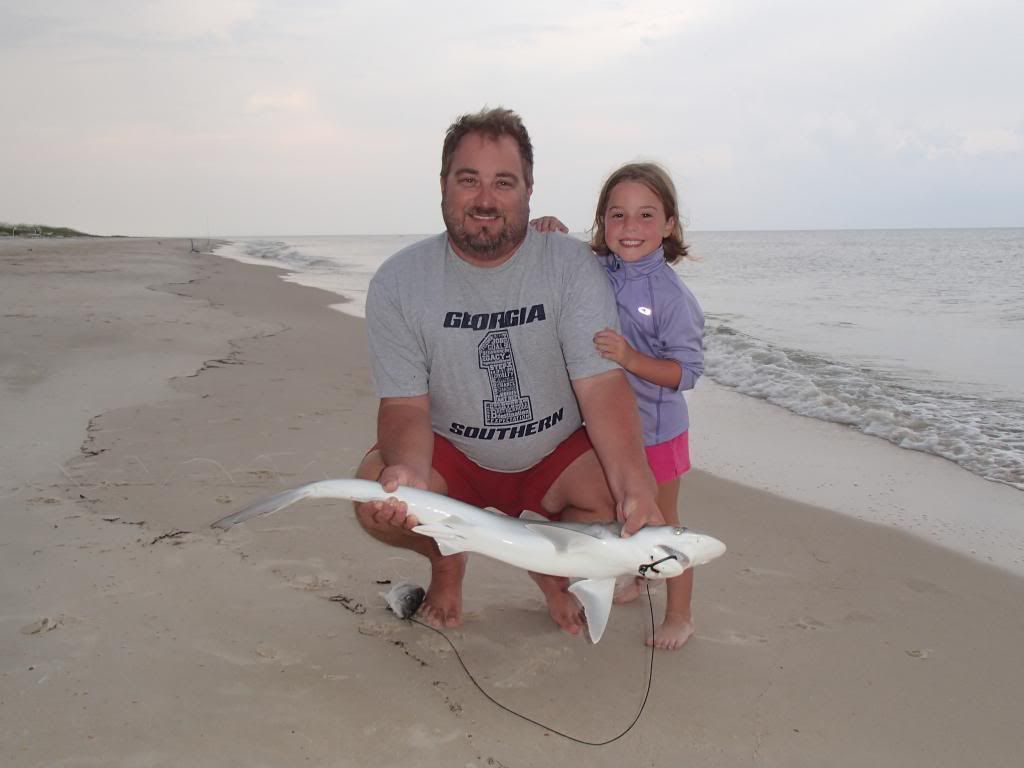 This takes us to my catch of a lifetime. The summer was winding down, and it was the last weekend in July. Football camp and the start of school were right around the corner. I convinced my buddy to make one last fishing trip before everything got cranked up again.
We were setup on a cloudy overcast day with some good stingray sections out in the water. We had already suffered several drops and misses and were kind of frustrated. Then around 7:15 pm my rod had a run and was clicking. It was stationed about 40 yds from our chair setup, but after several misses I was in no hurry to get to the holder. In fact, my buddy didn't even move from his chair until he was certain I was hooked up. It was just a normal, slow, steady run and I was only expecting a standard size bull or lemon. After a few moments of the fight though, we viewed her tail fin swish the top surface of the water, and knew we had something special on the end of the line. We just needed to take our time and get this fish on the beach. As I got her coming across the surface of the sandbar, her head surfaced again and our excitement continued to build. There was only one other couple about 50 yds from us down the beach. We sent my friends' son to get reinforcements, we knew help was needed to get her on the sand. Enough typing.....
This could possibly be my catch of a lifetime....my 12 FOOT Tiger Shark!!!!
Notice all the mating marks on her dorsal fin. Here is a picture of the measure...Repeat 12 FOOT!!!
A photo of the girth as she sat in the surf...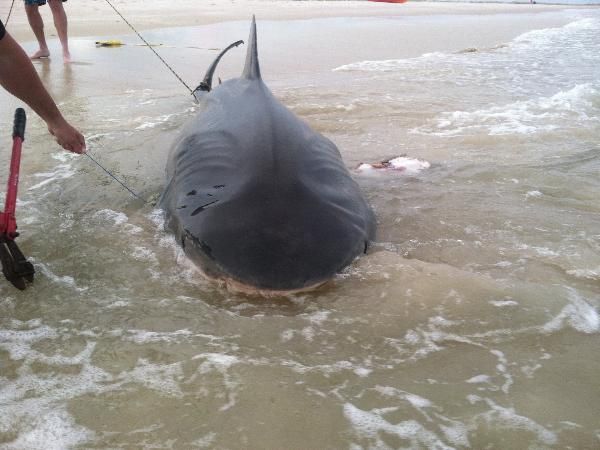 A photo of her mouth as we get the hook out...
It was a successful catch and release. We watched with joy and excitement as she swam away. Then, fell in the sand with complete exhaustion from the experience. She surfaced once more at the sandbar and then disappeared into the vast ocean. I have only been doing this for a couple of years. My friends who got me into shark fishing have expressed to me how blessed I am to land a fish of this proportion. Some fishermen go there whole lives without a catch like this. I hope it is not true, but I am thankful I got to see something of that size on the beach early in my shark fishing adventures.
Until next time, my new SOS friends...