After fishing the BHC last year, we decided to kick back and relax for this years trip. We got to our destination Saturday morning and kicked back until late afternoon.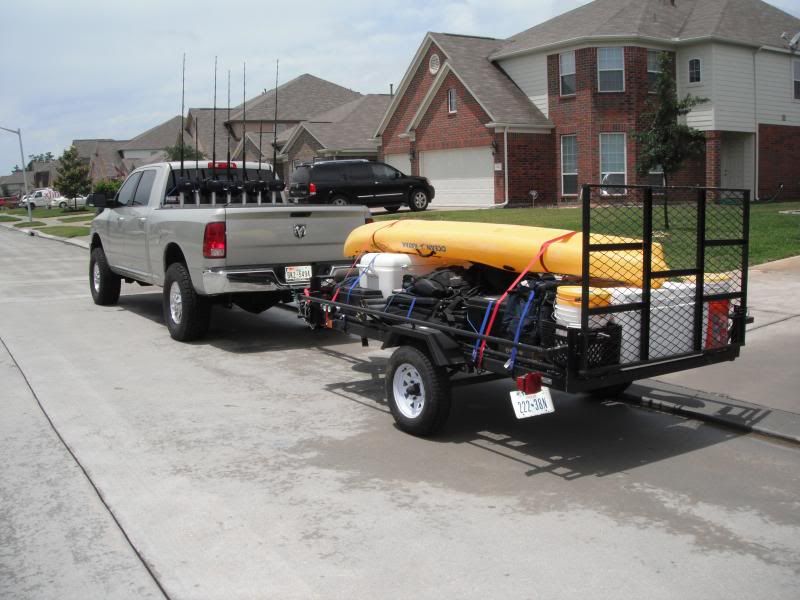 Day 1
Things started off slow with only a 5' blacktip during the day.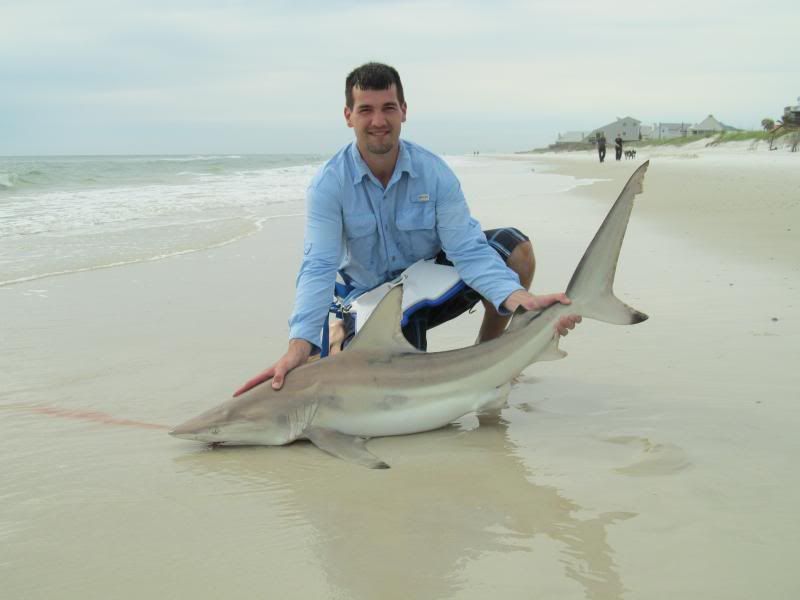 As the sun went down, we had a decent rain shower come through, and the bite was slow until about 11pm. Then the sharks started to bite. Lance was up first with a 6'1" Bull...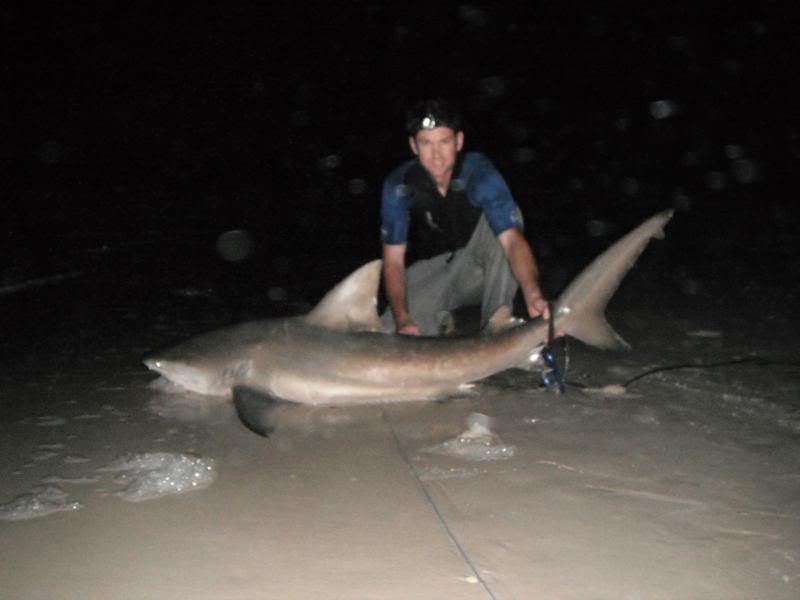 He then pulled in another 5' Blacktip...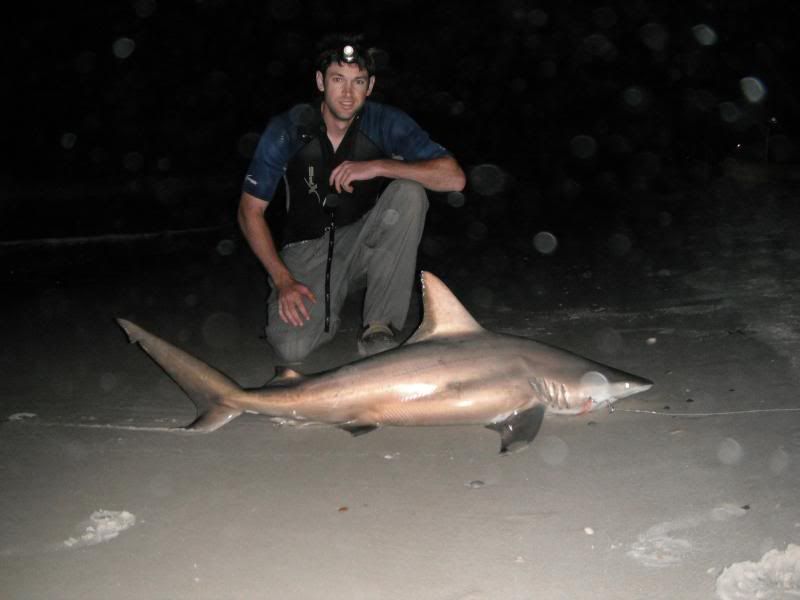 Then we had a 20lb ray that was getting torn up by pups. We could see the rod bouncing but they were not strong enough to lift the weight. We decided to let it sit, and an hour later, the reel goes off. I strapped in and brought in a 6'3" Bull. What was strange about this one is that there was a pup stuck on the hook trying to eat our ray, and the bull ate the pup. When we reeled it in, there was only a head left of what looked to be about a 30" blacktip.
This is when the night got interesting. The wind had picked up, but Lance was determined to get some fresh baits in the water. We put fresh bait on the 80w's and the 50w, and waited and waited. Just after the sun came up, I woke up to Lance banging on my tentcot because my 80w was making a slow roll. I let it run a solid 75 yards before sticking the hook, and immediately knew we had a good fish on our hands. 25 minutes later I could see the distinct tail fin of a very nice Tiger. Lance went out with the rope and secured the fish on his first attempt. She had already pupped, so it was not near as fat as our last tiger, but this one measured in at 11'4".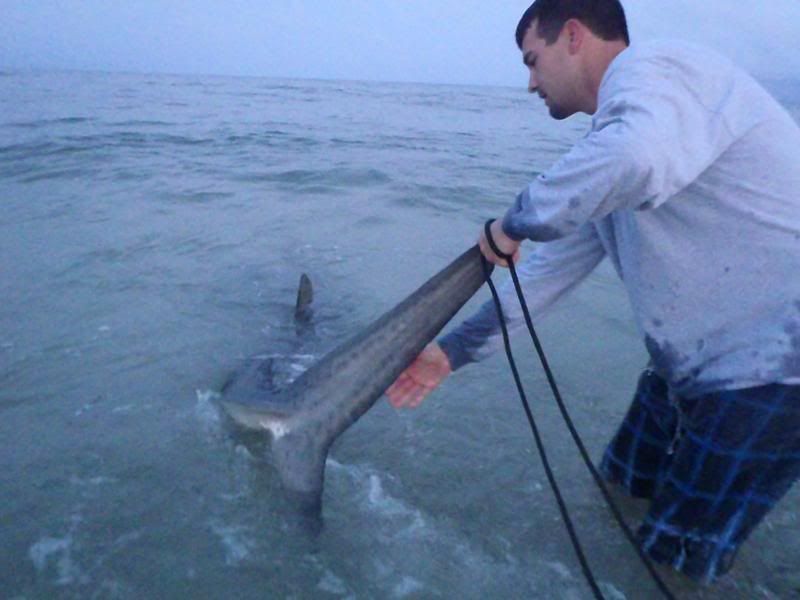 This was only day 1 of our trip, so we will be adding to this every day. We snagged a couple very nice 30-40lb rays today, so we are heading back out in a few minutes for night 2.
Day 2
OK, last night things started out rough and only got worse from there. A front passed by Saturday dumping a ton of rain on us, and yesterday we were met with the stiff 20-25mph north winds and colder temps. Nothing like sitting on a Florida Beach in may with a ski jacket on.
Lance's wife Stephanie got us started off right with a 6'10" bull about 45 minutes after sunset...
A little while later she also brought in this very green 5' blacktip...
This is when the temps started to drop, and it got downright cold on the beach. Sometime in the middle of the night, my 80w took off and we got Lance's friend Robbie strapped in the harness. He has never fished for shark before, but he handled this 7'2" Bull like a champ...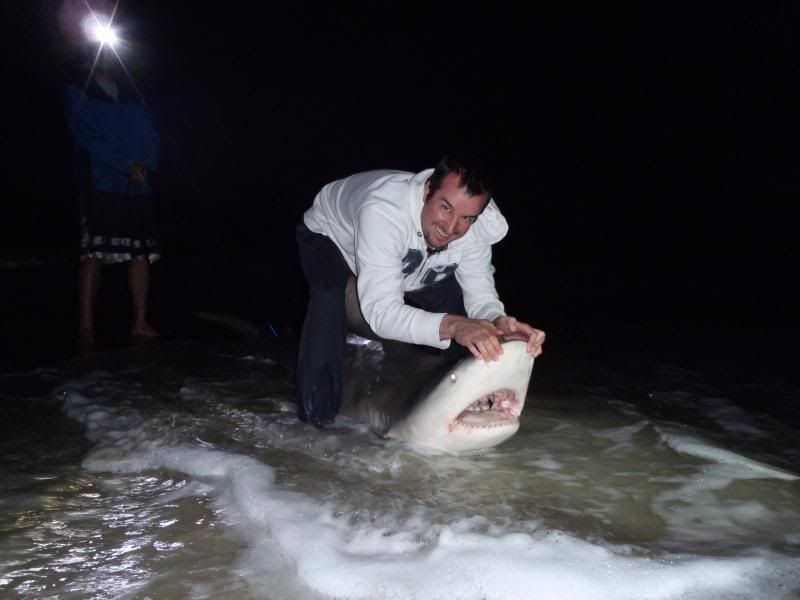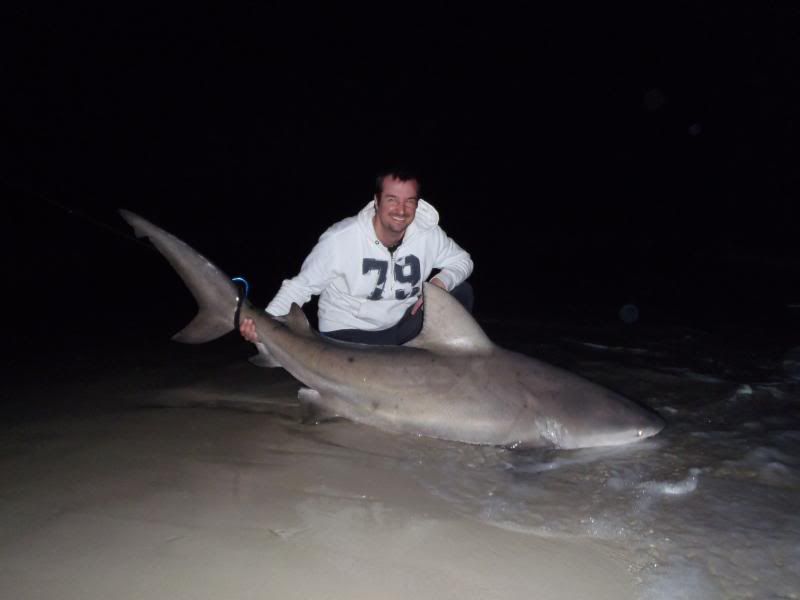 Just before sunrise we missed a BIG hammer. We had a big bait out, and I have never heard an Avet scream that loud when it made it initial run. Lance tried to run back a few steps to set the hook, and was stopped dead in his tracks after only 2 steps. Immediately after feeling the weight of the fish, the hooked pulled and we brought in a bait that had the clear markings of a large hammer. Its good to know that they are out there.
He immediately ran the bait back out though, and minutes later hooked up to this 6'5" Bull...
It was late morning now, and we were just about ready to pack things up when Lance's 80w started a slow roll. He set the hook, and passed it off to Robbie's wife Steph who also has never shark fished before. She made the fight look easy against this 7'1" Bull...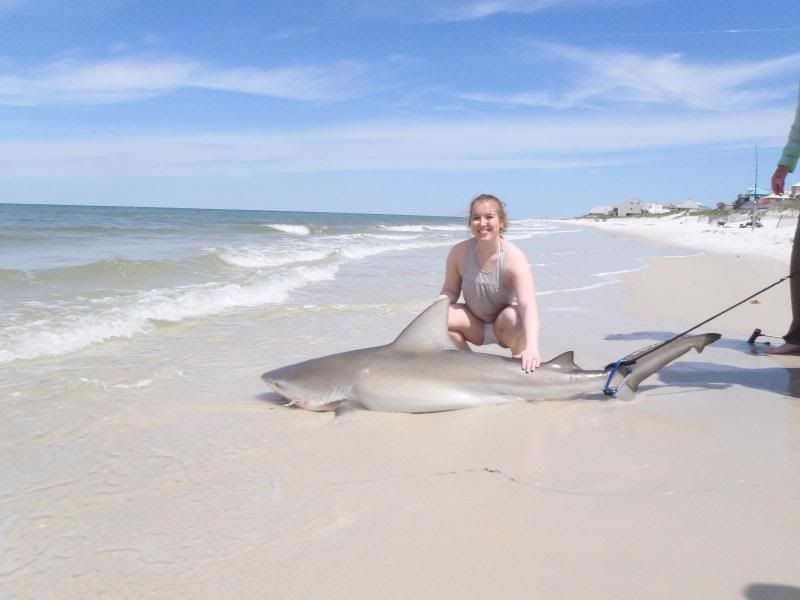 That wrapped up day 2 for us. We are headed to Panama City for the night to keep the girls happy. I'm not sure if we are fishing tonight, but I will keep everyone posted.
Day 3
Well, we got back the house around midnight, and decided to go ahead and run a few baits. Temps got into the mid 50's, so it was pretty chilly out there. We ended up with a pair of Bull sharks. Lance was up first with this 6'6" Bull that already had a tag in it. Tag # was 353067...Curious if anyone here had tagged this fish.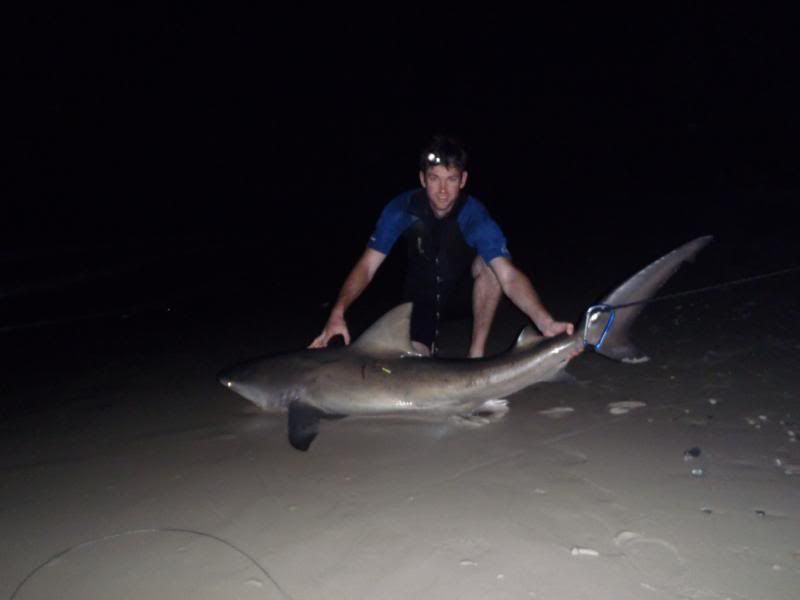 Next up was his wife Stephanie with this healthy 6'9" Bull...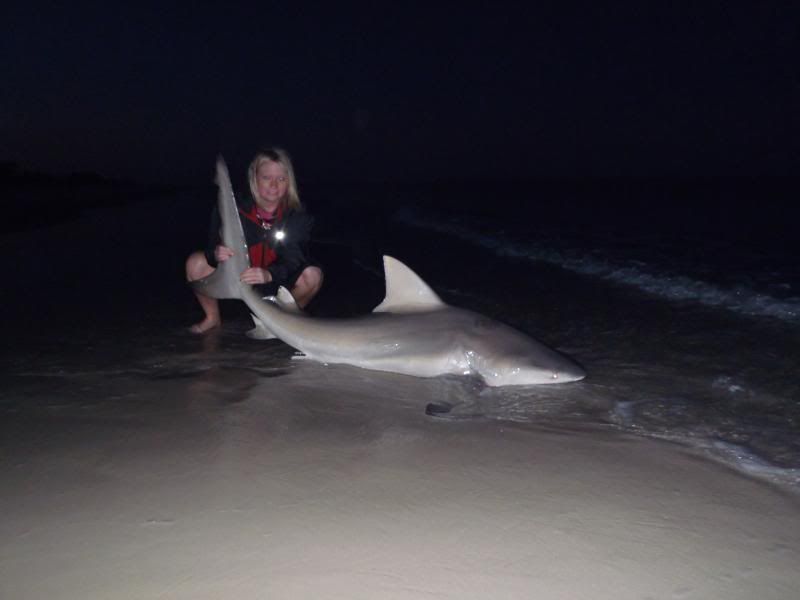 We woke up to this beautiful sunrise and flat seas...
We were getting low on bait, so we went on a mission and have some candy to run out this evening. We are heading back out after dinner, so I will update this again tomorrow.
Day 3
Today was very slow. The cold front has blown through, so the winds were terrible and very cool. Water temp has dropped almost 4*, and the bite has shut down. We had a few short runs overnight, but none of the sharks would commit.
Day 4
We were upset about not catching anything the previous night, so we decided to stay out and fish during the day today. We tried our normal 150-200 yard drops, but they were not getting touched. We decided to go for broke and start running baits DEEP. That is when the bite turned on. Were are now dropping all baits between 400-500 yards, and the sharks are coming in left and right. Stephanie started us off with this 5' Blacktip...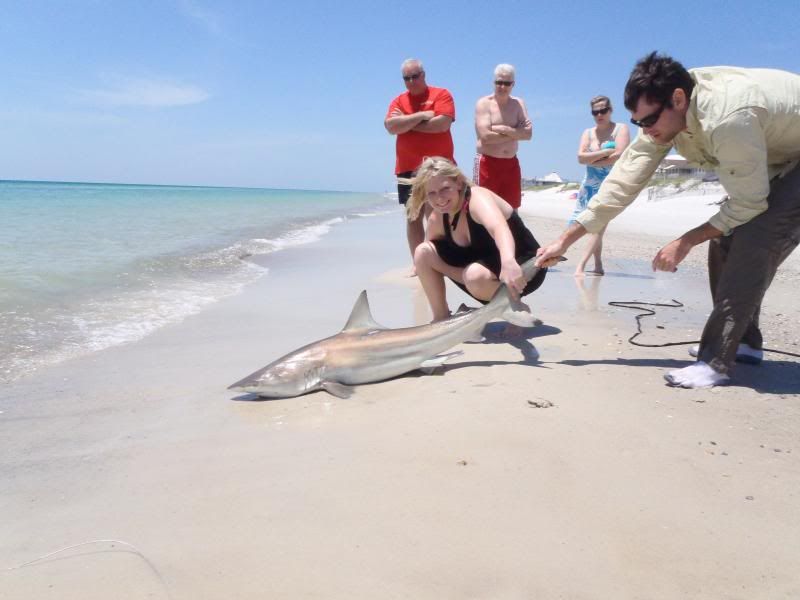 Next was Lance with this solid 7'4" Bull. Pound for pound, this was one of the strongest fish we have ever caught...
Robbie backed it up with a 5'8" Blacktip...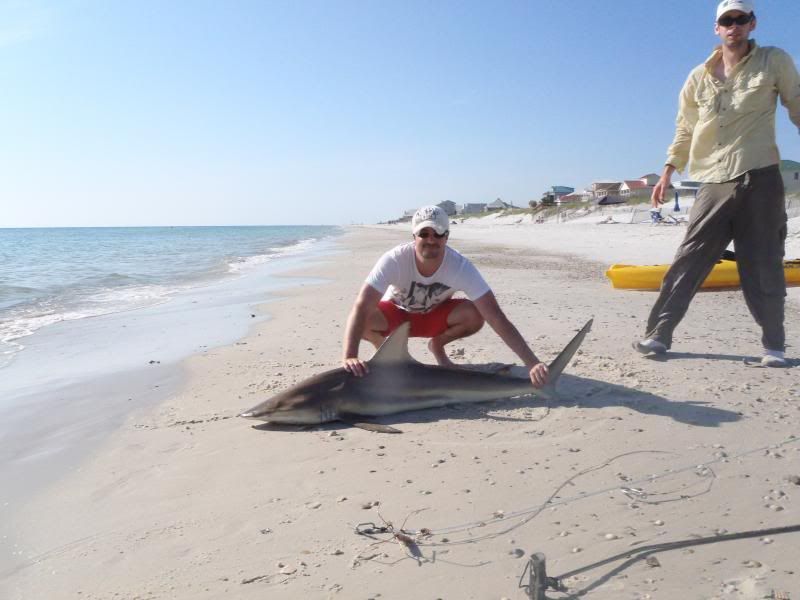 Then he backed it up with a 5'11" Bull...
I was up next with a little 5'2" Blacktip...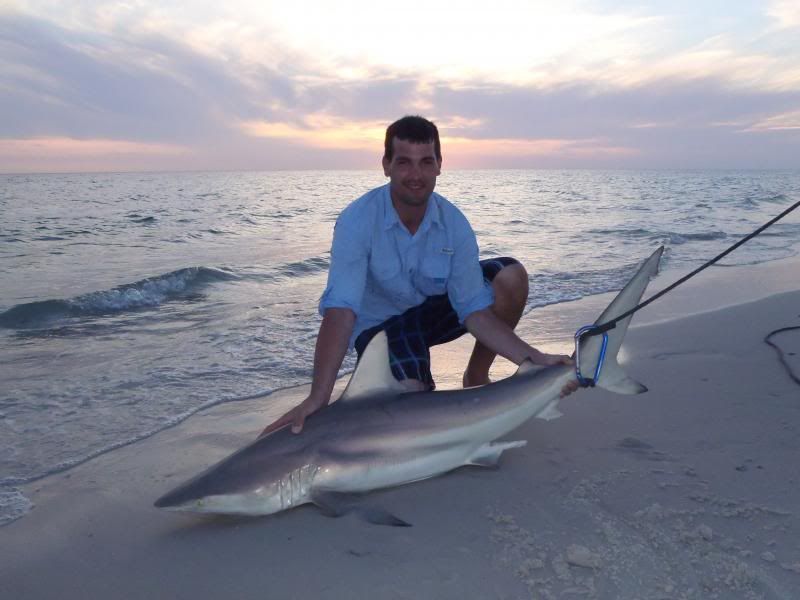 Then again for this 5'6" Bull...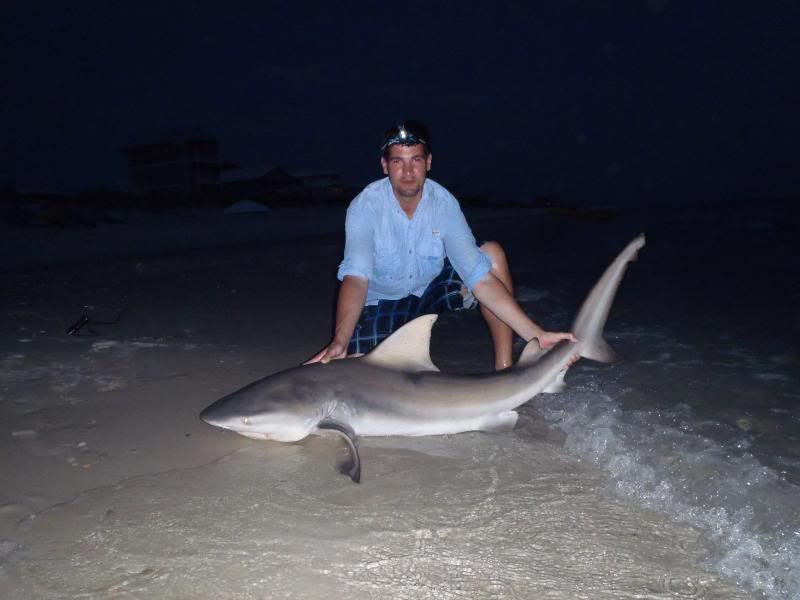 At this point, we were tired of catching small fish, so we ran out a couple big baits. 30 minutes later Lance hooks up on this nice 7'2" Bull...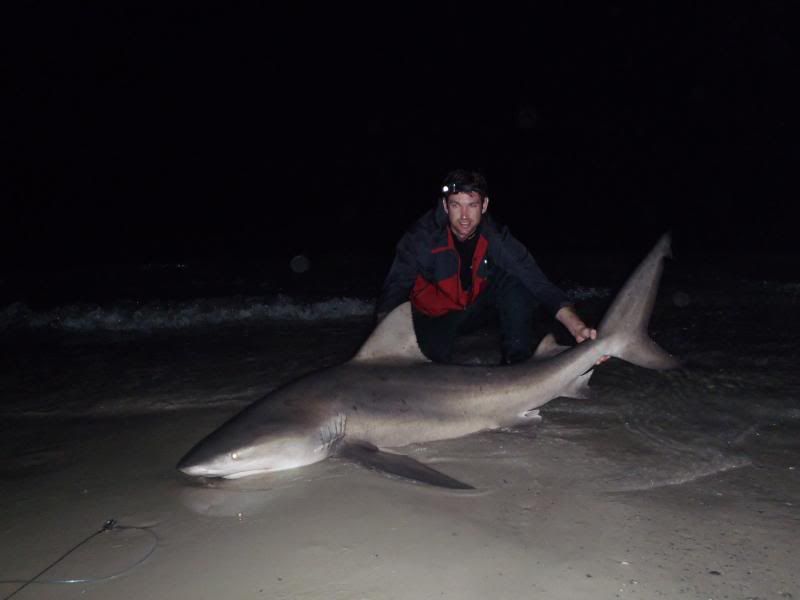 And then Lance finished off the night with a 6'2" Bull...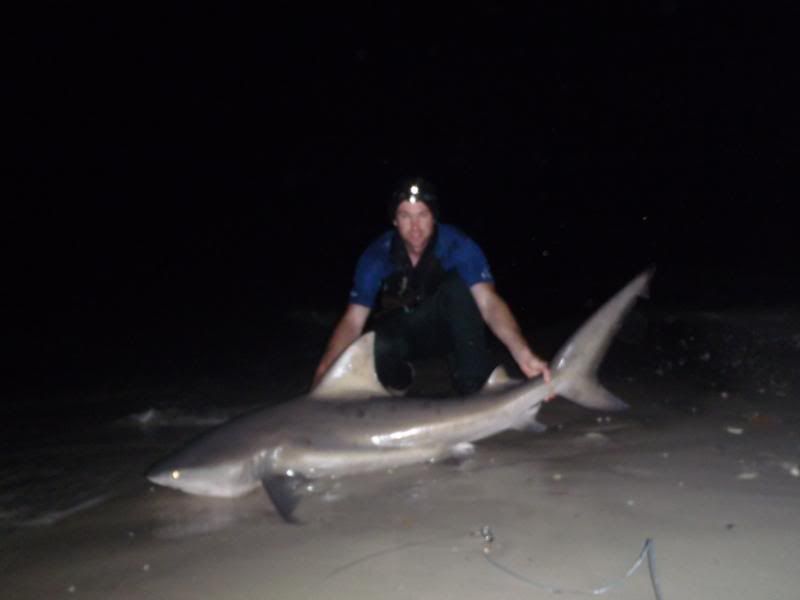 Day 5
Today we decided to stick with the deep drops and fish during the day. Robbie was up first with this 5'7" Blacktip...
Then I followed it up with a 5'10" Bull...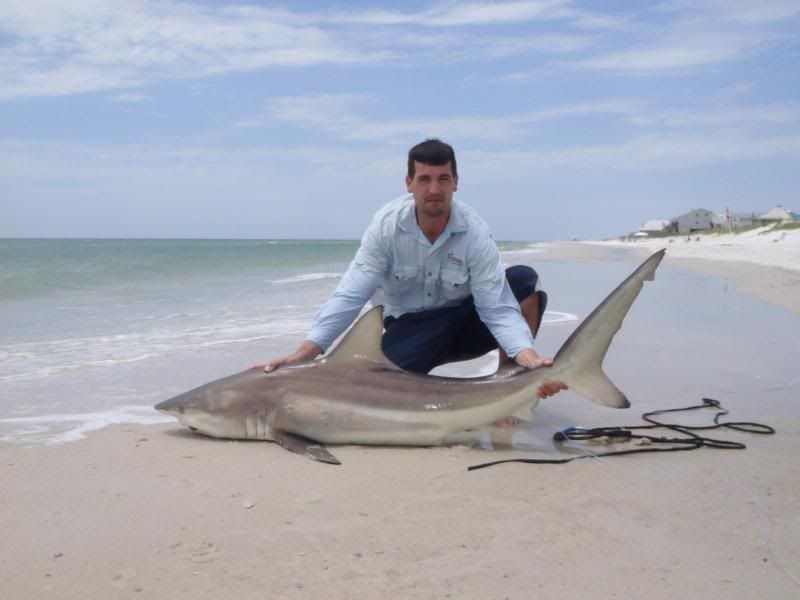 Lance was up next with back to back blacktips measuring 5'9" and 5'5"...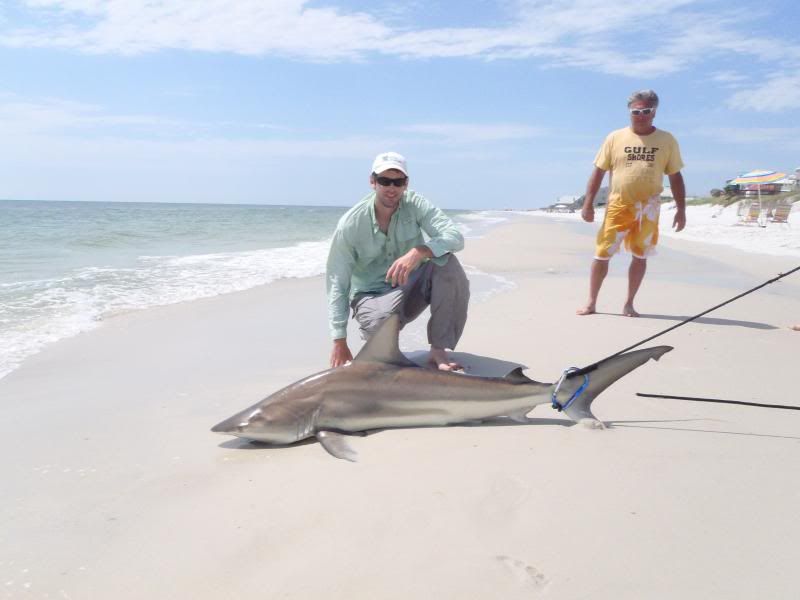 Again, we decided to start running some bigger baits, and it didn't take long before Lance hooked up on this 6'11" Bull...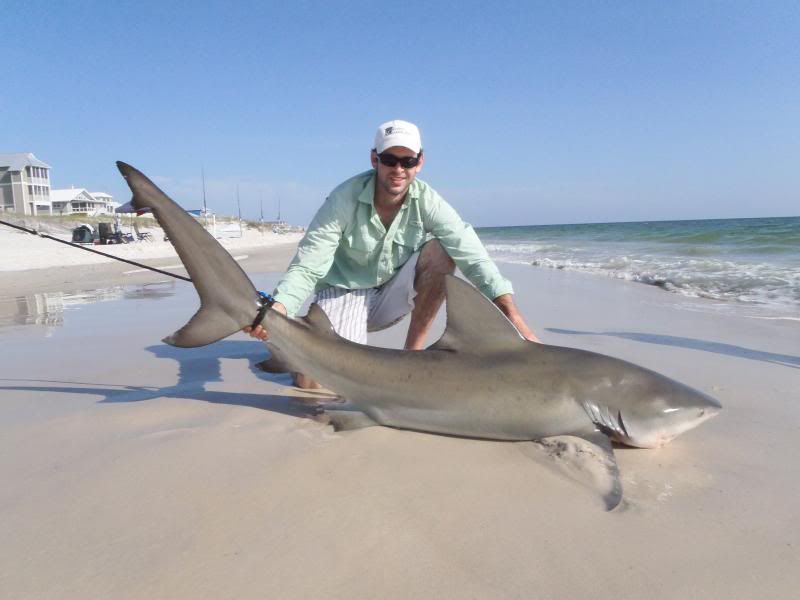 At this point, the sun was starting to go down when 1 of our lines slacked up. Stephanie reeled it in to find this 5'6" Blacktip...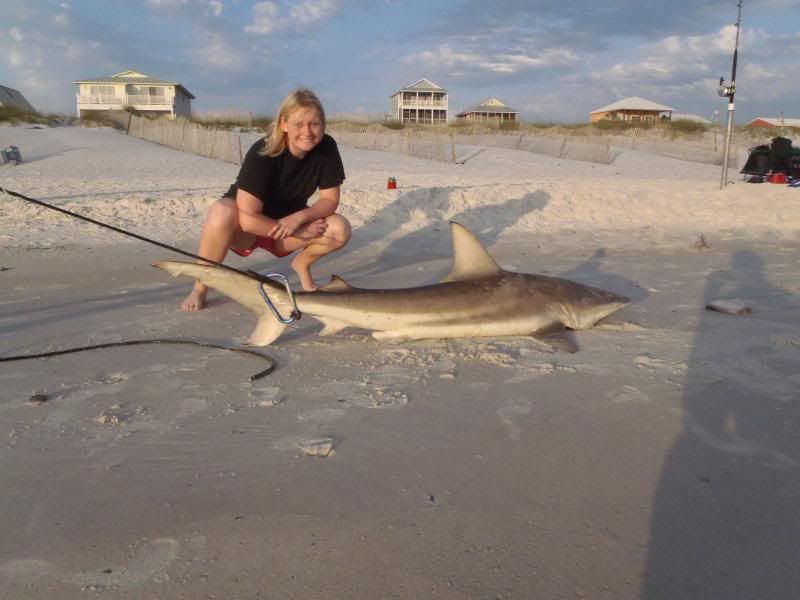 Then right as the sun was setting, we had a fresh ray dropped short that went on a fast run. A few minutes later, Lance lands our first lemon of the trip. This fish measured 7'9"...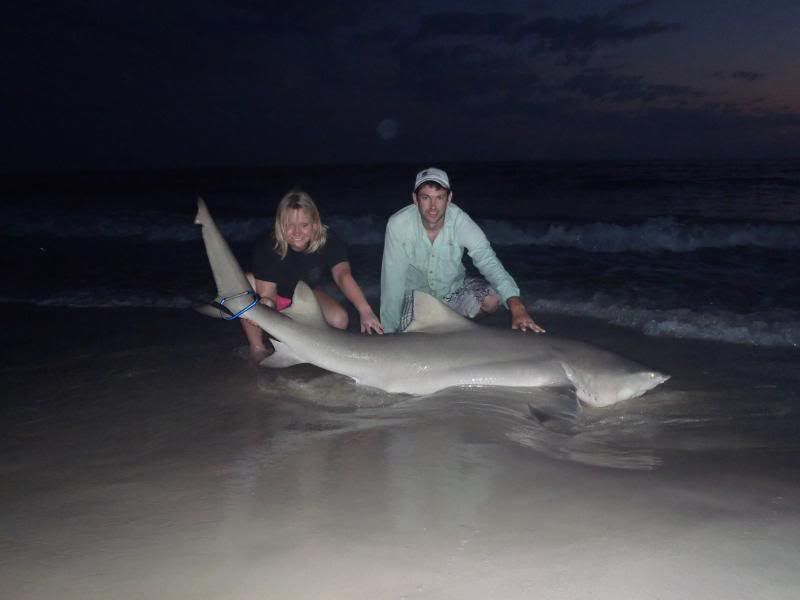 Day 6
This is our last day to fish. The wind and current is ridiculous today, but we are sticking with the deep drops as these are the only ones producing fish. We have been limited to only fishing 2 rods for the past few days because of the extreme current, but you do what needs to be done to keep putting sharks on the sand. After having a few weights pull, we have now also switched to our heavy stainless weights just to keep the baits on the bottom. An hour after running some fresh baits out, the 50w takes off on a screaming run. Lance let it run for about 75 yards and then stuck the hook. You could tell that this fish had some serious weight to it, and 30 minutes later he was finally able to get the fish over the bar. I secure the tail rope, and we land this fat 8'4" pregnant female Bull. This is Lances new PB shark, and a monster at that. Congrats Lance…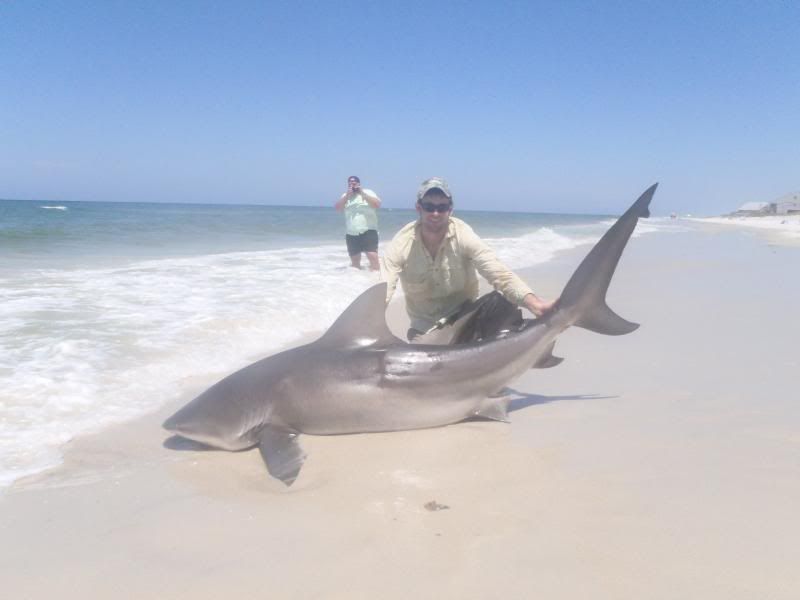 We are still on the sand, and will probably pack things up around midnight. We have a long drive ahead of us in the morning, but I will try to update this again before we head back to the house.
Lance and I stuck it out for 1 last night. We ended up landing another 6'5" bull late in the afternoon...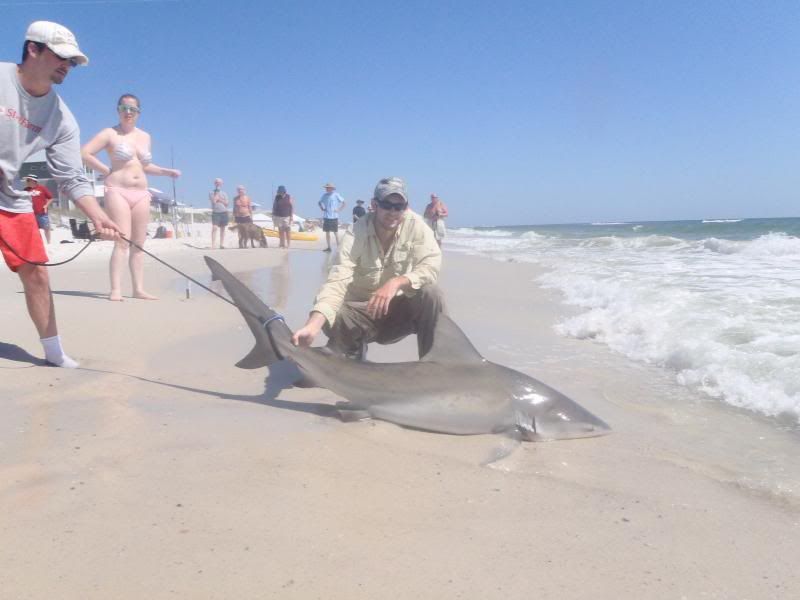 The night time bite was slow again, but we did manage to pull a few more bulls out of the water. Lance caught both. First one went 6'2"...
And then right at sunrise, he caught another one that went 6'6"...
Despite the slow fishing at night, cold temps, high winds, strong currents, and no-see-ums that would drive any person crazy, I am happy to say that we landed and released 31 sharks over 5' this trip. Lance landed his new personal best shark with a fat 8'4" Bull, our friends Robbie and Stephanie landed their first sharks ever including 7'1" and 7'2" bulls, and we were able to land another nice tiger. Shark fishing may look easy when flipping through these pics, but words cant describe the amount of work and dedication it takes to land so many sharks and a few quality ones at that. Having a fishing partner like Lance that is willing to run baits and doesn't quit no matter the conditions is the main reason for our success. Fresh bait, the right tackle, the willingness to adapt to always changing conditions, and never stopping even when everything else is against you is what it takes to catch fish on a consistent basis. We are about to make the long drive home, so I hope you guys enjoyed the report.