During my life, fishing has been the one thing I could count on to take away whatever stress I may have had at any given time. Although we talk regularly, it had been about a year and a half since Troy and I had fished together. It was great to see my fishing buddy again. I was also fortunate enough to have Troy provide everything I needed to shark fish and so for the first time in my life, I flew south. I can tell you it is a lot easier than my usual 24 hour journey south on I-95. I was also excited about using my new camera which allows for taking pictures in quick succession. This ended up being crucial at one part of the trip. More on that later!
The plan was simple. Catch big sharks. However achieving that goal is hardly ever that simple or easy. When we first started fishing, it became apparent that the action would be hot(even if the weather turned freezing later in the trip). The hits ranged from somewhere in between bizarre and unpredictable. For the past two years, Troy had tried to explain how frustrating the winter shark fishing could be. I got a really great taste of that almost instantly. Between Troy, Diana, and I, we as a group normally don't miss many fish but we struggled to get sharks hooked and even once hooked, we had a couple decent fish shake free.
Then all of a sudden Troy screams, "Cownose!" The water was dirty but he was still able to see a cownose ray swimming in the wash. He quickly grabbed a rod with a jig and on the first pitch, successfully snagged it.
Then I realized there was an even bigger ray swimming next to it.
I grabbed my rod with a jig but found the other ray had swam off so I snagged the ray that Troy had already hooked. We wanted to make sure we got it on the sand. Then all of a sudden a rod goes off!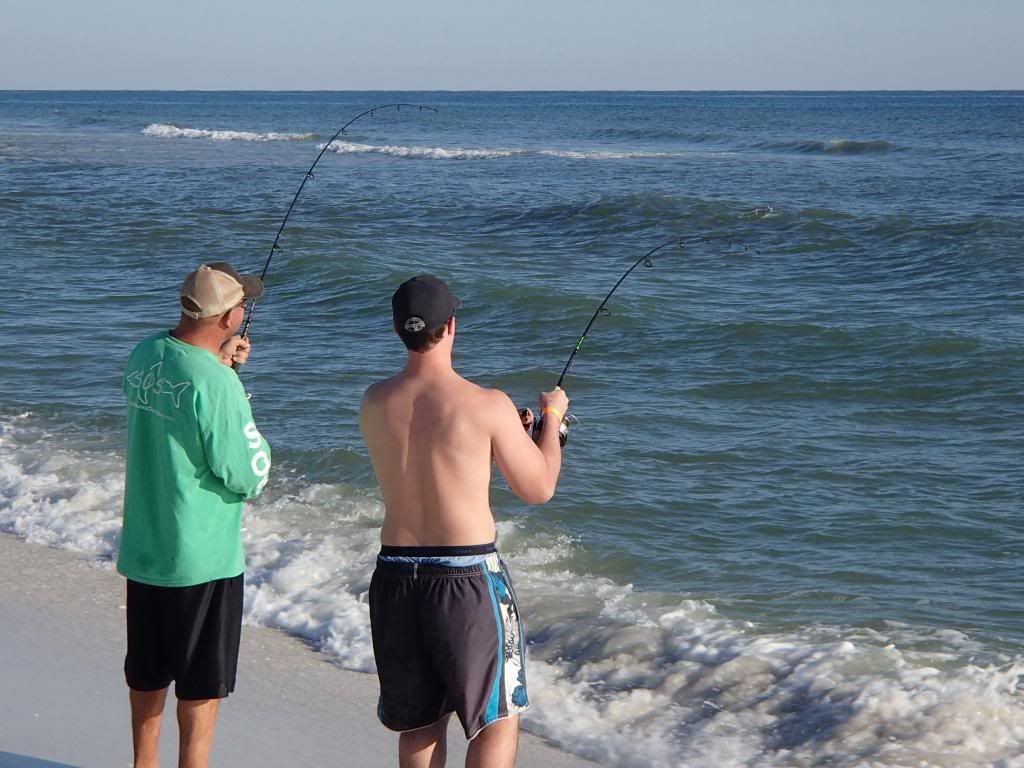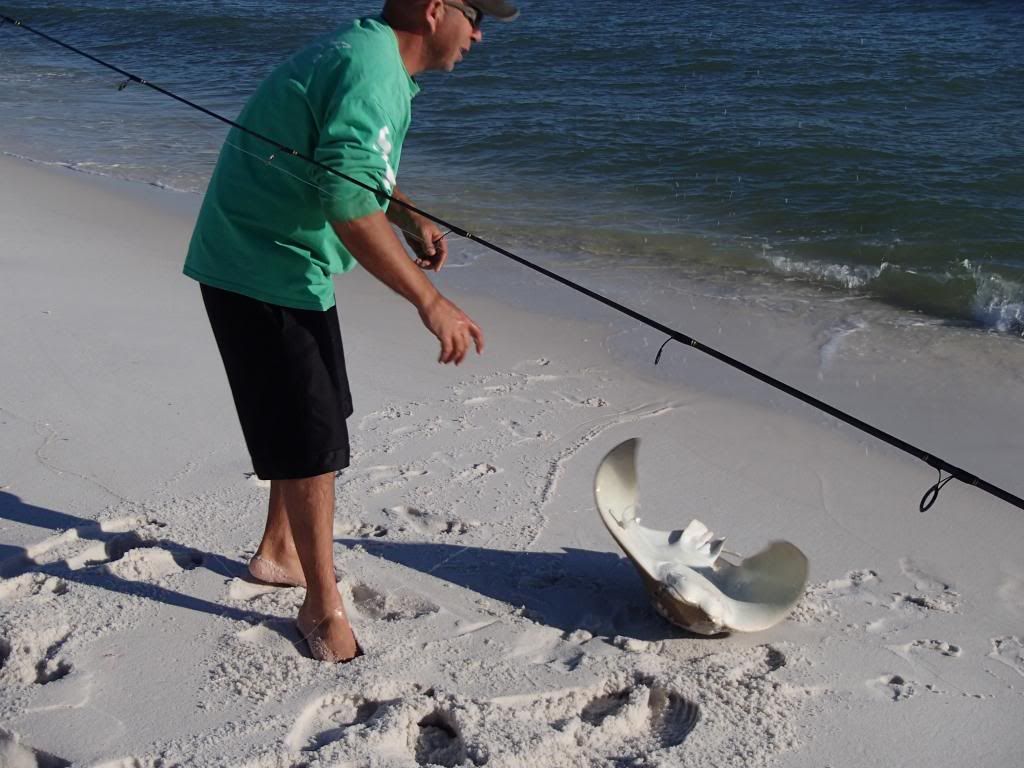 We get the ray and our luck all of a sudden changes as we start to get some sharks on the sand.
Diana is up first with a nice sandbar.
I follow it up with my first shark in quite some time. Believe it or not, this skinny male sandbar really showed some strength.
Up next is Diana with a beautiful 6'11" sandbar. Look at the girth on this shark!
Troy gets in on the action with a sandbar of his own.
At this point, the action is completely crazy. Reels are singing left and right, and light sticks are flying into the water. There was no time to even think or hop into a harness, as you can tell by the pictures below. Rare pictures of me fighting a fish while sitting in the sand.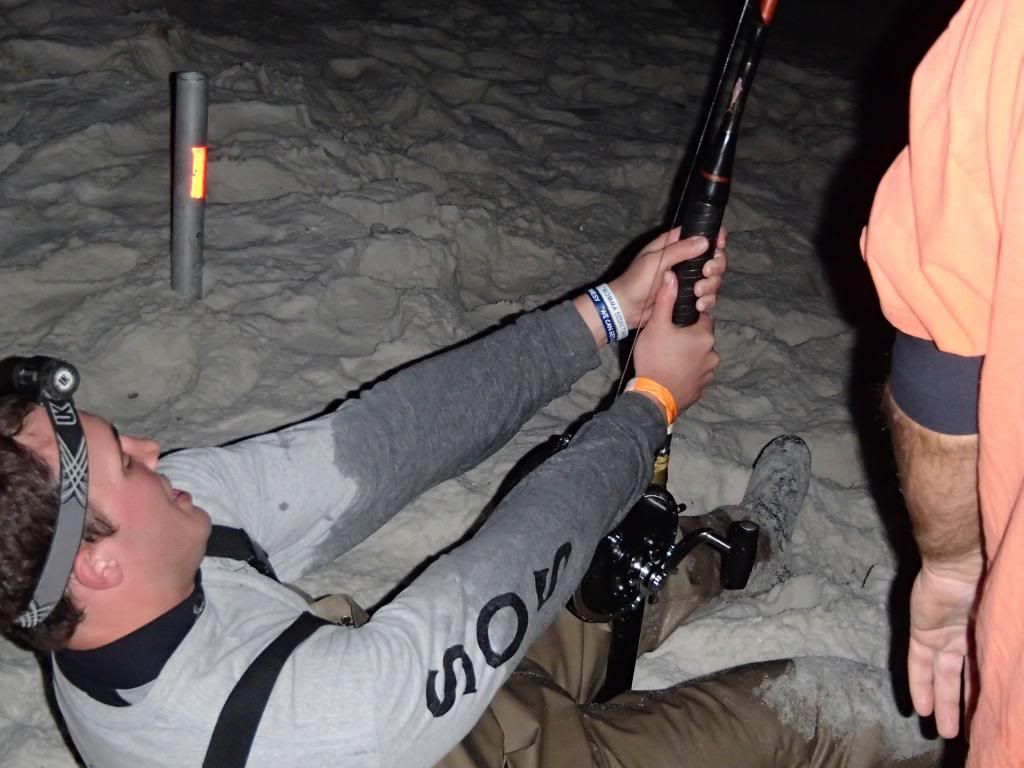 We tried to make the fish look bigger by hiding behind it.
Let's be serious, that isn't going to work for a 6fter.
Troy adds another sandbar. This particular sandbar had a tag in it. We tried to read it but it was pretty tough to see because it seemed that this tag was quite old and was overgrown by some of the shark's skin. Either way it was pretty cool to see my first recapture.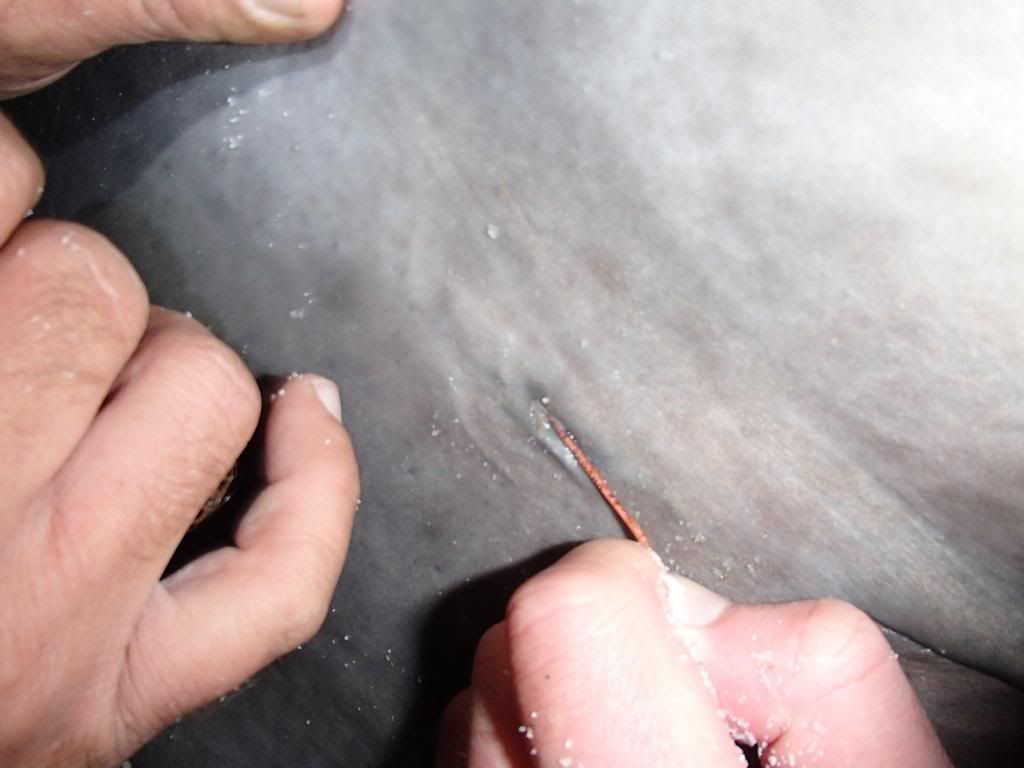 THEN IT HAPPENED. I was about to kayak another bait when the 14/0 started to roll. I dropped the paddle, started unbuckling the clips on the life jacket, and went for the rod. Up until this point in the trip, we hadn't felt the need to get fully strapped in to a harness before setting the hook. However, on this hit I knew I had to go all the way before I tried to drive the hook home. I hopped in the harness and without talking to each other, Troy helped me clip in. Simply put, we both knew this was the fish. As I started to set the hook I felt the rod load up but nothing happened. I felt a headshake and so I took several more steps back and felt another hard THUMP.
It was at that moment that the rod tip on the extremely thick and stiff rod started to bend and point toward the horizon. As I looked out at the water I saw the most incredible thing I had ever seen in my entire life. Just to the left of me, a giant shark completely cleared the water. It started out spinning while leaving the water completely vertical before doing a cartwheel. The shark brought an astonishing amount of water out with it as it jumped, followed by an indescribable white water explosion as came back down.
There were so many different thoughts that came to my mind at this instance. The first thing was, MAKO! The second thing was, "It can't be!" The third thing was, "It definitely is!" The fourth thing was, "And it is BIG!"
All that I could actually muster was a loud and shaky, "Oh my god!!!" Which I then kept repeating! Troy turned around and looked at the water and the fish quickly dug in and started stripping line off the reel at an astonishing clip. Within just a few seconds of landing back in the water and a line crackling run, the shark came flying out of the water a second time cartwheeling and spinning a good distance to my right. Then again within a quick flash, it jumped a third time further to my right almost going towards the beach.
Troy and I couldn't stop screaming! Virtually nothing we said was actually understandable English. It was just a mix of pure and raw emotions as a result of total shock and adrenaline. Each and every time this shark jumped I was expecting my line to go slack. It was exciting and heart stopping to watch the aerial display.
This was the first time since my 12' tiger and 11'9" hammer that I felt that a shark on the end of my line could take 300 yards of line off my reel at any second. I tightened down and started cupping the spool to try and keep this shark's head at least turned sideways down the beach as opposed to out.
Even still, it made several runs as I sat down in the harness. The runs were unlike any other shark I had ever fought. It never made a continuous run of 150yards but it would take blistering runs of anywhere from 30-60 yards. Then it would pause, dog it out for a bit and then take off again. During those runs, I watched the line swing side to side faster than I had ever seen in the past. It changed directions just as quickly and it took all of my focus and effort to try and stay tight.
As the shark approached the bar to my right, it turned left and took off on a run. As if I hadn't been through enough of an emotional roller coaster, the shark jumped a fourth and final time just past the bar. Yet again my heart stopped but then quickly started again since the line came tight almost immediately after it landed. When the shark came inside the bar, it went up to the surface numerous times. We finally got to see it and what a sight it was.
It was not happy in the shallow water and took off once again. I leaned back cupping the spool with both hands and all I could say was, "Wooooooooh!" I was really pushing the limit of the battle worn 130lb mono on that reel.
The way that this fish could move through the water at such high speeds so effortlessly left us speechless. The water seemed to shoot off the top of its dorsal like the air curling around the tip of an airplane wing.
One of the first things I noticed was the large size of the dorsal. For some reason, I had always thought that the dorsal wasn't going to be that large.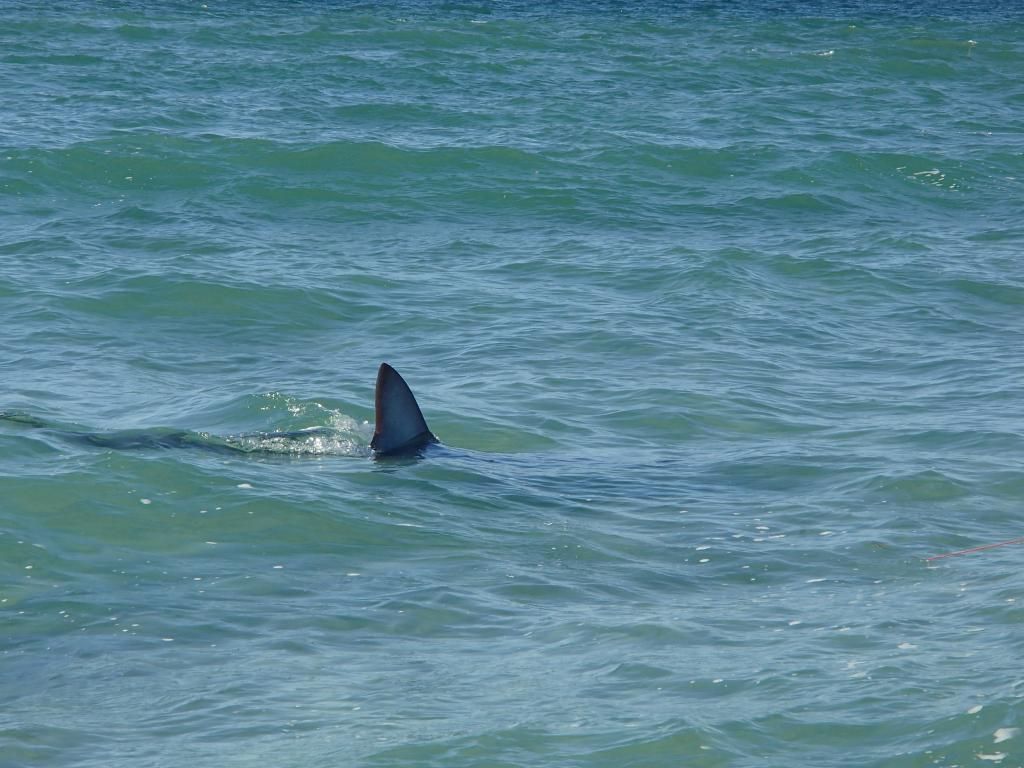 We both knew long before we saw the shark in so close that it was a mako but it was still so surreal that I just had to look at troy and ask him, "Is this really happening right now?!" It was a dream then and it still seems like one now.
When the shark got within leadering distance, tensions were at an all-time high. With only Troy and I on the beach, we knew landing this fish on the steep bank and the rough shore break was going to be a tough task. Troy hopped on the leader and then quickly worked to the giant fork tail. I backed off the drag a touch and threw the rod in the holder and joined him. We were all business until we cinched the thick rope on the mako's tail. Then we screamed and celebrated. That was short lived as the mako tried to get back into the water using its giant fork tail propeller. Have you ever seen a black tip kick its tail back and forth quickly? Now imagine a 10ft fish doing the same thing with an added dimension of power. The rope burned and began to slip between my hands but we were able to hang on. The mako rolled on its side and the tail kept on kicking. Each time it hit the sand it was a thundering blow. I would really not want to have my foot under it! I tried everything I could to roll her upright but I could not make her budge. She was so heavy! Troy helped me and then only with the help of a crashing wave did we get her turned right side up. Then she settled a bit and we got to the picture taking. She measured 10'5" in total length.
With just the two of us on the beach, we could barely get her anywhere. The skin was smooth, the body was thick right through its tail, and its eyes were devilishly big and black. When I first touched it, it was like touching solid rock. Nothing but pure muscle. The way this shark looked at me literally gave me chills.
Here I am completely mesmerized by the tail.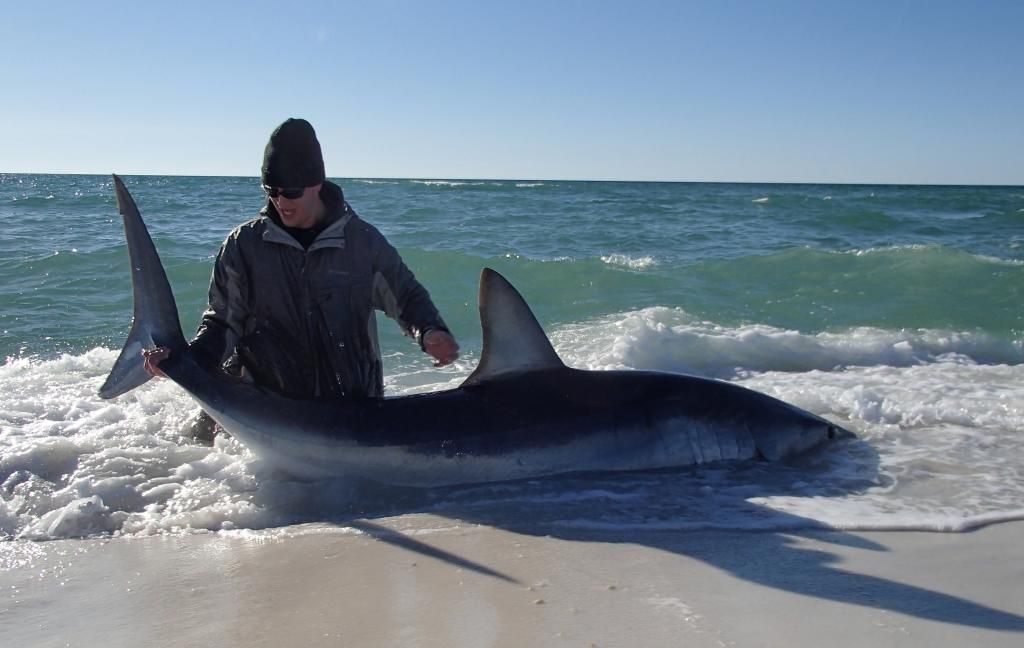 I looked at Troy and said, "I am going to do something stupid." That is when I hopped on top and very carefully slid my hand down its pointy snout and lifted up. It was hard to get the right shot in between waves but third times a charm.
This last picture is one of my favorites because we got a good look at how thick the teeth really are. I always thought their teeth were "grabbers" like the ones lemons have but really they are much thicker and wider.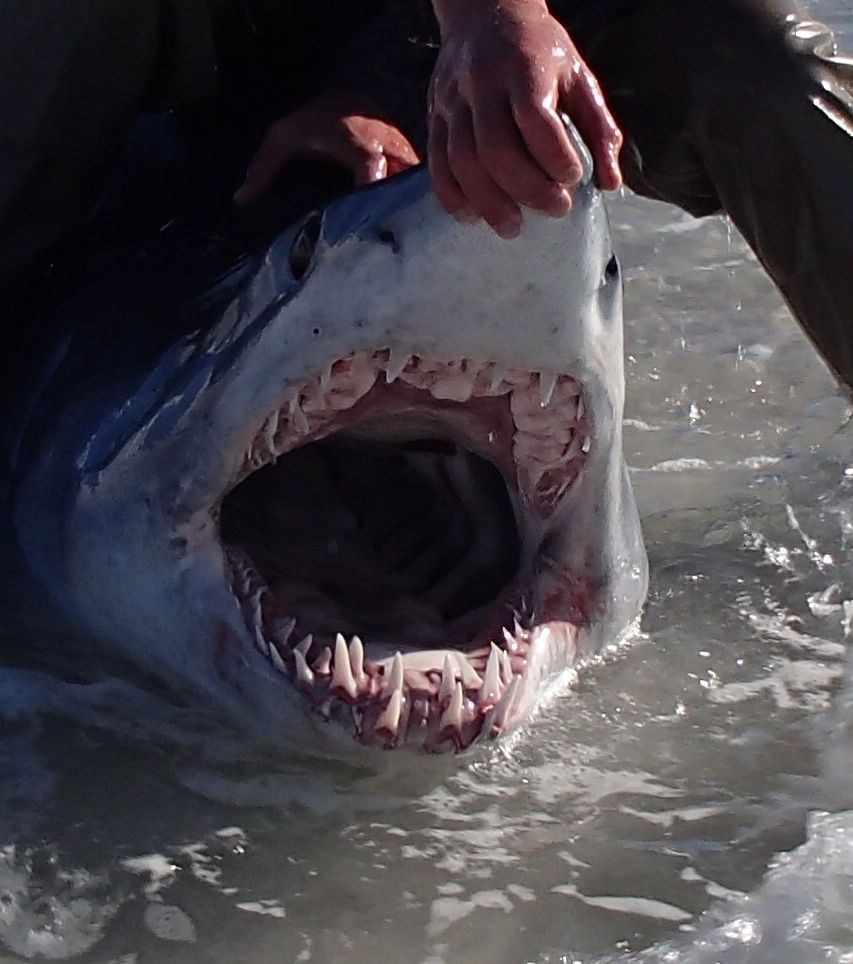 The other thing I really like about it, is that it shows the profile of a mako's keel.
Here is more on the shape of the keel.
After doing some research, the keel apparently helps "cut" the water as the tail goes side to side and enables the mako to reach those remarkable top speeds.
And now for the release! I was fortunate that the shark started moving and the waves were getting up under her so that I could just barely get her back in the water.
She quickly shot back at the beach and I had to repeat the process.
Troy managed to somehow capture the exact moment of a cresting wave coming down against the back of my head. I am 6'2"! The shore break was serious!
And off she went. I fell down and quickly turned to see her swim off.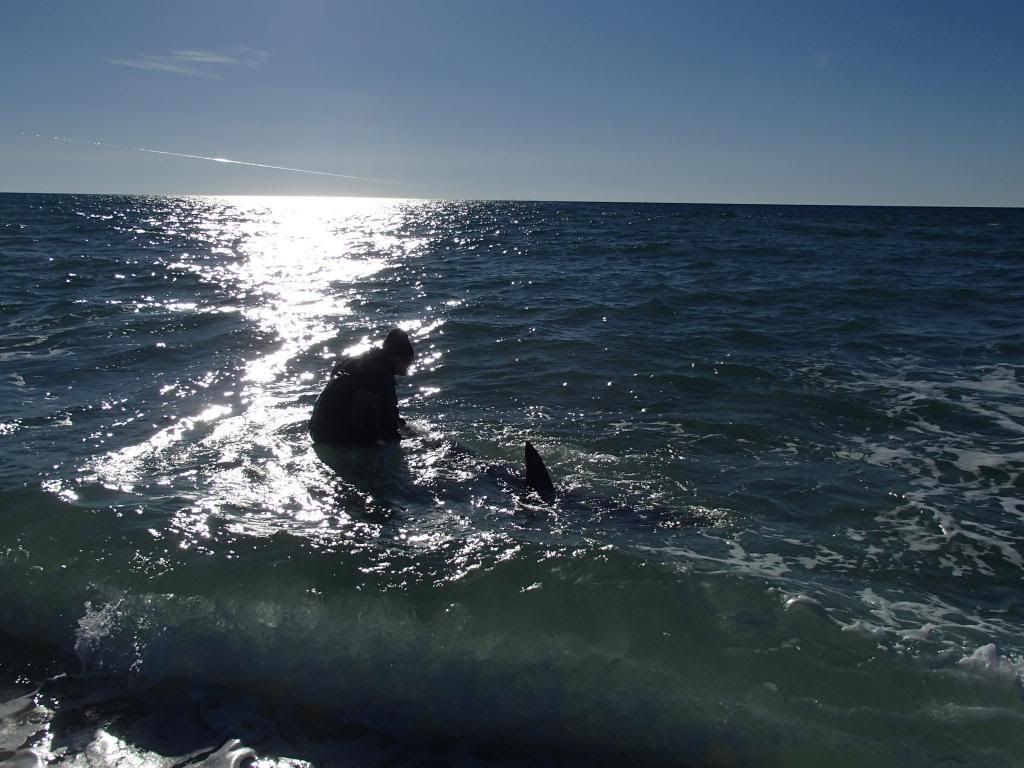 Check out the fork tail.
This catch forever changed both of us!!!
Moving on, Troy catches a beautiful 7'0" sandbar. HUGE girth!
Did I say that it was REALLY COLD! Like, it was extremely cold! I am from NY and this was down right miserable.
Troy adds another sandbar.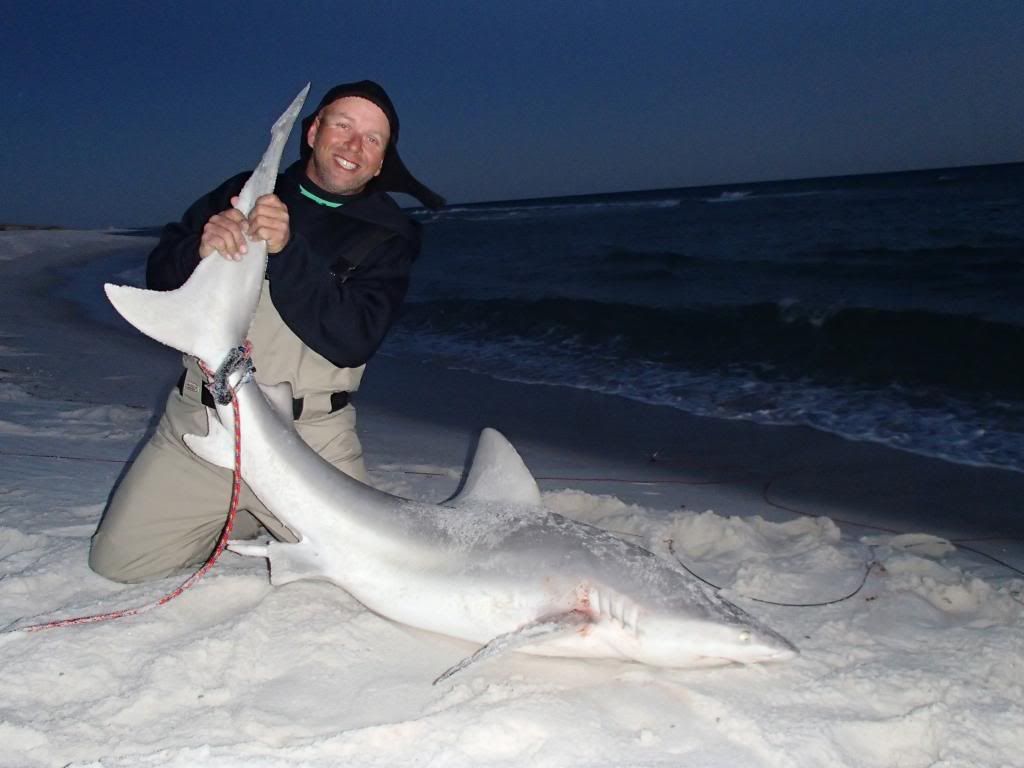 Then I add one.
Then Troy adds another sandbar.
Then Troy bows up on a decent fish. Then the fight got better and better. We get excited thinking we know what it is and sure enough a 7ft tiger on the sand!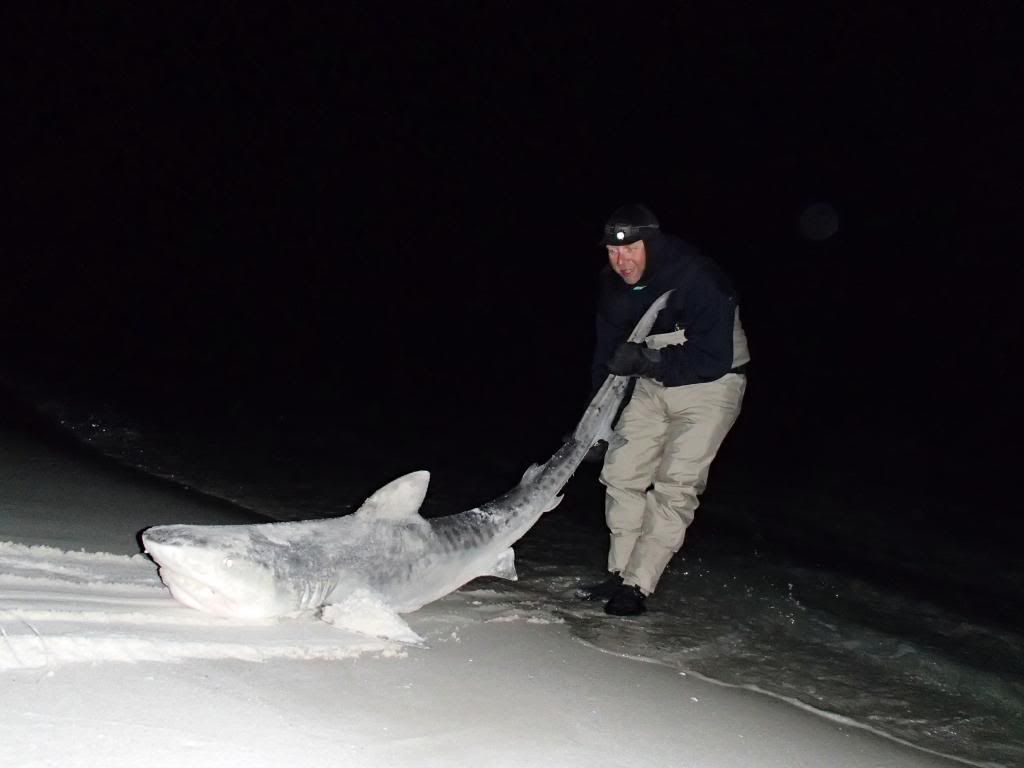 Next I fight a pretty good sized tiger and lose it right at the water's edge. The fight was odd and based on the hook popping out, I am sure it was foul hooked. It nonetheless hurt to see that whippy tail toss water right in our face before the stripes swam away.
I did however get a tiger of my own. It went 6'10".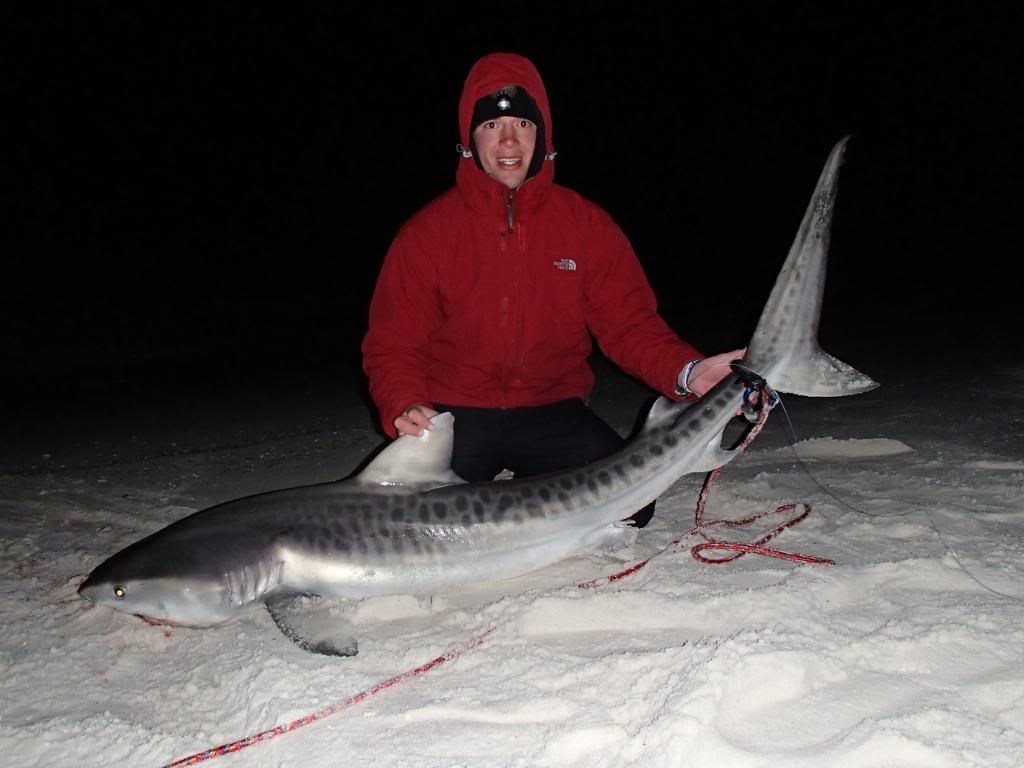 These fish were caught on a night where it was literally freezing and it hurt so bad to move that I honestly didn't want a shark to hit my bait! I was wearing every piece of clothing in the duffel bag which I brought down with me and yet my bones still felt cold.
Troy then adds another sandbar.
Then I add one.
Then troy adds one.
Then I get another. Troy must have said something ridiculous to get that expression on my face when it was that cold!
Then he gets another to round off the trip. Check out the water!
In summary, I would like to first thank Troy and Diana for giving me the opportunity to fish with them. I would not have been able to do anything like this without their help. Troy not only let me use his fishing tackle but he let me use HIS rod and reel. It was the set-up he always uses. Every minute was a pleasure to fish with both of them! The trip as a whole was outstanding. It was also just what the doctor ordered! Everything from the crazy action with the sandbars, to the tigers landed, to just the time spent on the sand with great friends.
Everything about catching the mako was incredible. For years I had thought about that remote possibility that maybe one day I would have a shot at catching a mako from the beach. Dreams became reality. I feel extremely fortunate to have had the opportunity to hook that fish, let alone land it. As much as I have tried to describe the entire experience, nothing I can write will truly give you the same impression that those high speed reckless jumps, big dark eyes and jagged teeth could make in person. I had seen tons of pictures and videos of makos before making this trip and I thought I had an understanding of what these sharks were all about. In reality, until the moment it cleared the water I had no clue. That is simply because it truly is indescribable. I have a new found respect for this species and can now understand why people can obsess over them! As self-serving as it sounds, I think that they must be the ultimate prize to catch from the surf and I say that because they are the total package. Period! Speed, size and power! Oh yeah and they do spinning back flips when hooked! Plus they have the menacing looks fitting for its physical abilities and its place at the top of the food chain.
Take care everyone! This is a trip I will never forget!
Matt