Lance and I left work yesterday evening and headed for the Florida Panhandle. We couldn't check into our beach house until today at 3pm, so we made a pit stop at Pensacola and decided to drop a few baits in the bay over night. Got baits in the water at 2am, and at 3am Lance is hooked up with the 1st shark of our trip...6' Bull...
He re-rigged another ray and at 5am, his reel goes off again. This is his new biggest bull shark at 6'8"...
It had been lightning and thundering all night, and by the time we released the bull, the wind was blowing 30mph from the north, rain was coming down sideways, and the lightning was everywhere. We decided to pack up and hit the road to our final destination.
Saturday
As we got to the beach house, this is what we see from our back patio...
Once the storm blew over we tried to get some baits in the water. Got both 80w's rigged up with 10lb chunks of jack. Lance took his out first and even with a massive weight with stainless legs, the current was so strong that we couldn't keep the bait down. We decided to put up the big reels and I ran a 12" ray for my wife on her 50w. It sat for hours until we decided to reel in and go inside. While she was reeling it in, the ray got hit. Line got very heavy and started moving in the opposite direction of the current. Shark ended up letting go of the ray, but the teeth marks in the bait were spaced about 1" apart and were just a straight line across the ray...no bend in the bite mark.
Hopefully the weather will cooperate with us a little more tomorrow. We will be going out in full force.
Sunday
We went to Indian Pass today and had 5 baits in the water from noon until 5am. Only had 1 short run, but the shark dropped the bait. We did catch about 40 big gafftop though on pieces of cut mullet. The beach is looking a little better today though, so we are going to try again. Water temp has dropped 6* in 2 days. That's not helping us either.
Monday
Weather was still rough today, so we decided to keep the girls happy and took the day off to go to Panama City. Had a nice vacation day and it was nice to get a little rest.
Tuesday
Well, we finally shook off the skunk today with a 7'4" nurse shark. Not really what we were expecting to catch on the 10lb jack head that was in the water, but it was neat to catch a new species and it was also Lances new personal best. Day started off perfect when I snagged a 20lb ray within 10 minutes of getting to the beach. I rigged it up whole and took it out. An hour later, it makes a short 5 second run and goes slack...I was cutoff. Lost the best bait of the trip and a $20 leader.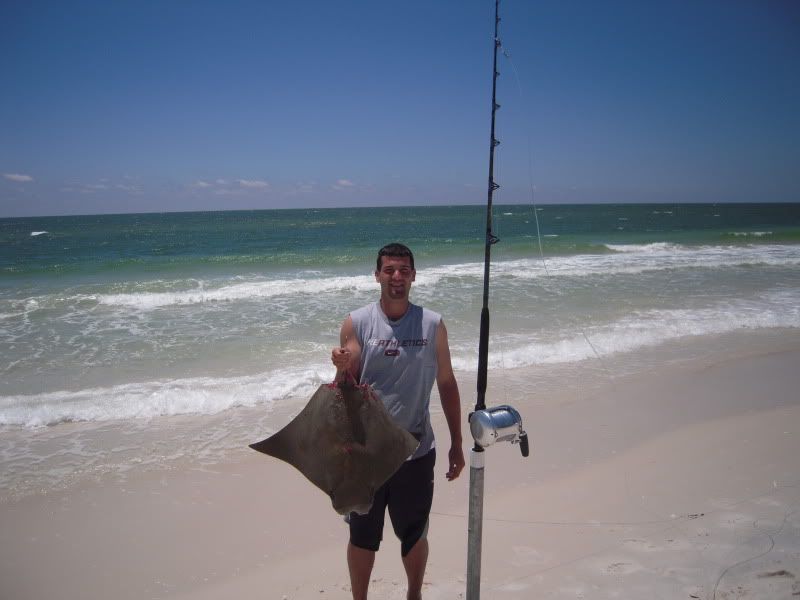 Soon after, the wind started blowing hard and the temp never got out of the high 60's. Around 5, lance's 50w started on a slow roll, and we all forgot about the cold for a few minutes. I stuck the hook while Lance was putting on the harness, but all he felt was a heavy weight until we got the shark up on the bar. Laziest fish we have ever caught until it was up on the sand. It then did about 25 barrel rolls trying to get itself tangled in our leader. Congrats Lance on the new PB...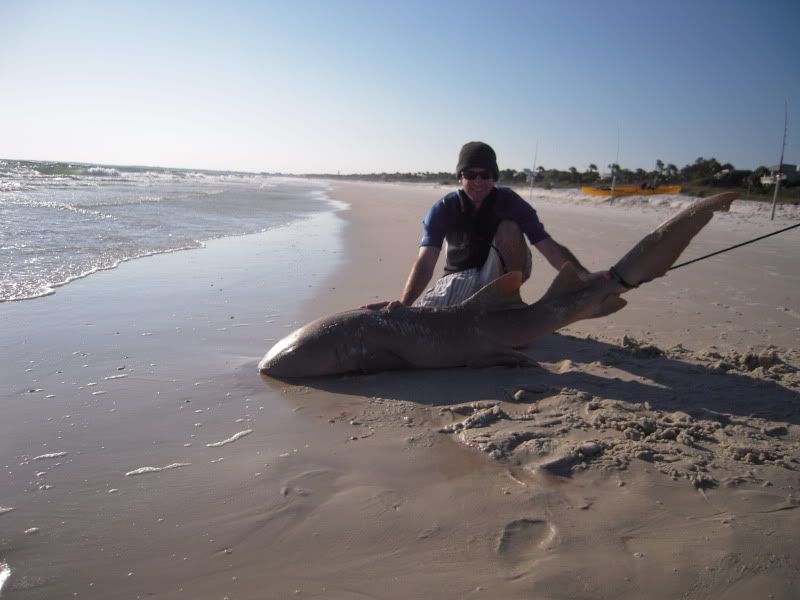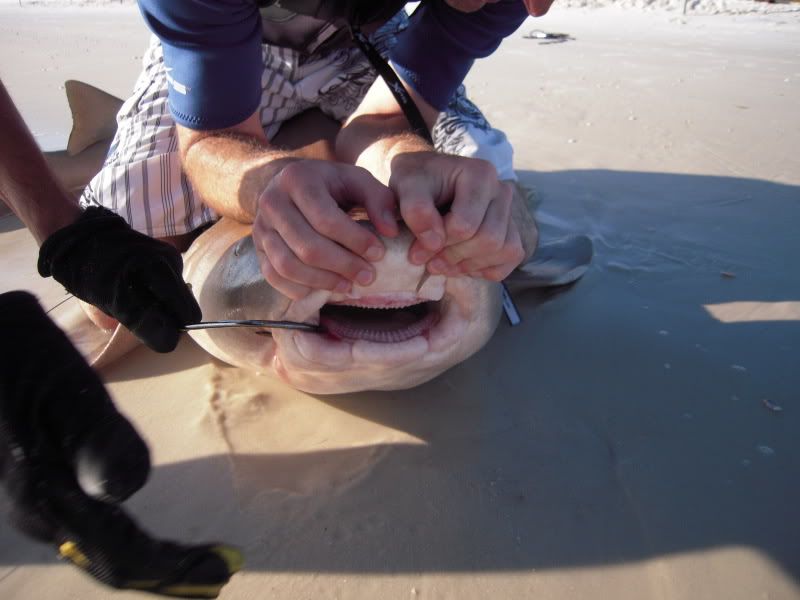 We ran new baits and got out of the wet clothes because by now the temps were in the low 60's and the wind was laying down. Lance took a cool sunset pic with his avet, and then we bundled up and waited for the evening bite. Didn't turn a click for the rest of the night.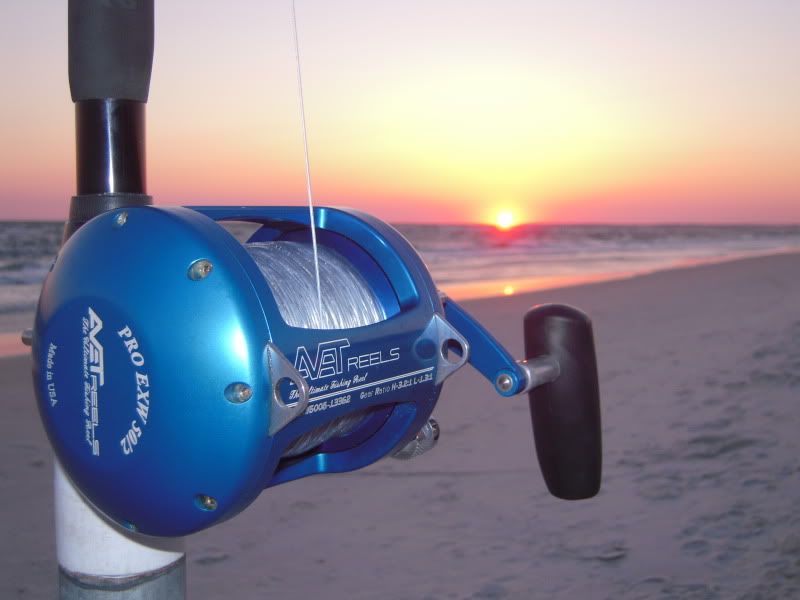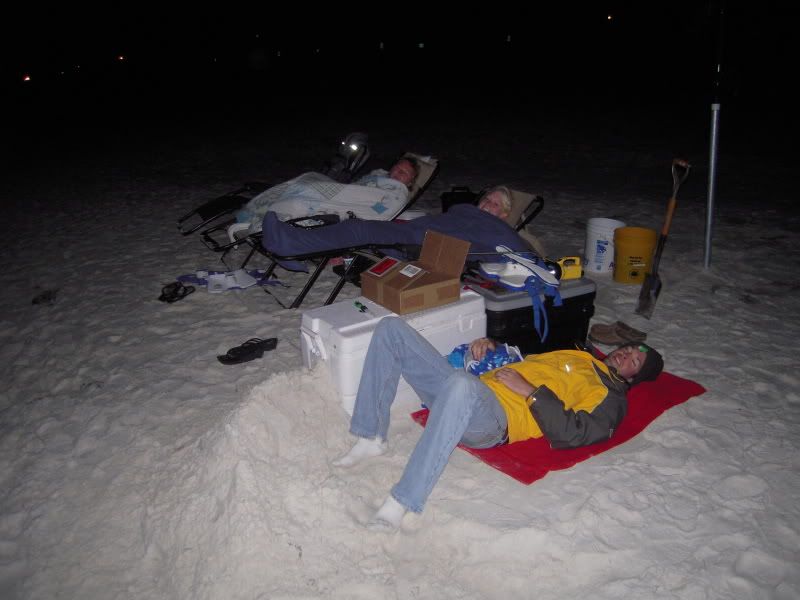 Wednesday
Today was a little better. Water was flat but it was still pretty cool. Lance started off the day with a 5'4" black tip that ate another big jack head...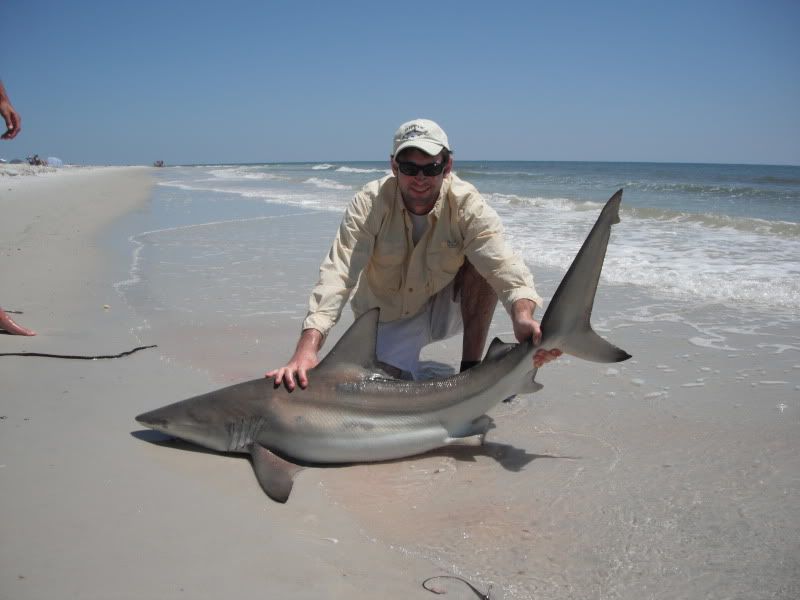 An hour or so later my wife finally hooked up on her new 50w and pink rod...5'9" black tip...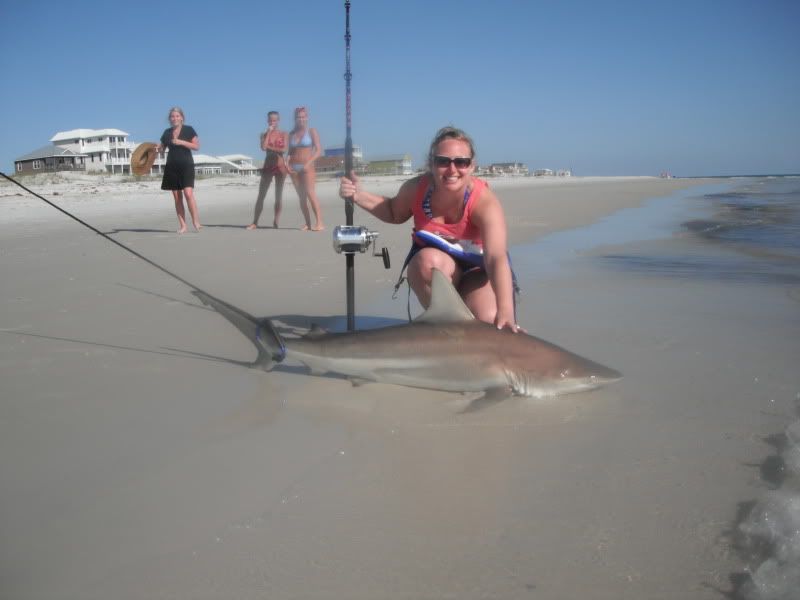 Things were quiet until the sun went down, and then I ended up landing a 6'8" lemon with a cut tail...
Lance ran out new baits around 2am and all were hit throughout the night but not solid runs. They would take about 10-15 yards and then drop the bait. I am going to try making some longer sliding traces today for the big baits. We did end up getting this little guy right as the sun came up...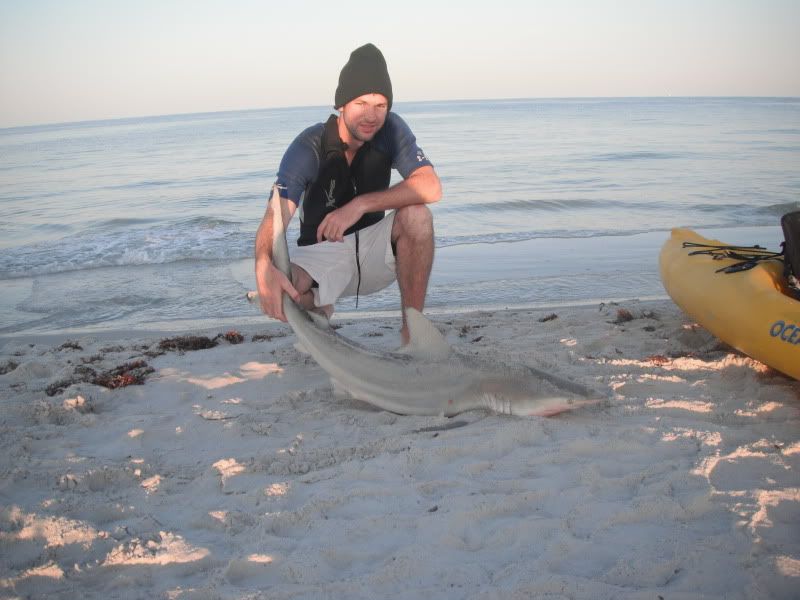 We found a place in the bay that holds a lot of rays, so we will be making bait tomorrow. The weather is finally right, so we are going to give 'em hell for the last 2 days of the trip.
Thursday
Today's bait haul was a huge success, but came at a price. Lance and I launched the kayak in the bay with a gig and 2 rods with weighted hooks. We ended up with 7 rays and 3 of the 7 are over 30lbs each. Now the bad.....the biggest and last one we snagged ended up sticking me right in my palm. I ended up going to the ER to make sure none of the barb was stuck in my hand, and the pain pills were nice also.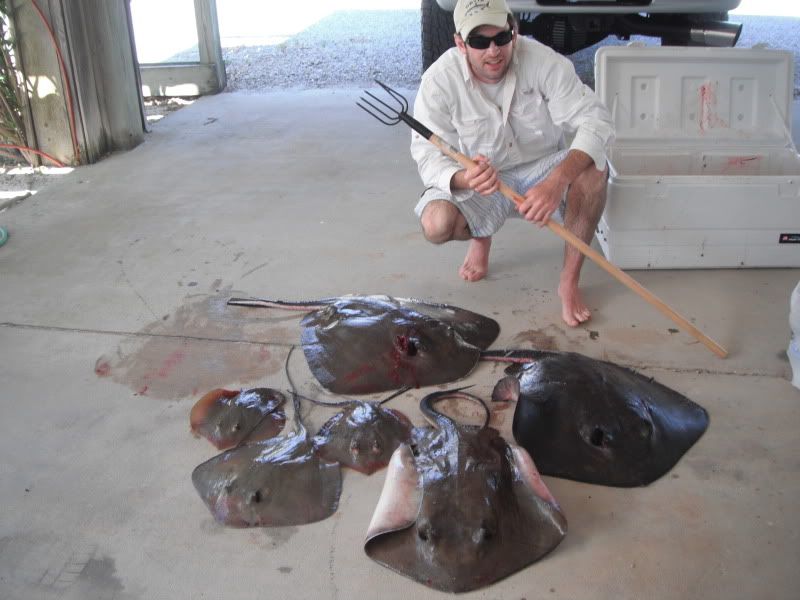 Just before sunset, Lance started getting rigs ready and took out all the baits since my hand was still hurting. Just after the sun went down Lance landed this fat 7"10" nurse caught on a big ray...
Soon after I told him we should drop a bait in the first gut just for the hell of it. Not 10 minutes later the reel starts screaming. As soon as I got to the reel it had stopped and we reeled in a mangled ray. We took another one out to the first gut and within 30 minutes Lance's girlfriend Stephanie is hooked up with a solid fish. Ended up being a 7'6" lemon...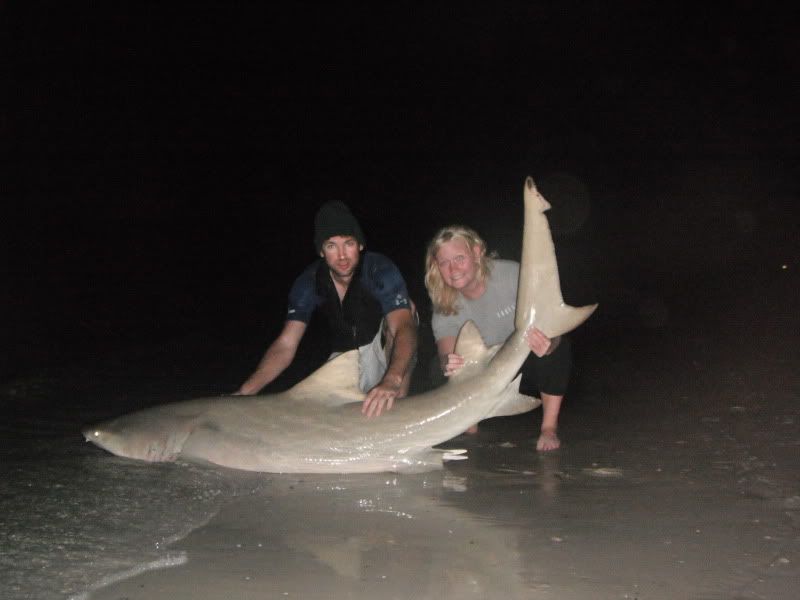 After that I hooked up into another nice lemon on a short drop, but it got tangled in 1 of the other lines and the hook pulled. From there, I caught 2 small black tips and it seemed like that was all that was biting...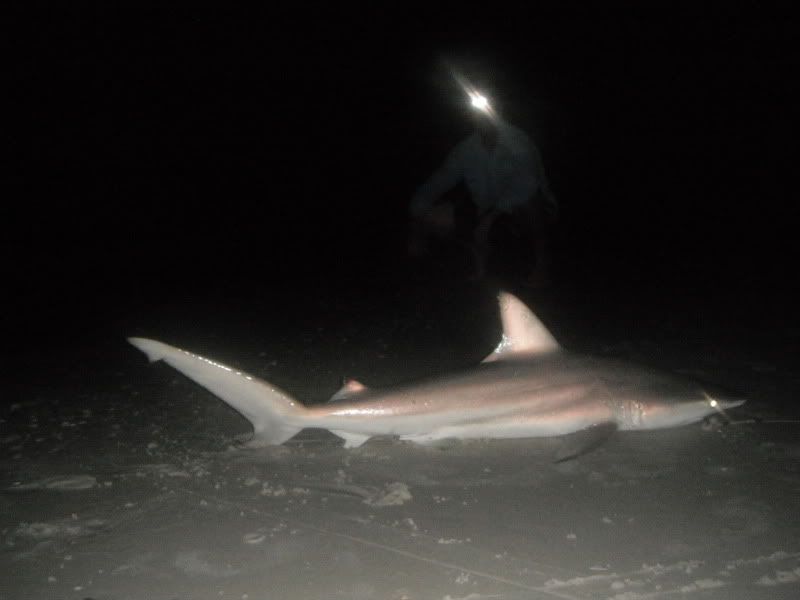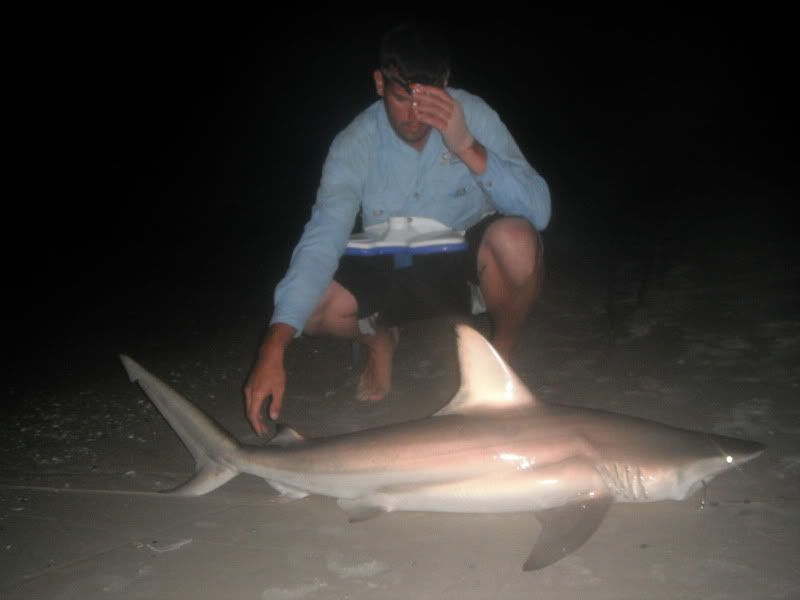 By now, the pain meds had kicked in and I was ready to go. I ran all new baits out and placed them all into the 2nd gut. Big baits on the 2 80w's and small 12" rays on the 30w and 50w''s. Just as soon as I am about to sit down, I notice that the glow stick on my wife's 50w is bouncing more than usual...seconds later it takes off. I slowly flipped the lever and could immediately feel that this was not like any shark I have caught before. The initial run took more than 300 yards of line off the locked down Avet 50w and took me down well into my braid backing. I was worried that I wasn't going to be able to turn this fish. An hour and a half later we have it just on the other side of the first bar and Lance walks out into the dark water and yells "TIGER!!". He tail ropes the beast on his first try and I run out to help him. With just the 2 of us we were not even close to being able to pull the shark completely out of the water. The girls helped with taking pics and getting us the tools we needed to get this shark back out without harm. It ended up measuring 11'10" which is a new best for myself and our crew...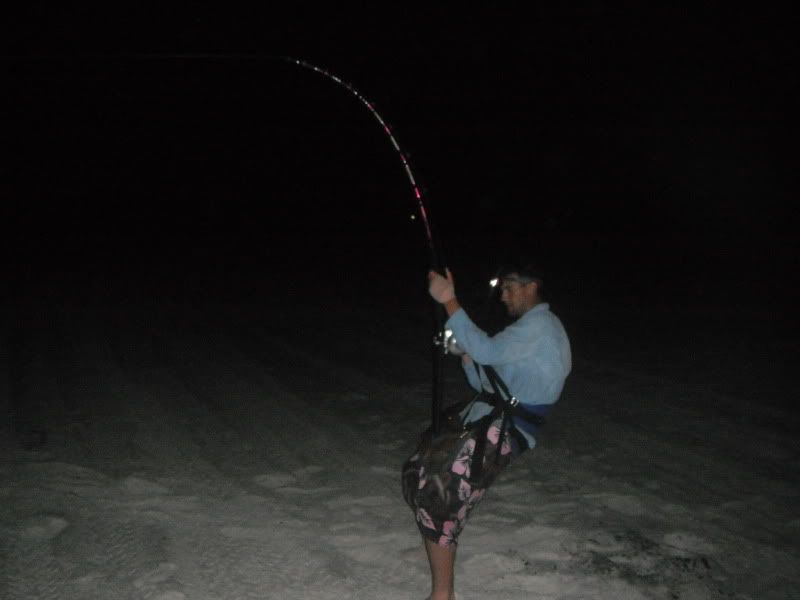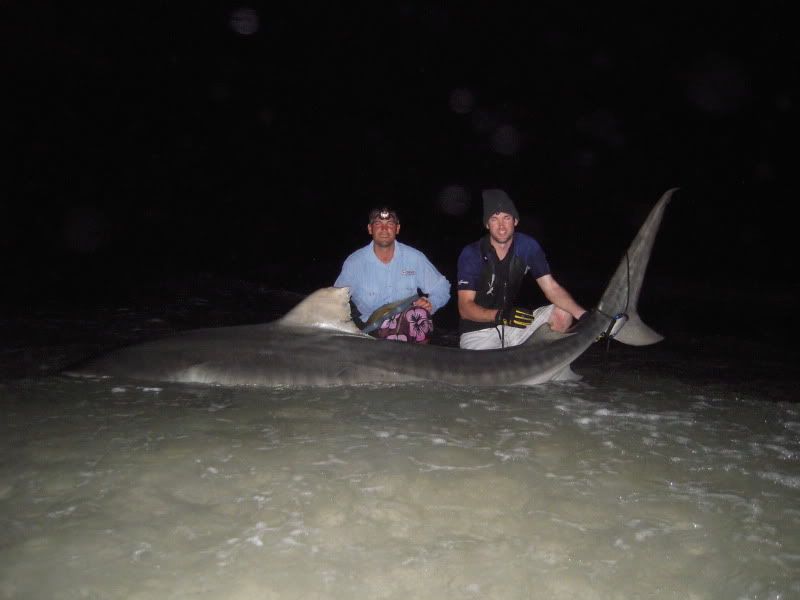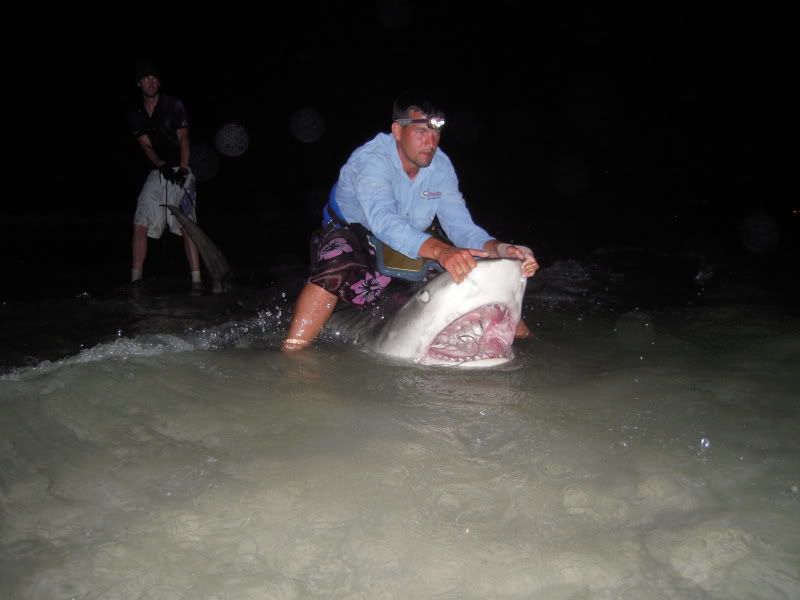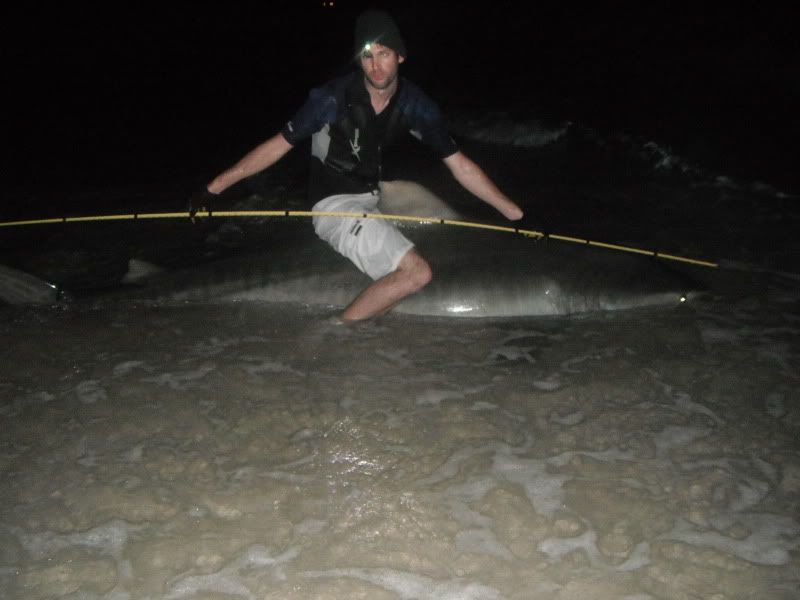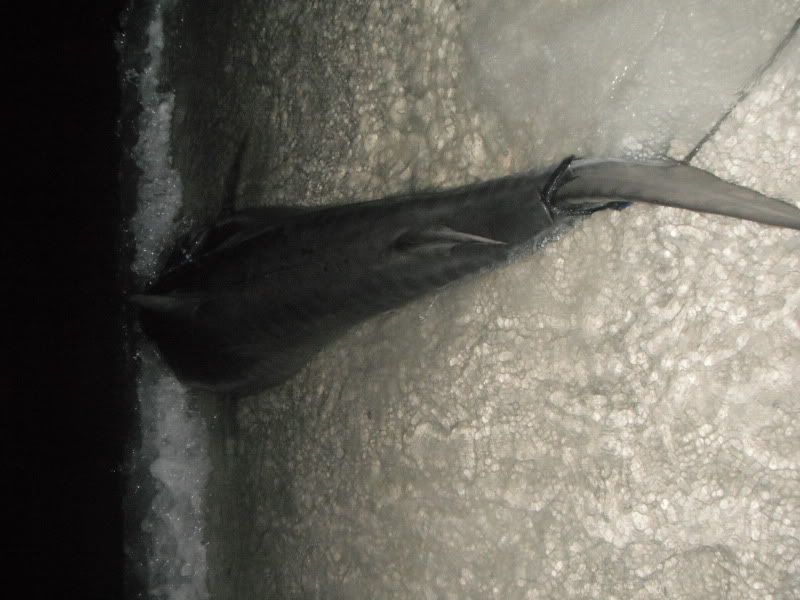 This trip started out very rough for us, but this 1 fish makes it all worth it. Bad weather, wind, waves, strong current, stingray barb in the hand......none of that matters because of this 1 fish. I am very proud of lance and the girls for the way we handled this fish as a team. Couldn't have done it without them.