Team Reel Fake started our latest sharking expedition with high hopes and great expectations. Our goals for this year were to break 10 ft and put a Tiger or a Hammer on the beach.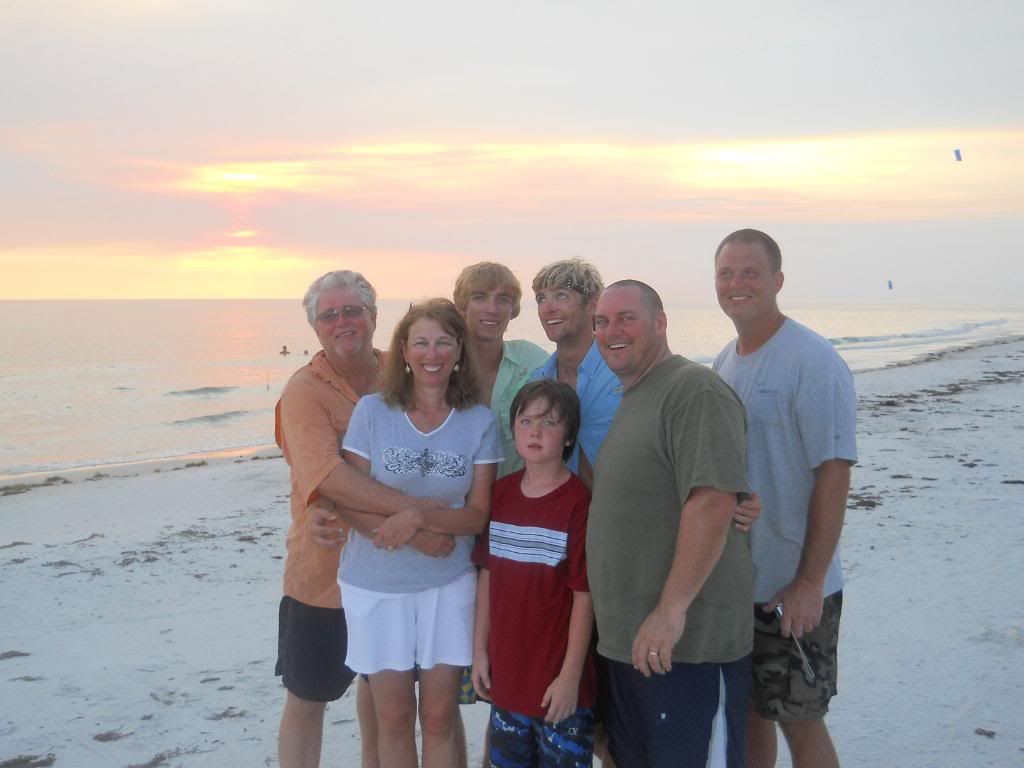 The team was in full force with Bill, Joey his two kids Haley and Jacob,littlejohn, Me and my wife Andrea and our two kids Hunter and Jordan. With honorary members Jeff, his girl friend Audrey, William and Chris.
Saturday we started deploying baits around noon and had quite a spread. We had Kingfish, Red Snapper, Stingray and other assorted baits.
At 4AM Sunday morning, I wake up and see that my glow stick in no where in sight. I check my reel and half my spool is gone and I started reeling up. I pulled in a 6ft Black tip and we are on the board. We take some pictures and do some celebrations and go back to sleep.
Right at daylight, I notice my lucky 12 has the glow light no where in sight and again half the spool is gone. I thought to myself oh no here's another Black Tip and I got to reel it all the way back in. Me being such a nice guy decide to let Joey do all the work and reel in 400 or 500 yards of line. Joey starts the process or reeling up and it immediately became aparant this was no 6ft black tip. Finally when it get close to the beach we see the unmistable dorsel and tail of a big Tiger. We all go into panic mode and want to be very careful and not loose this shark now that it is within sight.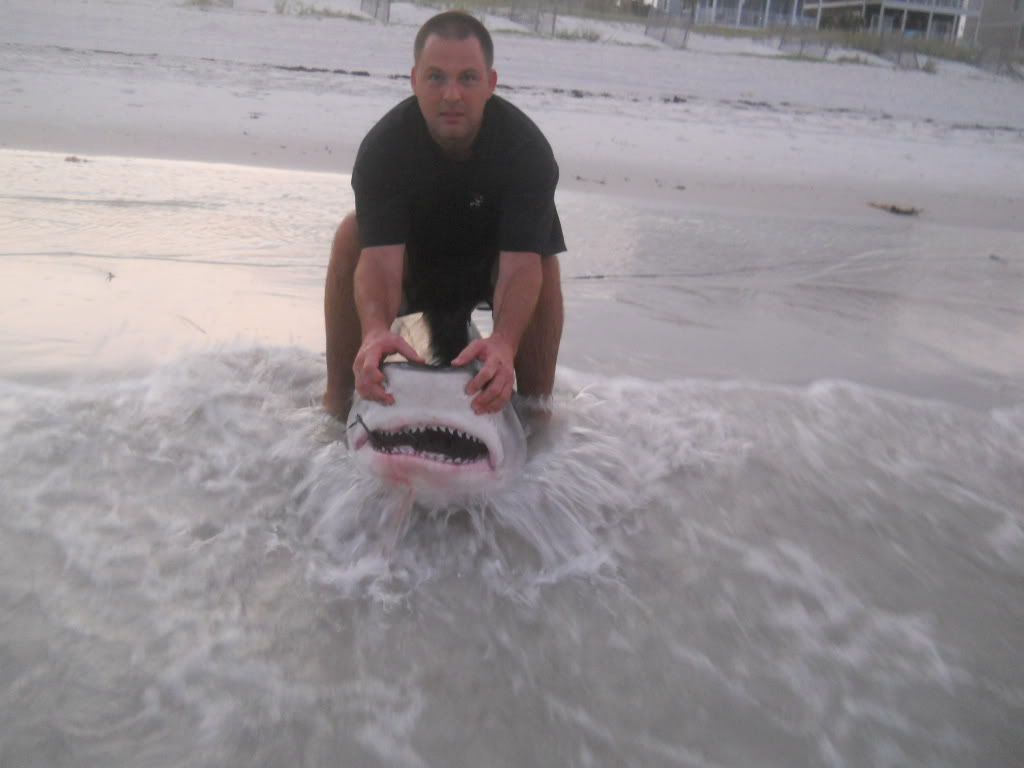 We finally tail rope and pull this 8'8" Tiger on the beach and Joey Bill and I are going crazy. We couldn't believe our luck. We haven't even been there 24 hours and we had one of our goals for the trip met. After pictures some high fives and de-hooking we send this beautiful striped Tiger on it's merry way. Joey congratulates me and sacastically mentions what a great guy I am to let him do the honors.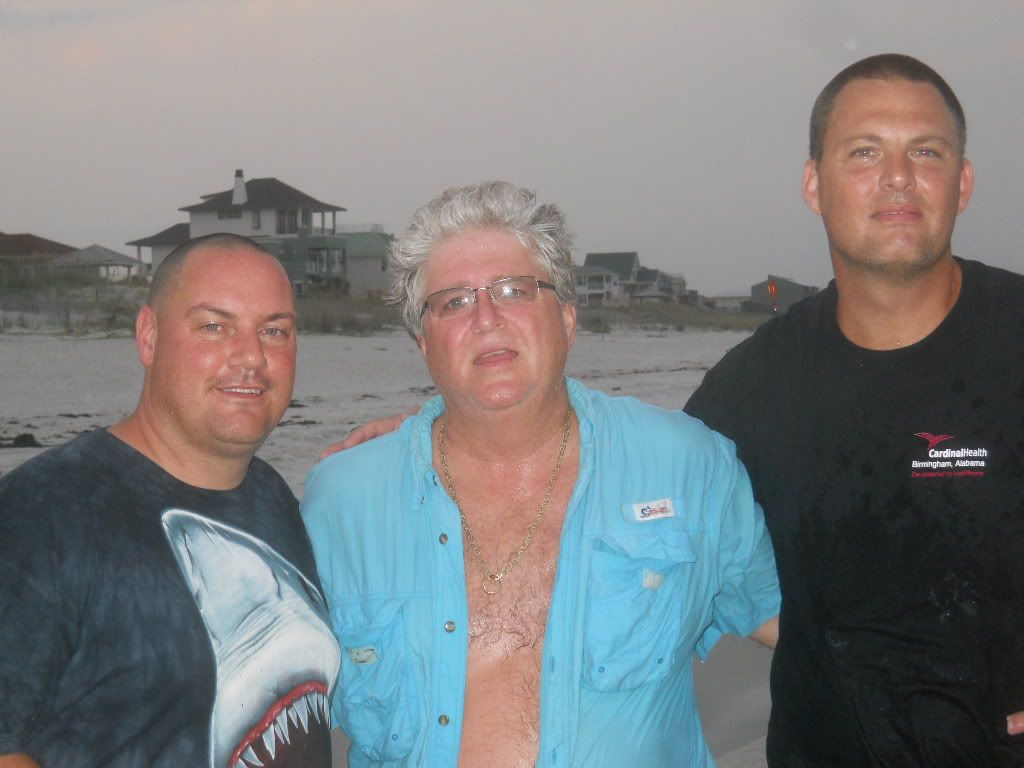 The rest of the day was uneventful and that night we re-bait and deploy all our lines. We spend the night talking and the shark dance was requested. After consulting with Mr. Crown Royal I decided it was time for a direct appeal to the sharking gods. I could feel the power and the whole group knew that big things would be in our future.
Monday morning just before daylight Joey's 14 starts a slow roll-- we take our time because we have learned the longer we let the sharks run the better our success rate with hookups are. We let this shark run a full two minutes before we tighten the star down. As soon as Joey tightened the star down, he almost did a faceplant in the sand. We immediately knew this was our largest shark in Team Reel fake's history. The shark started pulling drag and Joey's 100 class rod had a good bend and Joey was hanging on for dear life. He kept saying this is what we came for -- a shark that could actully pull drag off a 14. For close to 40 minutes it was give and take with this monser from the deep. We had to hold on to Joey to keep him from getting pulled over and feed him water to keep him hydrated. We had feeling it was going to be a tiger and when the dodrsel popped into vew we all started screamin it's another tiger and it's huge. There was five ot six feet between it's dorsel and its tail and it was giving Joey fits when we got it to the last sandbar. Finally we were able to ge a tail rope on it and it took 5 of us to half way get it on the beach.
We all scrambled to measure it get the hook out and take some pictures. There was pure pandimonium and delight all at the same time. We put the tape meause on it and it measured out to 11' exactly. our second goal has been met to beach a shart over 10 foot.
Our well tuned team had this shark back in the water in a matter of a few miutes and it didn't need any reviving and immediately swam off into the deep blue sea where the mystical tigers live
The next afternoon the lucky 12 starts singing the beautiful song we all long to hear. When I tightened the star all I could think what in world is on the other end of this line?? I couldn't budge it, it just sat there like my line was hung up on something. I tighten the star down a little more and reeled down and pulled as hard as I could and there was a little movement. Over the next 20 minutes, inch by inch I gained line. My arm was jello and finally we pulled a 9' plus Nurse shark on the beach. This thing was huge, probably a 400 pd plus fish and dangerous as hell with all of it's rolling and tail whipping. This was by far the nastiest shark that I've ever landed. He was just dangerous. Every time we touched him he went crazy. The charley brown circle hook was right in the corner of his mouth but every time I put the dehooker in his mouth he started rolling. Little John was going to sit in his back I told him no way. That shark weighed twice as much as he did and would roll him for sure. I had to cut the coated wire. We had to get help from the crowd to help pull him back in the water. But he swam off strong and is my personal best at over 9 feet.
click on pic for video
The next afternoon, I was sitting on the beach by myself, everyone else was out gathering bait or in the condo getting dinner ready. I looked up and my line marker was nowhere to be seen. The pole was 50 yards down the beach and by the time I got there several hundred yards of line had gone out. I whistled loudly and my wife heard it up in the condo and told Hunter to get to the beach – Dad had something. I turn around and Hunter is sprinting down the beach, he gets strapped in sets the star and starts the fight. Hunter is a veteran at this and has landed numerous sharks. He expertly starts reeling this shark in. Just as the shark gets to the last sand bar we again immediately see the unmistakable dorsal fin of a Tiger. Hunter is beside himself with excitement and starts yelling TIGER!! I tail rope it and pull in a 6'4" Tiger on the beach. This is unbelievable, Team Real Fake has pulled off the Trifecta.
click on pic
As far as I can remember, I don't recall any team in the last couple of years pulling in three Tigers in one trip. William informed us that Joey's 11' Tiger was the second biggest landed by a land based sharker in FL this year. What can I say. Three Tigers, one 11 footer--- it doesn't get any better than this.
That night, William the administrator of the So FLA Shark Club site and Chris finally arrive. We immediately help them get set up and get their baits out.
William has become a good friend and is one of the great sharkers of our time. This gentleman has more knowledge than c an possibly be comprended but I try. If you have never been to the So FLA Shark Club website I highly recommend you do so. A full history for land based shark fishing can be obtained from his site and a wealth of information. William thank you so much for letting me into your world, it is truly appreciated.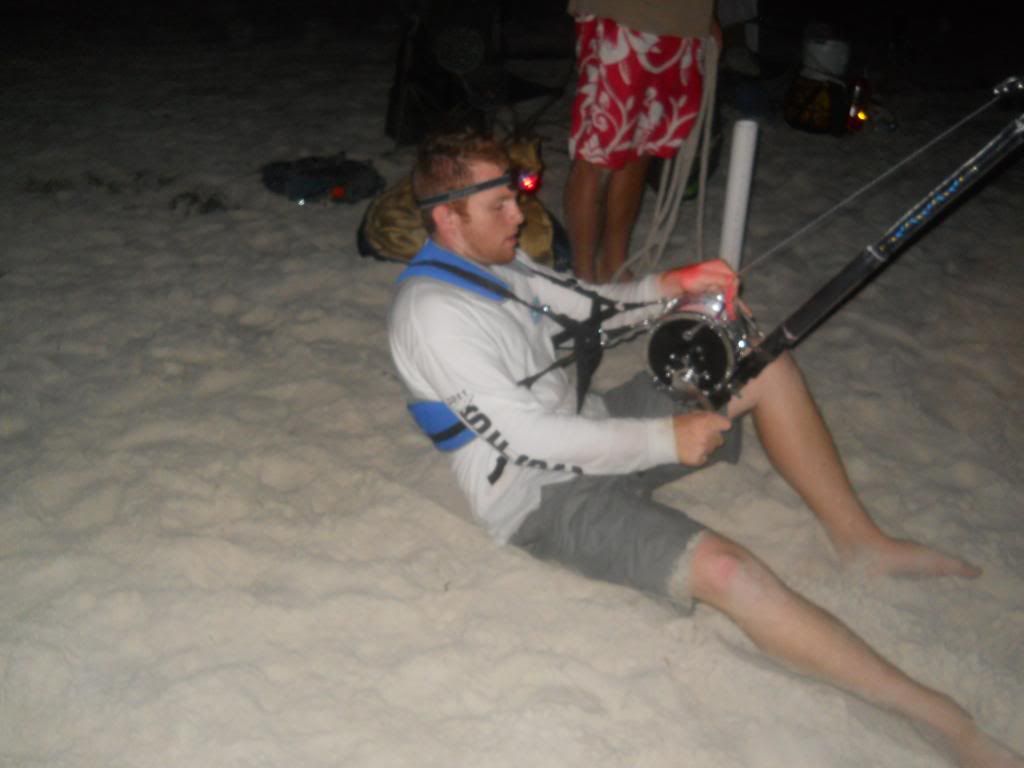 Shortly after they get set up Chris has a run and is hooked up. He pulls in a 7'3" Nurse and they are on board. What a way for them to start the trip.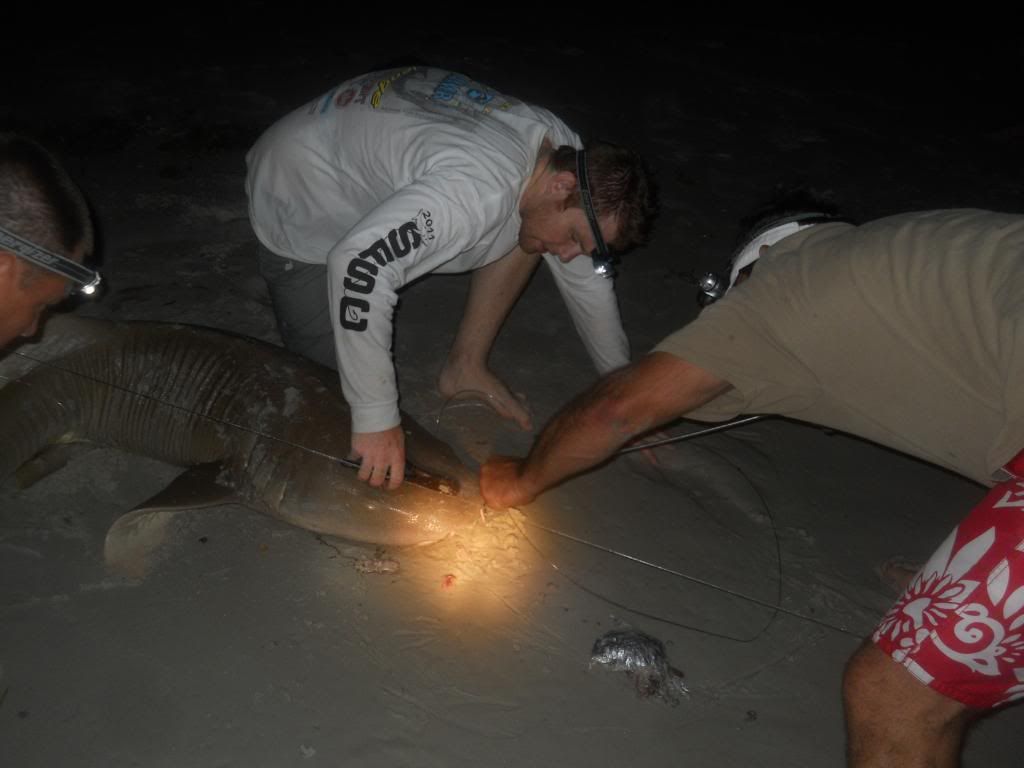 A little later my 12 goes off again and my son Jordan is on deck. This is the first shark that he's caught in about a year and was pumped to the gills. His lean muscular frame had no trouble muscling in a 6 ½ foot Bull. This was his personal best of his young sharking career. He was ecstatic and accomplished his goal of landing a shark on this trip. Don't we all wish we had the 8 pack the youth provides.
But sadly that was all the action for the night.
Throughout the course of this trip most of action was late in the afternoon or the wee hours of the morning. The next night, Chris is again up with a good fight that turned out to be an 8'2 Lemon shark. This was truly a massive shark and real nice trophy. Notice how the So FLA guys sit in the sand, in their sleeping bags to fight the sharks. This was very interesting to me because we always use stand up fighting harnesses. Their method works like a charm and was very effective in beaching this lemon. Chris I'm glad to have met you and William really knows how to pick his friends. Congratulations on coming to the panhandle and immediately landing some sharks. Way to go!!!
All right Folks, that was pretty much it for the sharking but there are several things I'd like to mention.
First, our hook up ratio with our super long sliding traces was 5 for 6 when using circle hooks. I'm going to say this again; you cannot let these sharks run long enough. All of the sharks were hooked right the corner of their mouth and with the exception of the nasty Nurse shark we were able to get all of the hooks out. This trip along with our last trip we are 13 for 15 on the hook up ratio with the long sliding traces and circles. A lot of yall have argued with me about the traces being too long but the proof is in the pudding! Note – we have yet to gut hook a shark.
Secondly, we have been using 550 pound mono for our sliding traces with this heavy mono, we didn't have one cut off for the last two trips. For us this is unheard of.
In summation, Team Reel Fake needs to change its name to (in the famous words of Larry the Cable guy) Team Git-'er- Done. I really want to express my appreciation for everyone that showed up. For all of yall that like to keep these teams down to a bear minimum you don't know with you are missing with all the camaraderie and good times. As far as I'm concerned, the more the merrier.
Thanks guys and gals for reading the report. There's going to be a lot a random pictures added to the bottom of the report.