This year, what has turned into our annul fall panhandle trip, was the first two weeks of October. The first week was just me and my wife. The second week we were joined by two families from home. It also worked out that local friends Adolphus and Eileen were there most of the two weeks.
We had just about wrote the trip off as a lose with all the hurricanes this year. This portion of Florida was very lucky. Even while we were there Hurricane Nate came out of no where and threaten to run us back home. Once again, we lucked out.
For the first week the wind howled out of the East. It kept the surf down, but still made kayaking tough. Paddling the bait out was not bad, the wind would hit me in the back. Paddling in against it was tough. The wind was blowing the sand so hard, it was stinging our ankles.
The first few days, we did not fish. We got started slowly. The first thing out was the Penn 12/0 trot line, just catching bait. We caught a few rays and lots of sail cats and hardheads, LOTS!
About October 4th, we put out the real shark rods. Back in the early spring, I got my wife Shirley, a Pink Avet 30 wide, from Cabbage Key. Not having much spare time anymore except when we are actually on a trip, I ask Nemo/Lynn to build a rod for it. We put our heads together and came up with what we thought would work specifically for my wife. He built it with a vertical jigging rod blank and Alps reel seat. It finished out around five feet. Beautiful work and I really appreciate his time and his help.
Now it was time to give it a try. I ran my Avet 50w and Shirley's two Avet 30ws.
With only the two of us on the beach, I backed up from the shore a good ways and sunk one of my metal rod holders in the sand, then put my spare tail rope on it with about 15 feet of slack. We are both getting too old to be drug across the beach. It worked great. It kept the person on the rod safe and their helper freed up to do whatever they needed to.
Shirley's pink reel was the first one to take off. I harnessed her in and clipped on the tail rope.
This fish did jerk her around a bit, but she reeled it in with no problem.
The rod worked as we thought it would and flattened out nicely when the fish would take a run. This gave her a lower center of gravity which made it easier for her to stay on her feet.
It was a 5', full of energy Blacktip.
It was not long before her silver 30 wide takes off. She ask me to take it.
It was a lot of fun and another 5' Blacktip.
If they would fight all the way through, like they do on the front end, back end and on the sand, they would really be a handful. I rarely handle a blacktip this size or smaller that doesn't leave a mark on me.
That was it for the day, with no other takers.
We got off to slow start the next day, but I added my two Everols to the line up, ran long, 500 and 600 yards, hoping for something big.
My Avet 50 was the first to go. The fish felt strong at first, but turned it not much of a fight, at least until I got it on the sand.
It was another Blacktip. 4'9". I'll still take it opposed to just watching lines.
My Everol 14/0 takes a good but short run. I was not sure of the size so I clipped myself to the post. I was hoping I needed it, but It was mainly just me reeling in the 600yds of line with some weight.
It was a 6'4" Bull. Two young men from down the beach were really excited though.
A young family had came in to stay with Adolphus and Eileen just a couple of doors down form us. Parents were dad Doug and mom Kelly. The two boys were 12 year old Whitfield/Whit and 10 year old Graham. They were very interested in what we were doing and spent the next few days on the beach with us. I told them if they would stay handy, I would try to let them catch one.
My 12/0 was the next to take off. Doug and Graham were on the beach at the time, so Doug and I harnessed up Graham. He did a good job and his father kept him on the beach. That bait was out 500 yards, so he had a tired arm by the time he reel it in.
Graham had his first ever shark. It was a fat 7'3" Bull. We called it a day on that one.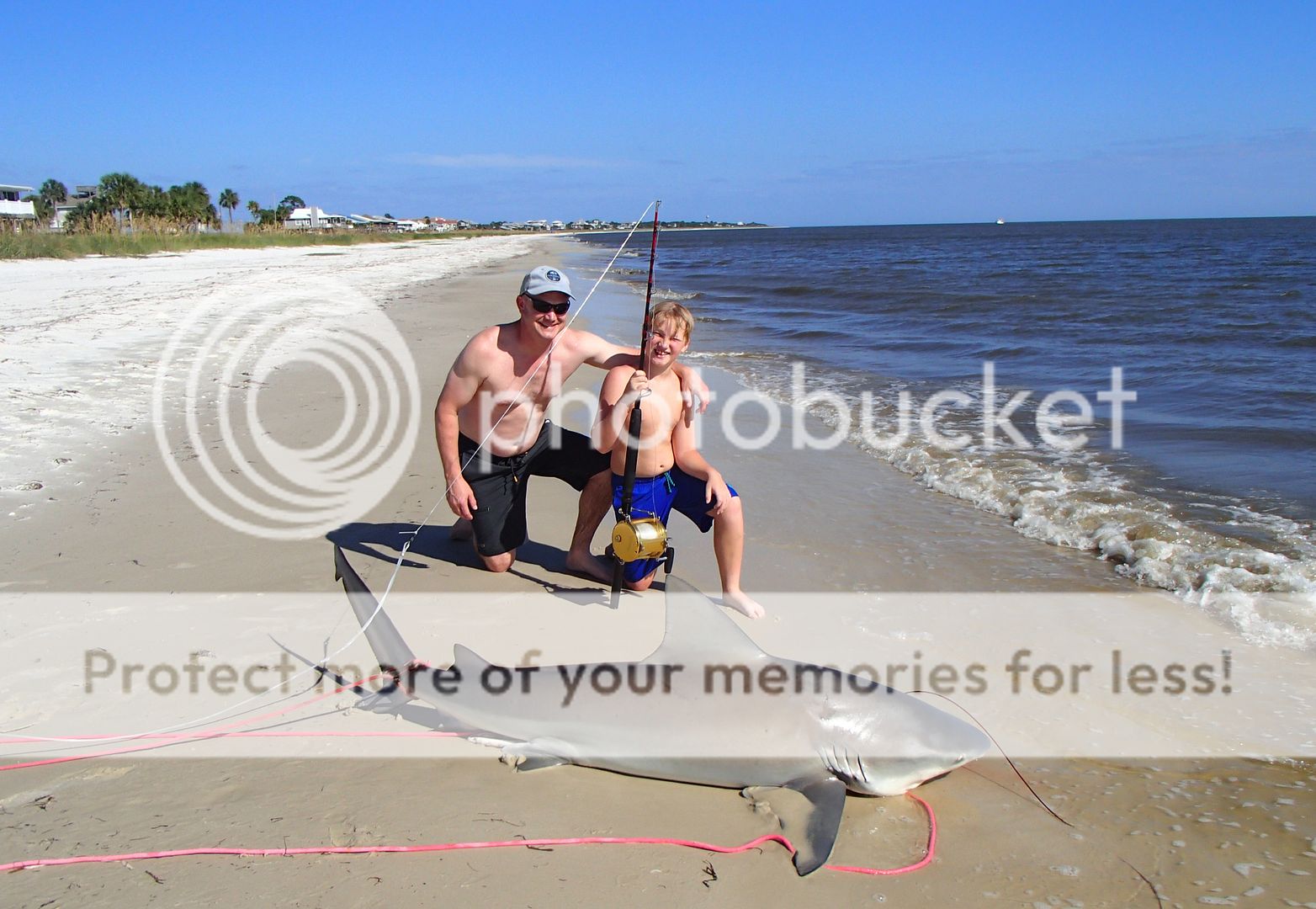 We started the next day late morning. Extra high tides were forecast for that afternoon. We had a slight on shore wind which pushed the tide even higher. Along with the high tide came the grass. Not a lot, but still enough to keep me busy clearing lines. We had to move the all rod holders to higher ground twice and finally ran out of beach. We made the best of it and was rewarded.
My Penn 10500 spinning reel was the first thing to take off that morning. I was making a long drop, so Doug and the boys, overseen by Adolphus, fought this one in. It was Blacktip around 5'. The hook pulled just as they got it up on the sand and it flopped its way back in, but it got everyone revved up. Just the beginning of a flurry of activity.
My 14/0 was the first big reel to take off. Once again Graham was handy, so we strapped him in. Not as big a fight as the day before, but this was a 600 yard drop. Plus we were standing about 10 feet out in the water from dry sand. Much further and we would be in the grass.
Graham comes up with a 6'6" Bull this time.
Next reel to take off was Shirley's silver 30w. We could tell it was a decent fish, so we strapped in Doug this time. He could not believe how hard it could pull. It took a few good runs, but he reeled it in with very little trouble. His family rooted him on.
It was Doug's first ever big shark. An 8'5" Lemon.
Not long to rest and Shirley's Pink 30w took off on a fast run. She was kind enough to let Whit take it, even though it was only the second fish ever caught on this reel, so we strapped him in. It was a pretty good load on the 30w. Once again we were standing in water almost back to the grass line.
It reminded me of the craziest nigh of fishing I have ever had. Davin and I had out 8 rods that we were going to fish all night. The tide made it all the way to the live grass line. We had weeds already on the beach and new ones coming in. Davin caught a nice bull and lemon in all that, but we worked our tails off.
At least it was daylight now and only a fraction of the grass this time. Whit, guarded by his father, reeled in his first ever big shark. A 6'10" Bull that was angry at the world. It gave the rod holder a beating as it came in.
This was a good day of fishing for the amount of time we put into it. The whole family thanked us. They had to leave for home the next day.
Week two started, Oct. 7th, with the arrival of two families from home, Chip, Amy, 16 year old John and 13 year old Sam. They are on their forth year of shark fishing.
Josh, Kristine, 11 year old Isaac and 2 month old baby Renly, back for their second time.
No messing around here. They got right to collecting fresh bait and fishing. We put our gear out side by side.
The weather changed a little. The wind slacked off a bit and it got a lot sunnier. Much better conditions than the first week. It took the bite a couple of days to pick back up.
First fish we got the stay on was Chip's Penn 14/0, Oct. 9th. Another long drop. John was up. Long way in, but John is getting to be an old hand at this.
After a long crank. We beached a nice 6'6" Bull.
We get it back in the water and run another bait. I don't want you to think all we run are long drops. We had them scattered all over the place. Anywhere from just over the first bar to a 700 yard drop.
Next thing to take off was my 14/0. I could tell it was a good fish by the first run. Josh was up next. We strapped him in and the battle was on. Josh and Kristine are fast learners. They have taken to this sport quickly.
We were right at high tide, so we backed Josh up near the grass line for safety. He figured out high and low gear quick, because this one really worked him.
With help from Sam and Isaac, I got the leader and tail rope on this very nice 8'11" Lemon. Fun was had by all on this one.
This was a PB for Josh. He will have trouble beating it.
Next up was Kristine. Josh and Kristine took turns on baby duty so they could both enjoy the beach and all it had to offer.
My Avet 50 w was the next one to take off. We got Kristine harnessed in. This fish had some weight to it, but was no match for the 50w. She had a great time reeling it in. The smile says it all. This was her first ever big shark.
She had a 6' even Bull.
Again with help from most of the crew, we got it processed and it swam away. I know we did not mention it, but we were tagging and taking DNA samples for FSU again this trip.
Sam wanted to release this one, so I coached him through it. He did a great job. I was very proud of him.
These young men have learned a lot. Both families are as good a people as you could hope to be around. Proud to call them our friends. This ended another good day of fishing.
We put out big gear the next day, but no taker. We were low on bait, so we all worked hard at catching more. My wife and I ran our trot line out several times. I may have explained it before, but it is a 300' section of 400lb test mono, It has a pair of barrel crimps six inches apart every 12'. We use a 3/4" lead filled copper pipe weight with very stiff legs as an anchor. The other end is spliced into the 200lb on our Penn 12/0. The rod is one I put a large roller tip and large guides on. The barrel crimps pass through them and onto the reel pretty well. Still catches every now and then. The drops are a 3' piece of 400lb test with a drop clip on one end and the hook of your choice on the other. We put up to 10 drops each time we run it out. We usually let it sit an hour or until we have something big run off with it or unless we get a shark on one of the other lines and have to clear it out of the way. All of this to get to an odd catch.
First time out that morning it got cut off at the drop nearest the anchor, so we lost the first hook and weight. I had several spares. As usual, I was in a hurry so instead of splicing or crimping the new anchor, I just tied a Bowline knot. My wife and I ran it several more times. The last time in, it was loaded with the usual Sail Cats and Hard Head catfish plus one good ray. We were getting close to the anchor and the line was running back and forth in the water. I got the last hook off and it is still running around. We were both confused until reeled in the weight.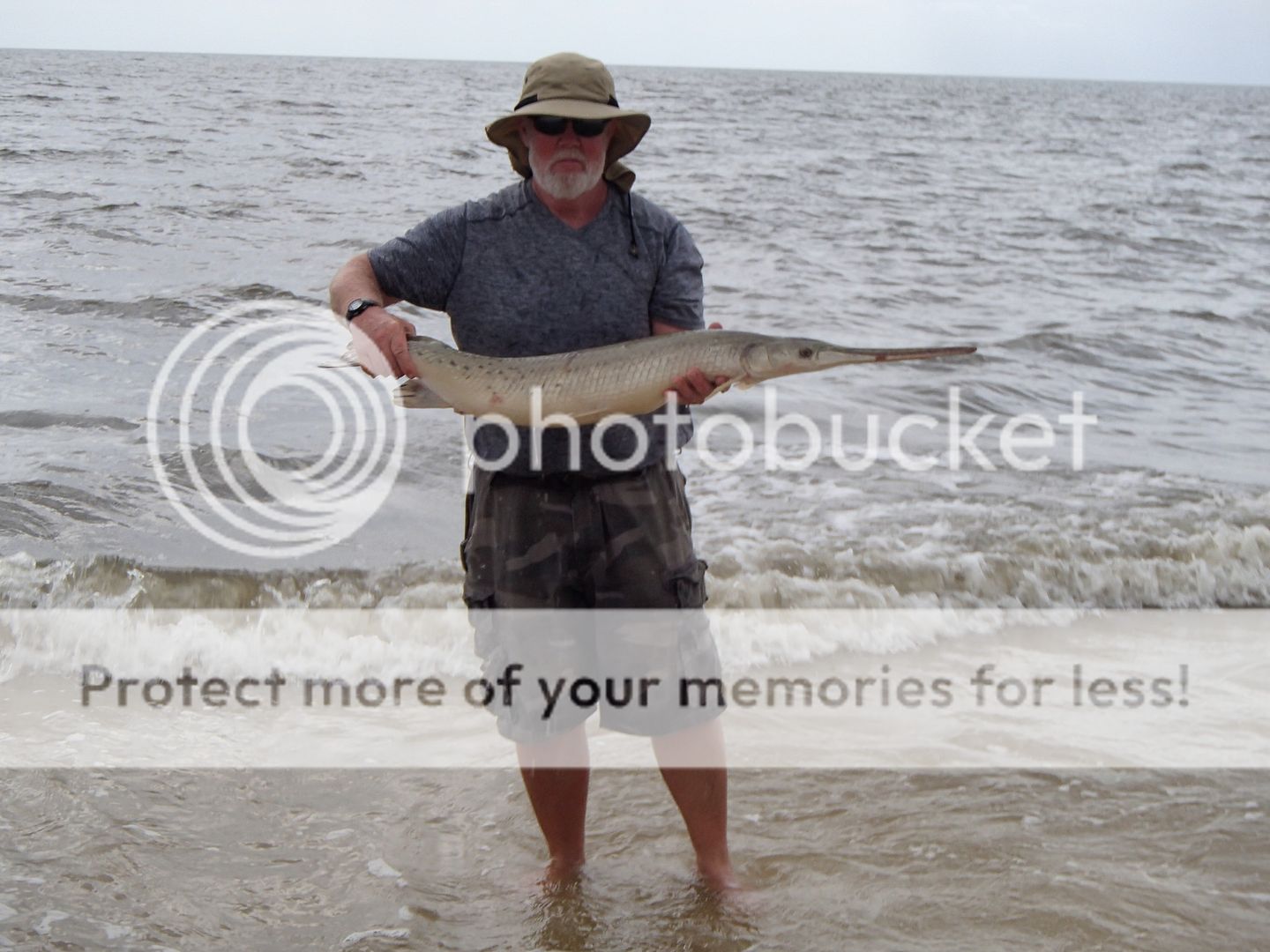 This Gar had swam right through the loop created by my bowline knot and gilled itself. I don't know what the odds of this is, but it boggles my mind. The loop had to be the perfect size for it to get its head through, but yet not let it back out. It was very angry, but we got it released. It was one of those, seen it, done it, don't care to experience it again things for me.
Back to bait fishing. While some of us were working the beach, others were working the bay. Josh came up with a ray in the bay, then came to the gulf side. He and his son Isaac caught a very nice ray on his spinning rod.
This was the catch we were looking for. It along with the other few we caught would give us just about all the bait we needed for our final two days of fishing.
Almost all the bite had been coming after lunch, so the next day we did not even set up until around 11am. The first rod to go was Sam's Penn 10/0. We talked his mother Amy into taking it. Even though Amy has been involved in all this for four years or more, this was her first time to actually take the reel. She is like my wife, too busy helping everyone else to catch one herself. We strapped her in and she had a pretty good fish on, for a while. Just when she was getting the hang of things, the hook pulled. She was ready for the next one though. It did not take long. Shirley's 30w takes off on a slow steady run. Amy gets suited up and I just got out of the way and let her family assist her. I went down to the edge to watch for crossed lines. If you fish very many lines, you always have to do the under over thing. Not bad in the daylight, but it's the pits at night.
Amy did a very good job. This fish was a big load, but the 30wide is such a super set up, she was able to get it to the beach with just a lot of reeling.
Josh steps in a tail ropes it.
Amy's first ever shark. A big 8'4" heavy female Lemon.
Great family effort. She deserved this fish.
I just want to say here that Chip did not catch a big shark this trip, but stayed super busy making sure everyone around him had a good time.
Storms started moving in all around us. At one point we thought we were going to have to make a run for the house, but the heaviest of them passed just to the north of us.
Eleven year old Isaac was the next one up. Good or bad, the next reel to take off was my 14/0 that had been dropped at 600 yards. It was a long steady slow roll. I left it in the holder and threw the drag up to about 25lbs to set the hook. This just made it mad and it sped up.
I was very hesitant to turn this one over to Isaac, but his father, Josh said he would spot him, so we harnessed him up the best we could. Young Isaac had a fight and a job on his hands. Josh held him back and Sam helped him keep the rod up. I just tried to keep other lines out of the way.
It was a long battle for Isaac. It was in low gear all the way. By the time we had stopped the fish it was probably close to 700 yards out. He reeled all that line, plus a nice shark back in himself. Any of you who spools big reels know what a chore this is.
He finally got it all the way in and I can guarantee you, he was glad to see that tail rope go on.
Isaac's first ever big shark. A 9' 2 1/2" male Lemon. What a catch for this young man. Really proud of him.
Proud father.
But wait, it has a tag sticking out of it already! We were not able to see the numbers very well, so we clipped the tag and put in a new one. Cool stuff! We called it a day with this one.
Later that evening I was filling out the DNA information, so I got my log book out that I keep all my sharks in that we have tagged over the years and there it was. This was a shark I caught 2 years and 1 month earlier. I had a knee replacement only months earlier, so I had help from a lot of people on this one including my wife( who is always there), Chip and family, Troy and his father-in-law, Doc. This is the one Troy made the video of and put on Youtube. It was 9' even then, so it had grown 2 1/2" since that time. For me that made this catch extra special.
We got an early start the next morning. This was Thursday and we normally use all day Friday to wash things down and pack up. We hit them with everything we had. We ran both 30w out with 290lb test cable with 14/0 EZ Baiter hooks with small rays. Hoping some hook shy shark would pick them up. We ran an assortment of everything we had left in the bait coolers. It was well into the afternoon before anything moved. It was the silver 30w. It took a unbelievably fast run. I tighten the drag a little, but it barely slowed this fish down. Sam was up next, so I handed off to him and his dad. They had to lock down the reel to keep it from spooling them. Sam had to have his dad's help to stay on his feet. This was a powerful fish to say the least. They slacked the drag long enough to get this picture.
Then the hard fight was back on. I went down by the shore to try and keep us out of all the other lines. Sam started gaining a little line back, but then the unthinkable happens. Hook pulls. I just couldn't understand how that happened until he reeded it up. The hook had been straitened. That bait had been in the water since early that morning and I completely forgot about that reel having the light weight hook on it. We had just put more on it than is could handle. I felt terrible. Those are fantastic hook for the hook up, but they can not handle high drag. From my limited experience with Hammerheads, I believe we had just lost a big one. We all slowly shook it off and was ready for the next one.
It was late afternoon-early evening and the sun was starting make it's way toward the water. We very gradually start gathering up things. About then Sam's Penn 10/0 takes a good slow steady roll. He is back in the harness in a flash.
Chip, Josh, baby Renly and Adolphus was there to root him on.
Kristine said she would like to help leader a big shark. After putting on our gloves, we did a quick job briefing. It went something like this, you will string out the tail rope on the sand and leave it at the waters edge. When the 1200lb part of the leader gets here we will both pull until we get the sharks head on the sand. Then you will hold it tight and I will put the tail rope on. After that, you will drop the leader and help me on the tail rope.
It was a good plan. Works out great just about every time, IF YOU STICK TO IT! I did not. Leader comes in and we both grab it as planned. We start pulling it is as planned. We we got this shark in about knee deep water, five to six feet from the shore and the hook pulls out, again. This is were I completely departed from the plan. We had lost several fish this trip at or very near the shore. Sam had just lost a nice fish due to equipment failure. I still needed another DNA sample to finish out the trip. All these things led me to making one of the worst decisions of my shark fishing career. As the shark spun around to swim away, even though the water was murky, I could see the first and second dorsal and the tail fin of what turned out to be an 8' Lemon. I just could not watch it swim away and without any rational thought, I quickly jump in and grabbed it by the small of its tail. I have done this 3 or 4 times before, but they were all right at the shore Like I said earlier, this one was knee deep. I made a perfect grab on the tail, just a few inches up from the tip. I had a good grip and expected to stop the fish immediately. Didn't happen. It pulled me one step further into the water. I stepped off about a 4 inch ledge the surf had created, stumbled and fell forward toward the shark. I was lucky that I kept my one handed grip on the tail, but I gave the shark a hard push forward and fell to my knees which now put me in neck deep water. As the shark was launched forward, it turned about a 90 degrees and I am now eye to eye with one of the most ill tempered sharks we ever deal with. Our heads were about 3 to 4 feet apart. I scrambled back to my feet while keeping an eye on its head. Luckily it did not decide to come on around. Since then I have had a lot of time to reflect on that moment and realize how foolish I was for putting myself in that situation. Oh, but it gets worse. Now back on my feet I start to drag the shark back to the shore, not looking at anything but its head. In the corner of my eye, I catch some movement off to my left side. It is my helper Kristine with the tail rope who has now put herself in almost as dangerous a position as I am if not more, because if the sharks swings her way, it would easily be able to reach her. She knew that we normally put the tail rope on and since I had departed from the plan and bailed in the water with this 8' fish, that this must be common practice and if not that I surely knew what I was doing, because I had all the experience, right? She just did not know how far from normal this was, in every sense of the word.
I yelled at her to back up twice before she realizes things were not right. She was focused on getting the tail rope on and doing her part. I just wanted us both out of the water safely. If I turned the shark loose now, I would not be able to see it and at least I had some control over it if I hung on. I felt somewhat relieved as we both stepped out of the water.
Chip stepped in and helped me drag it the rest of the way out bucking and jumping.
At that point we put the tail rope on and things were finally under control. All this took place in a few seconds, but it was like forever to me.
I was a little shook. My wife was beyond shook. We got our pictures, sample, tagged it and back to the water it went.
Sam had a nice 8' even, male Lemon that at least behaved until we got it up on the beach.
Things slowed down and everyone had time to try and figure out what they just witnessed. If I were a cat, they had seen me just get through using up several of my nine lives and probably causing Kristine to use up some of hers.
I just need to go on the record as saying, this is not a safe practice. I did not know how unsafe until I was in it. Not only did I endanger myself, but I also endangered Kristine who blindly followed me thinking I was using good judgment. I also set a bad example for those young men who at the time thought it was cool. I scared Adolphus and Eileen, but worst of all, I scared my wife, who with all her experience knew just how close of a call the whole thing was. To all these people and the other parents, I apologize. It is just too easy to get caught up in the moment some times.
As things calmed down, my wife quietly pulled me to the side and made me promise to never do that again. I promised that unless the situation was under control, I would never step off in the water with another shark.
What a way to end a trip. We all stripped our gear from the beach. It was getting dark now. We washed things down a bit and called it a day.
The next day, we all spent the day cleaning and loading up. This is always a sad day for me. It is also the day I decide I carry around way too much gear. I am gradually cutting down on the amount every trip. Someday I will have it down to the absolute basics, but not yet. We all got packed and got together for an evening meal. We all said our good byes.
My wife and I headed out at daylight and made the 720 mile trip home. At least it was uneventful. We made it home just after dark that evening.
Thanks to my wife who handles most everything you don't see. She takes 90 percent of all the pictures you do see. She takes care of all the paper work on the beach and keeps the DNA sampling strait. Without her I would not do this.
Thanks to all our friends and family that work to help us make these trips.
I hope all of you can learn from my mistakes. Don't ruin the sport you love by a serious injury or by taking all the fun out of it for your partner.
Thanks to everyone that keeps the site going. Thank you SOS.