Going to try to keep this as short as possible, phone has a spiderweb screen. Makes it extremely difficult to upload images and what not.
It was an absolute phenomenal year for us in 2016, we decided to cap off 2016 with a early December panhandle trip. With work and daily life shenanigans, this would be my first and last trip of the winter season. As usual we planned our trip during the middle of the week, it was a peaceful few days fishing with no one around. Mother nature provided us with flattened choppy seas, 20-30mph North winds, and 20-30 degree low temperatures. BRUTAL! The dusky bite was exceptionally slow compared to last years winter, but we managed to hammer out 7 or 8 duskies on this trip all over 8'. It was a chilling grind, with somewhat consistent action. The biggest going a little over 10' with a monstrous girth! One of the bigger 9' class duskies decided to give us an epic air show. As i was entering the water to leader this fish, the most breath taking scene unfolded.... About 20-30 yards in front of me, this dusky decided to completely leave the water! it was unreal! She had to of cleared 8-10' out of the water, and it just so happen that everyone was watching. No one missed this awesome sight! It's one of those memories that gets permanently engraved into you memories. The only downfall was that it wasn't recorded! Needless to say we have a few Gopros for the 2017 season haha..... That trip wrapped up the 2016 season for us, we were extremely blessed to see several big fish. I believe we put 9 or 10 fish on the sand that hit the 10' mark and to many 7-9' bulls and lemons to count! Everyone got to see and experience a fight with big fish, we all had the magic going for us! Here's to an awesome 2017 season!!!!!!!! Hope everyone enjoyed the reports!
Here are a few pictures that i have from the trip, i will not include the barrage of 6-7' pesky sandbars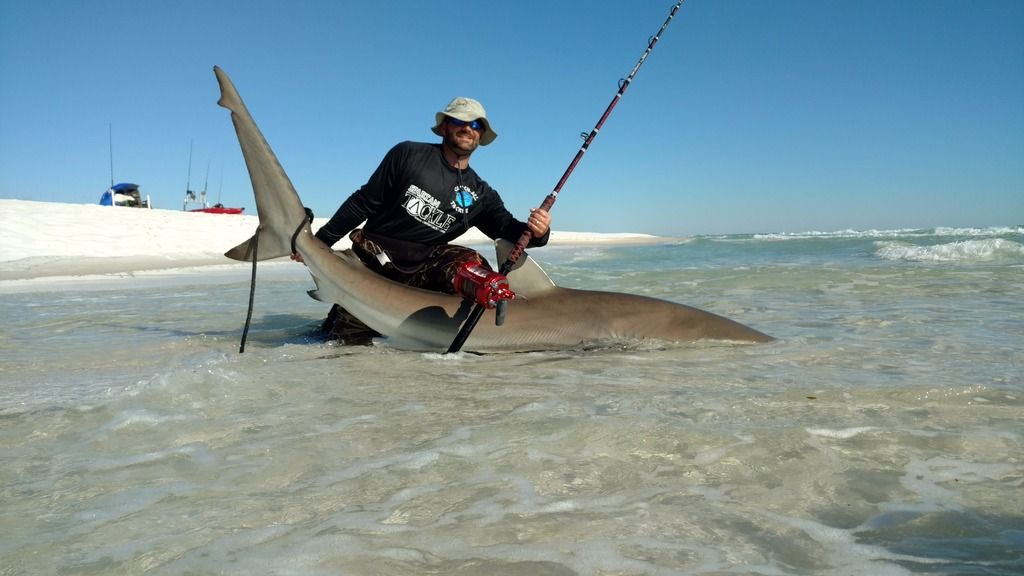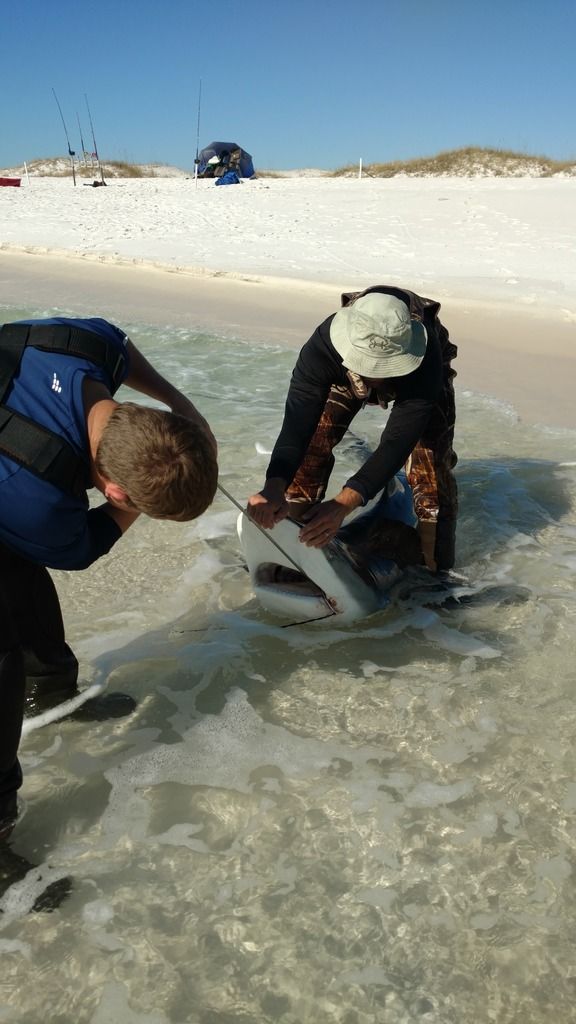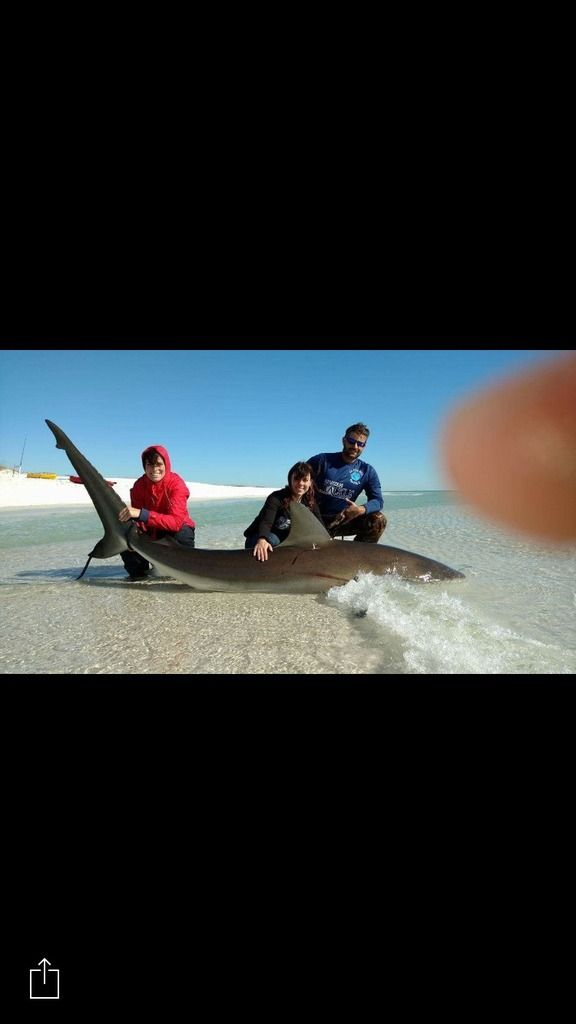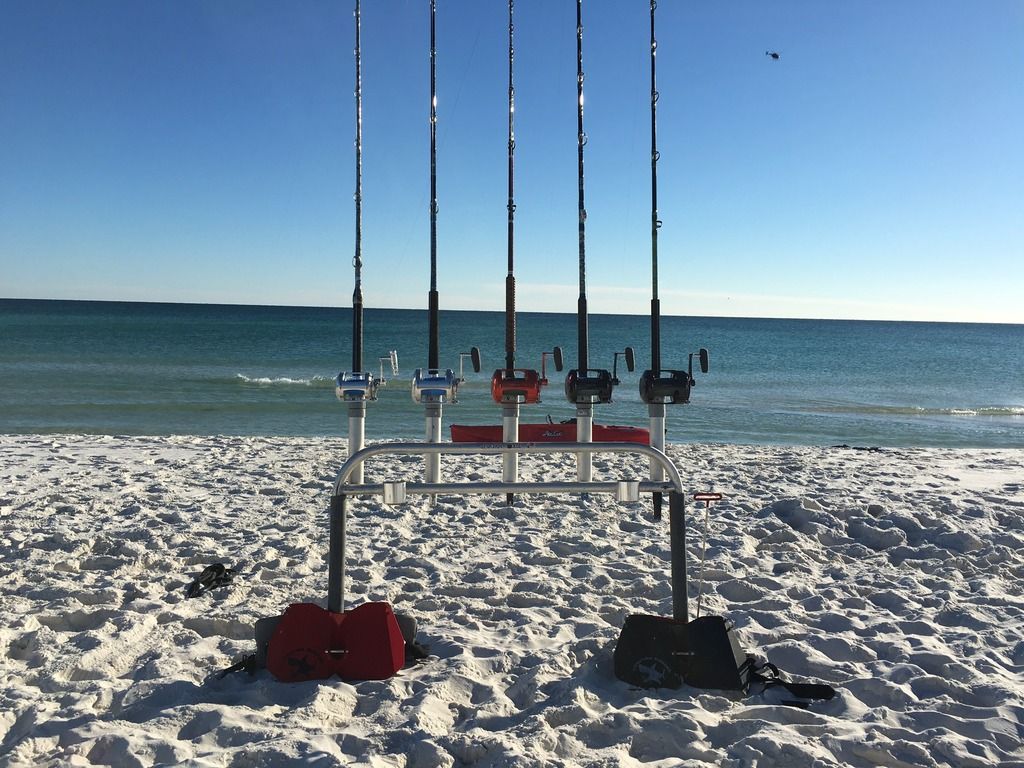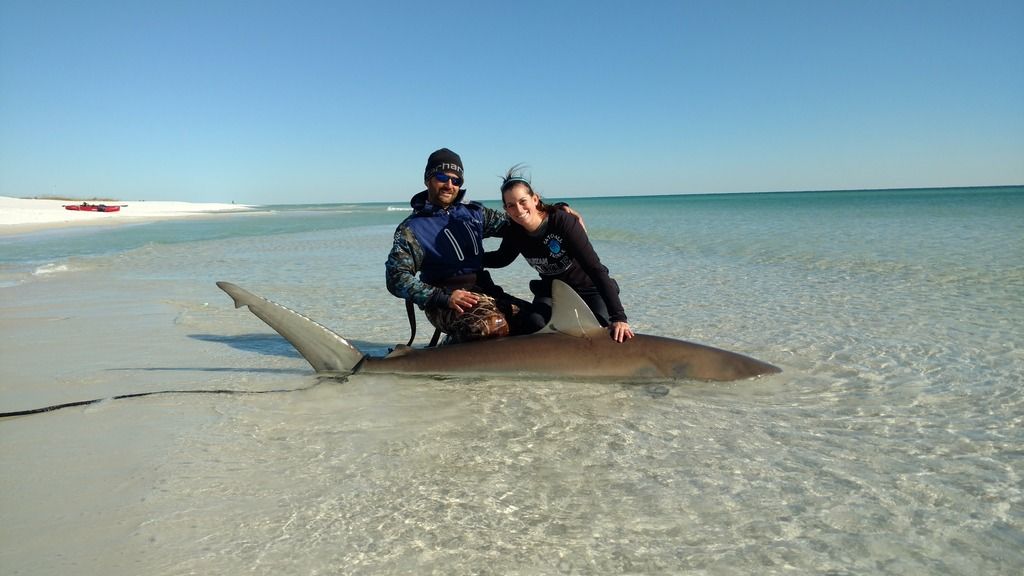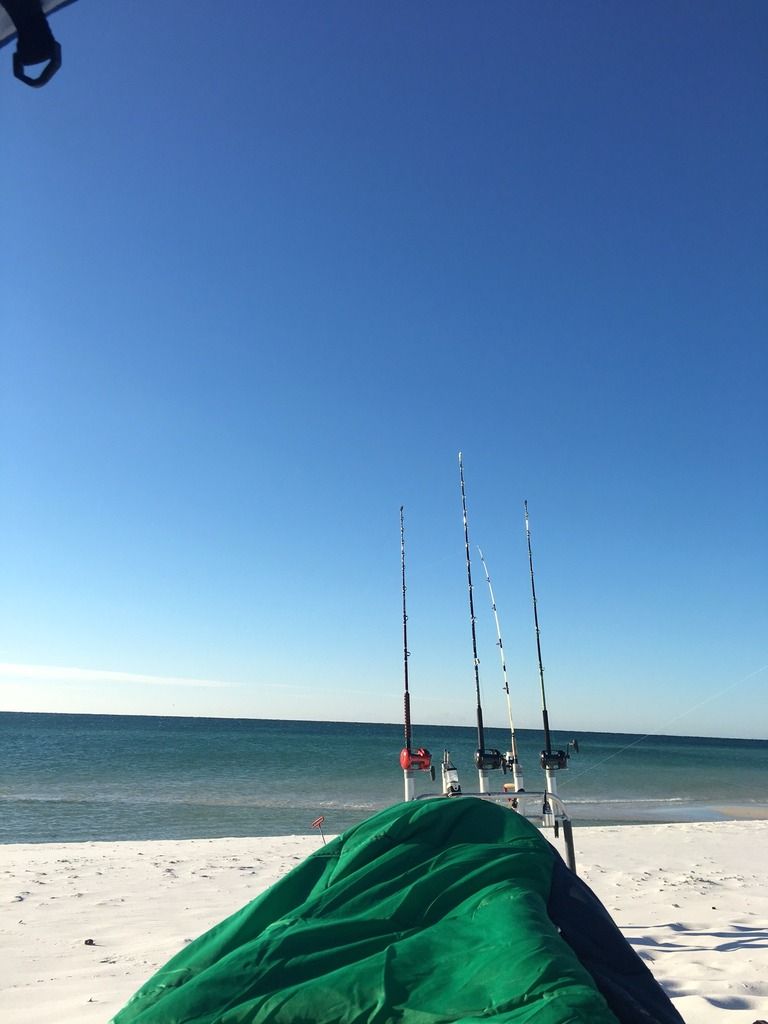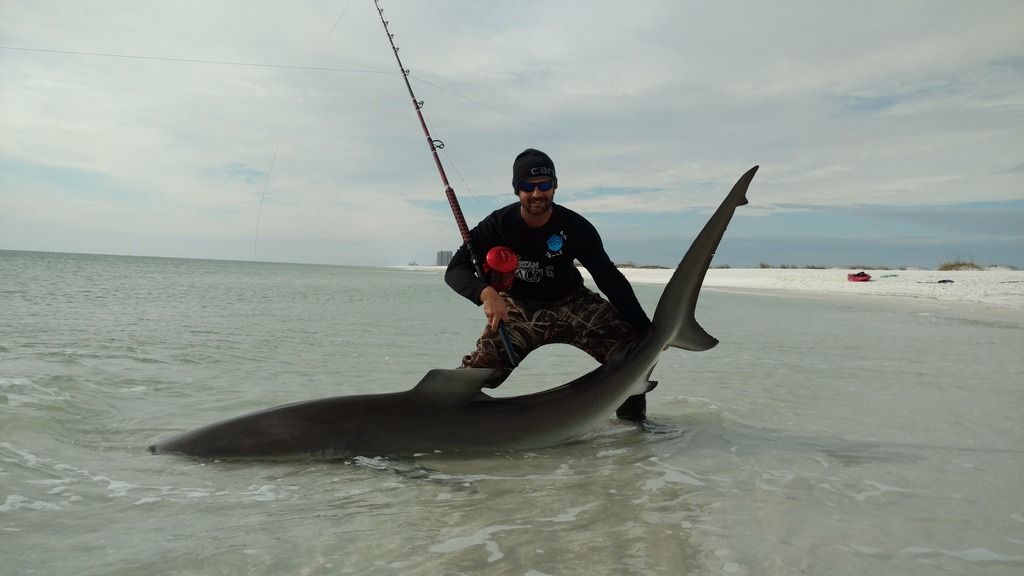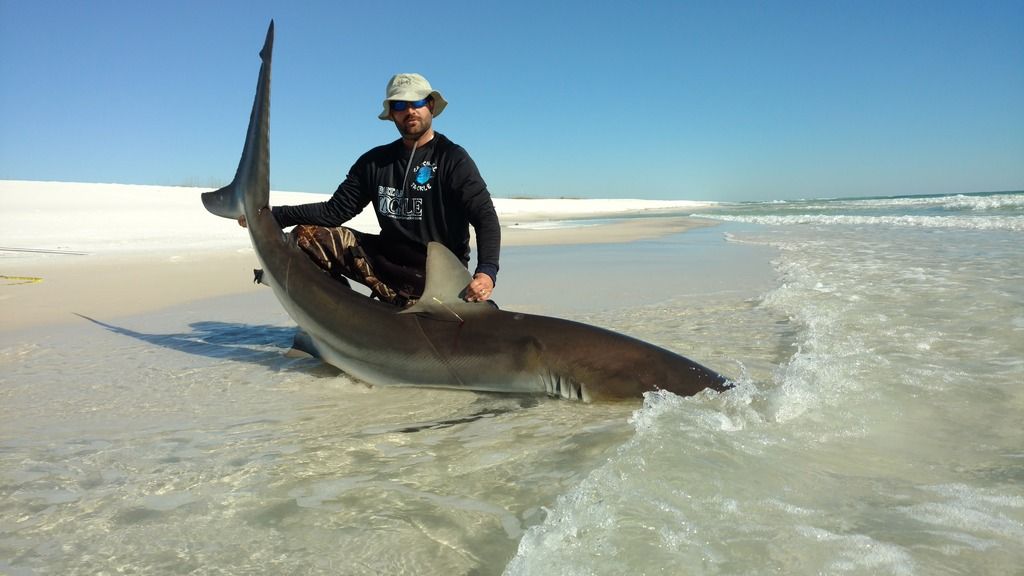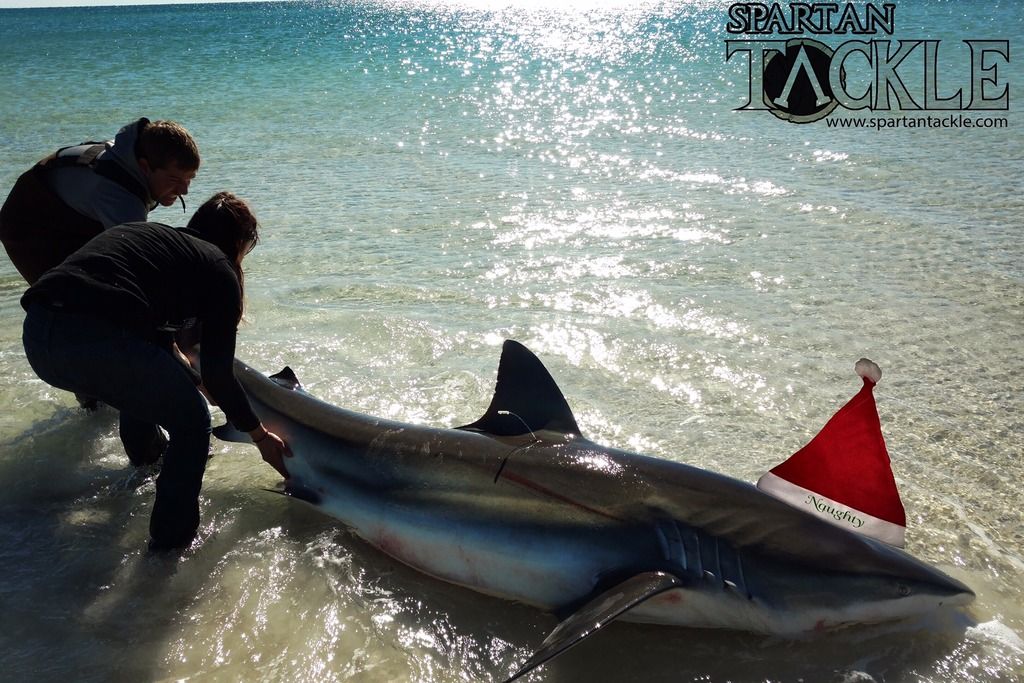 DINOSAUR Dusky!
Side note, thought i'd share an extremely rare catch with you guys by one of my friends....He was fishing a little ways down the beach from us, he struck a holy grail fish. The elusive short fin mako, and an absolute dinosaur at that! She went 11' on the dot with a 74-76" girth putting her at an estimated 700-800lbs!! Unfortunately she was gut hooked and did not survive the fight. She was harvested by all of us and the SOS legend himself got to help harvest/process her as well! It was good seeing Troy again, hopefully we will see you around when you get back from work!