TIH: Skunk – Funk – DUNK!
If you've been following, you know that I'm currently in the middle of a year-long near-skunk streak. Been going out every weekend, and in the past 12 months I've nabbed a shark for a grand total of 3 nights: the last weekend of may 2016 (8.5 foot Lemon), 1st weekend of June 2016 (8.5 foot Lemon), and mid-October (yet another 8.5 foot Lemon). Yup. That's all I got to show for every single weekend for the last 12 months.
And, honestly, it cast me into a major funk. That funk has deepened over the last few months, heightened by the fact that for 5 weeks in a row I was beset by newbies fishing with me, dropping the same thing right next to me and nabbing sharks. Nothing spectacular, but still sharks. Which is more that what I was getting. The last straw occurred when a newbie's friend, who sustained only a mild faddish interest in the sport (seriously, he'd just as soon have been anywhere else doing anything else than sharking), dropped his bait and had an instant shark on the moment he stepped out of the water. I ain't gonna lie, there were a few instances in which I got within uncomfortably near proximity to desertion.
Well, I almost didn't go. I know, I know, you've heard that one before – ALL my best "got one" stories seem to begin that way. But that's because it seems I tend to nab them on the outings in which I have to struggle to make myself go. (And I don't have to force myself a majority of times either). This time I was dead-beat from work, beginning to get sick, and, to top it off, my wife thought she might possibly be coming down with something also. All adds up to not going, right? Well, she convinced me to go. So I converted all those excuses for refraining into impetuses propelling me out onto the sand. If I was tired from this week, then better go now before I work next week and grow even more weary. If I might be getting sick today, better go now before I get actually sick and can't go later. You get the picture.
So I busted out the small gear (two 12/0's and a 50w) and went.
Upon arriving, I was greeted by a sight that about made my heart sink – a fleet of shrimp boats patrolling the shore about 100 yards out! [Note: see "Lo-Guesstimator" discussion below.] Now for those of you who don't know, sharks are attracted to shrimp boats like flies on cowpies. Where I fish, if you see a shrimp boat in the water, you AREN'T going to nab any sharks, as they're ALL up under that thar boat. Well, I didn't drive 2 hours just to turn right around and drive back with my tail between my legs. I decided to turn it to my advantage – if the shrimpers were catching there, then that must mean that the food chain was exploding very near shore, which in turn would mean sharks exceptionally close in. Besides, with the boats so close, I just might be able to drop near enough to them that I may lure one of the myriad sharks under them onto my bait. I just had no wish to become tangled in one of those gargantuan nets.
So, I loaded up bait on the vintage 12/0 mounted to my favorite rod (a mystery vintage one) and ran out a bait 300 yards, as the boats had seemed to all pass by. But, by the time I had rigged up the second one, the boats had returned for another pass and forced me to drop at 200 yards. This second rig was a new 12/0 (they're making them again) on a new Davis Big Game detachable two-piece 80-100# rod. Man, that rod is NICE. Can't beat it for the price, and it breaks down to fit in tight spaces, then solidly screws back together. It was my first time using that reel and/or rod.
Then I rigged up the third (and last) setup, a Squall 50vsw on a Mariner 30-80# rod. No sooner was I about to place the bait in the yak to run it, when I hear the unmistakable sound of the clicker on my brand-spankin-new 12 bursting into the crescendo of a massive roar. My head did the quickest swivel on record, only to behold that brand-spankin-new rod bent down under the auspices of a massive shark! YEEESSS!!! My first shark in forever, and it's on the awesome new rig, to boot! Sweet! It'd been so long since I had a shark on, I barely knew what to do, LOL. I ran over without even grabbing my landing bag. A few seconds into the fight and – BAM – line slack. Maybe he's just charging the beach...furious reeling in....When the leader finally emerged from the water, I reluctantly dropped the "maybe he's STILL charging the beach" charade. Even when I grabbed the leader, however, I was still kinda hoping. No dice. Turned out that joker had absconded with the bait.
Now this REALLY set me off. My first hit in months, despite being out every weekend, and THIS occurs! In addition, for those of you who don't know, even when not in a skunk streak, I have a practical zero missed hookup rate. Not even close to kidding. I've had a few cutoffs, but this is literally the first time since I was a newbie that my clicker has turned a click without a shark ending up on the sand. Seriously. First time. Thus, the fact that in a year-long near-skunk streak, I get teased with my first ever missed hookup, spun me off into a realm of irate vexation heretofore unknown amongst mere mortals. But, once again I decided to suck it up and look on the bright side – Hey, this means they're out there hitting what I'm throwing, so why not re-drop another of the same bait in the same place and nab him on the second go round? At this point remember that I only had 3 rods, and had only managed to run 2 before that hit – which meant that the first rod was the only one still left in the water. The 3rd one was literally ready to go when the 2nd got hit. So now I had to decide if I was going to run the 3rd one (which was ready) or re-rig this 2nd one and run it first. Since I had a different bait on this one (which got hit), I decided to re-bait and re-run this one first, even though the 3rd one was ready to go.
Just as I got it re-baited and ready to run out, I heard a that ole' familiar tune humming from my vintage 12. Turning, I saw the rod bowed over in that sublime dance. This time I was ready – I grabbed the landing bag and harnessed up – fish on!!! Now THAT'S more like it, baby! Man, this feels goooood! It's been too long.
I was way more tired than usual when I finally got him up to the first bar – it took several attempts to coax him over. The whole fight, I was calling it for a sandbar. When I finally got the leader in hand and dragged him up – WHAAAAT??? There before my eyes was a TYGA! Wow, I had seriously not expected that.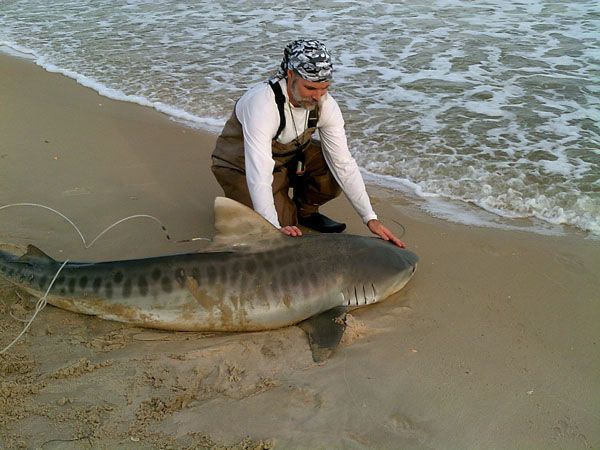 Eyeballing him, I called him for about a 6 footer, no more. Then got the tape out and – as per usual – taped out at exactly 8 feet on the nose. I don't know what it is, but I always – I mean ALWAYS – call a shark about 2 feet less than he really is. Never fails. That time I helped Troy land that 11'7" Dusky, I surmised it would not exceed 9 feet. And it ain't just sharks, either – I once yakked "300 yards" out, and couldn't go any further. Hmmm, must've got a bird's nest or a tangle at the reel? I dropped the bait and when I got back to shore, I discovered that my reel (containing 650 yards of line) was exhausted all the way down to the arbor knot. Perchance my new nickname should be "Lo-Guesstimator" LOL. I guess I just see things smaller than they really are. I mean, seriously, I'd have never believed that my manhood measured 12 inches – but hey, the tape don't lie. By the way, why does the tape identify inches with the symbol "mm"?
Anyhoo, got him measured, tagged, and took my first ever DNA sample (harmless small fin clipping)! True to form, I had to cut the hook and pull it through because Tigers never seem to want to open their mouths when it's time to get the hook out. Seriously, they become as tight-lipped as toddlers in the presence of a toothbrush.
After the release, a man and his 7-8 year old son approached me and related that they had just arrived from a lengthy car trip from the midwest when I landed that shark. The father related to me, "My son came around the corner ahead of the me and said. 'Dad, I think there's a shark on the beach!' to which I replied, 'NO son, there's NOT a shark on the beach.' Then I came around the corner." We all had a good laugh.
Man, I tell you, that shark wore me plumb out. I ain't no spring chicken no more, y'all. After I recovered, I decided that I'd run out my baits again. Since the other 2 rods were ready to run, I went ahead and ran them, but the shrimp boats had come in even closer, so I had to run them at 100 and 150 yards. Then I re-ran the first one again at 300 yards after the boats left. And, for the first time in my life, I had used the last of my bait. I have literally NEVER run out of bait before. Ever.
I dropped the bait 300 yards out and pulled the yak back up to shore. The same guy attempted to begin conversing; however, about 10 seconds into it I got distracted by a large splash about 300 yards out in front of the rig I just ran. "Did you see THAT?" I rudely interrupted. Then, before I had a chance to put it together that this gargantuan splash occurred in the same location I had just dropped the bait a minute ago, I noticed the rod prostrate itself like Jesus was walking by, followed a second later by the grinding hum of line peeling off the reel. Man, that is the first time I have ever actually SEEN a shark hit my rig! I couldn't believe it!
I grabbed the landing gear and got to the rod just in time to see it pop up like I was the Drill Sargent calling it to attention. Yep. Another cutoff. He only managed to take about 20 yards of line plus the leader. Nice clean cut too. That makes me glad I use sand-filled burlap bags tied with cotton twine for weights. The weight will either shed when a shark hits it (this normally occurs 9 times out of 10) or the sand will work its way out after being dragged a few hundred yards. Either way the fish isn't dragging the weight, which greatly increases the chance of survival. In addition, it's all natural stuff (sand, burlap and cotton), which won't pollute the ocean. On top of that, empty bags are REAL easy to carry – light and don't take up any room. At 60 cents apiece, I've saved a ton over the past year – I've been re-using the same 4 bags all year. Also, I can instantly customize how much weight I want by how much sand I put in.
Well, that was the last hit of the night. When the tigers come in, it's like a switch flips and the bite heats up for 2 hours at a certain distance from shore, then BAM, the switch flips again and it's crickets chirping. Ya never know what day it's going to be, except that it's only one or two days a year.
Well, it feels great to finally break this skunk! And, no matter how many years you do this, each trip will always yield something new. This trip saw my first missed hookup since I was a neophyte, first DNA sample, and the first time I got to see a shark hit my rig. I'm back in action, y'all! Tight lines!
Sincerely,
Lo-Guesstimator