Time finally rolled around for our fall shark fishing trip. My wife and I planned this trip more than a year in advance. That is a long time to wait, plan, hope, prepare and work to arrange things to make it happen. We planned to stay 6 weeks strait if everything came together and it did. All I can say is, be careful what you wish for. By the end of week four, this trip was turning into WORK.
We stopped by the FSU Marine Lab and met with Dr. Dean Grubbs to pick up our DNA sampling kit. He is very interesting to talk with and he usually has shark rash in several spots he is dealing with himself. He is very busy but always takes the time to visit with us. Lots of good information.
This trip was different than any we have had to this area. We got there September 16th, about two weeks behind hurricane Hermine. The area had minor to moderate damage. Most of the homes were ok, but decks and docks really took a hit. We started our trip by dismantling a dock and removing other debris that had washed up on the beach in front of rent house.
We finally got started fishing about September 18th. The weather was clear hot and humid. The surf was very silty/sandy. We caught a few rays and sail cats. We put the rays out on our shark rods and had a couple of good runs with no hook up. We knocked off at sundown.
The next morning the water had cleared up tremendously. It was as clear as I have ever seen the water there and it stayed that way for about three weeks. With this clearing, we could get almost nothing to bite. Lots of mullet of all sizes were swimming through and we did cast net lots of them. I rigged the big ones as bait, but no takers. So it went for our first week.
The second week, two houses down, two couples from home arrived with their kids and we all went work trying to make bait and catch some sharks. They were able to gig some rays in the bay.
Shirley finally got us started with the first shark of the trip. Thirteen year old Sam gave her a hand.with a 5'3" blacktip that did not want to settle down.
Shirley did not want to get very close to it. I don't blame her. I have lost lots of skin and got lots of bruises from blacktips.
Next my Everol 14/0 goes off and I turn it over to Sam. This was a huge set up for him, but he reeled it in non-stop.
He had a 6'2" bull.
A little later the same rod takes off again. We harnessed Sam up again, but this time it spit the hook.
We caught nothing the next day even though the other couples were fishing around the clock. The next shark caught was Chip up with a decent 5'9" bull.
That was it for me and Shirley that week. Chip and his crew caught a few more that I don't have pictures of. It got down to their last day. Their plan was to spend the whole day packing up and leave out before daylight next morning. They went ahead and ran one line out and let it sit all day while they pack. Late afternoon it took off. They caught their first tiger. Shirley and I had made a run to town and got back just in time to see this beauty before they released it.
This is Chip and his two son's John and Sam. Wife Amy taking the picture. A beautiful 7'4" tiger.
They headed home the next day. Shirley and I took it easy for a few hours while waiting for the next group to arrive.
Late afternoon Don and Denise (Poppi Piscator) and Bob and Layla (Blue Collar Bob) arrived. We visited for a little and then got down to fishing. Shirley and I had fished with Don over the past several years, but it was our first time to meet his wife Denise. It was also our first time to meet Bob and his daughter Layla. Water was still clear. Weather hot and humid.
I have to say, the week they were there the fishing was still slow, but we had a good time and Denise fed us all very well. Bob and Layla fished around the clock 6 out of 7 days. I was super impressed and a little envious of him getting to spend that much quality time with his daughter. I was heart warming.
We all worked together to make bait. Fishing was still slower than slow. We caught a few small rays and assorted fish on the bait rods. Just enough to keep us going. Then Bob caught a BIG ray on his trot line and we had fantastic bait for a while. Bob and Layla continued to fish around the clock. I only caught one 5' blacktip for the entire week.
The big story for that week was Layla's 8' Lemon. Great catch and we all got to watch father and daughter work together on this fish. Good time. Maybe the biggest highlight of our whole trip.
Week three ended and it was down to just me and Shirley again. We took a couple of days off and I made up some new leaders out of much lighter material.
I always pick up something new fishing with folks from other areas and this was no exception. Bob was kind enough to share a new hook he was using for his trot line and casted rigs. It was a Mustad Easy Baiter 12/0 and 14/0. I made a new set of drops for my trot line with the 12/0 and made up some stealth bite leaders with the 14/0 hooks and Sanlo 270lb coated cable. This is what I caught half my sharks on for the remainder of our trip. I must say though, they are not tempered and could be bent pretty easy. My dehooker would turn them into a pretzel, but they would hook any fish that even looked at them.
We now had a cold snap come through and the water had to have dropped by ten degrees over night. It got sandy again. The mornings were very cool and the fish kind of turned on.
One note, during the past week of fishing, Don and Betty arrived and we spent our time catching up on the events of the past year. They own the house in between the two groups of us shark fishing. They not only tolerate us, but help us everyday. They stayed until October 15th.
As luck would have it, our friends and neighbors for the past few years, Adolphus and Eileen arrived just in time to fish the last two weeks with us. We very much appreciated the help and company.
We caught several sharks on the lighter sets ups while my two Everols sit idle. I had rigged Shirley's Avet 30 wide, a penn 6/0 and two penn 10,500 V spinning reels with the lighter rigs. I have to admit, these bite leader were Davin's idea. I stayed in touch with him by text.
We started off with me catching a 7' even Lemon on the Avet 30. Our luckiest reel.
Next up was one of the Penn 10,500 on a 7' 30-50 rod. This was a lot of fun, at first. This was just a small 4' 5" blacktip, but man it was fun.
I ran it back out and it got slammed again. This time I had more of a fight on my hands. This was a 6'1" Bull.
It was a real blast. You had to pump and reel with this set up. That was it for the day and my arms were sore. I was not used to reeling that hard with my left arm.
The next day I ran them all out again. Once again, the first one to hook up was the big spinner. I reeled it for a while and could tell it was another nice shark.
A young family had rented the house Bob and Don were in. They were very friendly and curious. I decided it was time for him to get a hold of his first. Shirley ask him if his was ready and he jumped right in there.
His name was Ryan and he had a big time catching that fish. His family was in awe of the 5'10" Bull that he had just caught.
They took lots of pictures and just as I drug it back into the water, my Everol 12/0 finally woke up and let out a big scream. I ran, grabbed my belt, got strapped in and went to work. This was a decent shark. Put up a fair fight. It at least made me use low gear. 7'2" very heavy bull.
Things slowed for a bit, then Shirley's 30 wide goes off again. Did I mention that it is fast becoming my favorite reel?
This was a 5'11" bull. No problem for the 30 wide.
We took a day off and changed up the gear a little more. I put the two big spinners on two 12' surf rods I had.
Fishing fell off again and it was four days before we landed another shark.
My birthday rolled around and we got started fishing early on a cold October 17th morning. I have been wanting to break the ten foot mark and I thought maybe today, but I think that every day.
Shirley started us off with a 6'2" bull. Her personal best bull. She did a great job with it.
Adolphus came out and joined us that afternoon and he caught his first shark of the year. A 4'2" blacktip on the 30 wide, but we were happy with anything after our four day dry spell.
About 6pm we decided we were ready to call it a day, but just then one of the big spinners take off. I offered it to Adolphus and was quick to jump on it. I just hope I'm in as good a shape as he is when I turn 76. He did have his hands full with this one. He worked on it for a while and finally landed this 5'10" bull.
We took a day off and started back on the 19th. We had started catching small whiting in the edge of the surf with the cast net and they made some real good bait. I had a big run on one of my bait rods. It turned out to be a 36" Bull Red. Great fight, but I was hoping for a big ray.
Next we had a run on one of the big spinners. I got to reel in my first fish on the 12' set up. That was work and I have a new respect for anyone using them. This was just a 4'5" blacktip.
On our day off, I had really got crazy and put my magged penn 6/0 on at 15' ungly stick. I had cut the but off a little, but it was still crazy long. I threw it out in the first gut with a small piece of ray wing on it. It took off about 4pm. I grabbed it and thought I would just use my small surf belt. No way was that going to work, so I put it back in the holder and got my real belt and plate on. It was crazy how much leverage that fish had on me.
I got it in and it was another Bull, 6'4".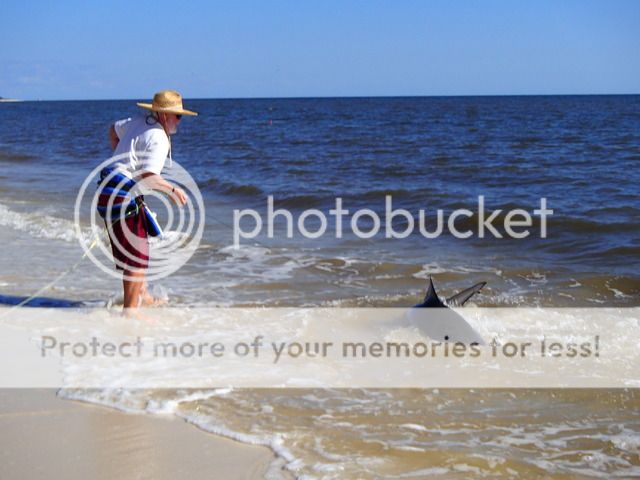 I retired that rod and reel to the cart immediately. I put the reel on a 5' 30'-50 the next day.
We took another day off and started again on the 21st.
We caught 4 blacktips that day. Nothing big, but at least we were catching something. Shirley was first with a 4'1".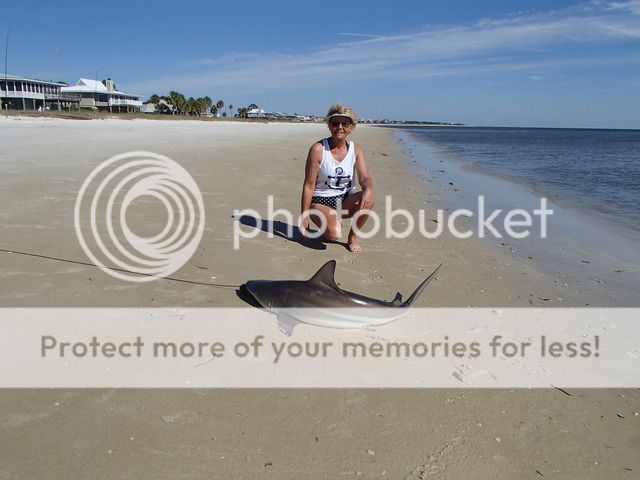 Me next with a 5'7" that came in super green and thrashed me on the beach. I had a bruise on my arm that lasted me about three weeks.
Adolphus caught a good 4' Gar on an 8" mullet. Crazy! We did not know what it was until we had it all the way on the sand.
We also cast netted a few big shrimp. It took about five throws to catch one shrimp.
I caught a blacktip just big enough to pull the weight loose. We still tagged it and got a DNA sample.
The last one for that day was on one of the big spinners. Adolphus picked it up, but could not do anything with it with the small belt on. I held it while he put on a big belt and plate. It was pulling like crazy. I had a strap I was wanting to try out for the spinning reels and this was a good time. We hooked the strap around the rod and then he was able to use the harness also. The shark running hard right. Of course it was the rod all the way to the left of our spread. We had to do the over under thing with 5 other lines, but made it out the other end just fine. Adolphus finally worked it in close enough for me to get the leader. By this time we knew it had to be a monster. As I pulled it from the surf, I could hardly believe my eyes. It was a 4'5" Blacktip. When I looked closer. It was foul hooked on it's right pectoral fin, right on the tip. You can tell by the look on Adolphus's face he could not believe a shark that size could put up that kind of fight.
We started again on the 23rd. Out of bait, we ran out the trot line. We ran it twice that morning. I paddle it out and Shirley reels it in. On the second set, we were just about to bring it in when it went wild. We use a heavy weight with stiff legs as an anchor on it. We knew it had to something good size just to pull it loose. Shirley had to reel it in fast to keep it out of the other lines. It ended up being our biggest fish of the day. A 5'11" heavy female bull. Caught it on a mustad 12/0 easy baiter hook.
Around lunch, one of our neighbors from down, brought a lady photographer to meet us. Her name was Linda Burns and she was making a documentary on the forgotten coast and wanted to know it she could visit with us and watch us catch a shark. We agreed, but the sharks were not having any part of it. I thought we were not going to be able to produce anything at all, but Shirley and her 30 wide caught another 4'5" blacktip. We also caught an Atlantic Sharpnose about three feet long that we saved for bait. We fished until well after dark but could not catch anything bigger for her. She did get some cool pictures These next several pictures are hers.
We fished again on the 25th. We had out an entire spread but nothing was biting until about 1pm. Something picked up my bait on the Everol 12/0, moved it about 20ft then dropped it. About 1:30 it did it again. About 2 it picked it up and kept going this time. I had it set on 30lbs drag in the holder and it was steady peeling off line while I got suited up. Davin built that rod for me several years ago and that was the first time I had seen it really bend. It was hard to concentrate on my belt for watching the rod bend.
I made sure I had all the straps in the right places. Then I slacked the drag on the reel long enough to get it out of the holder and get strapped in. Pushed the drag up to about 40lbs, then it was stop and go for a bit.
Then I started gaining on it. Troy always says, enjoy the moment, well I was definitely enjoying the moment. This was the first shark I have had on my Everol that felt like could have drug me off in the water had I lost my footing. Eileen and Adolphus was out on the beach with us. Eileen could not stand the fact that no one was hanging onto my belt, so she stayed right there and when it pull real hard, she would grab the handle on the belt. Adolphus got the tail rope ready while Shirley grabbed the rest of the release gear. This fish would run a little then come up on top and thrash, then fight some more all the way to the shore. It really put up a good fight.
After it's first couple of rolls on top, I had guessed it was a tiger and as we got it close in, it was confirmed by a monster tail fin sticking out of the water. We were all excited. When I got to the leader, I put the rod back in the holder(metal holder) and helped Adolphus leader it in. He held it while I got the tail rope on her. Then he and I drug it as far as we could.
She was a beautiful 9'2" female Tiger. Not a monster to most, but this is my PB tiger and the heaviest shark for me.
She was probably an inch or two longer, but we could not get her to straiten out.
Shirley and I got her tagged and used our last DNA sample.
Now time for her to go back! Man am I glad we did not get her all the way out of the water. It was a chore.
She was a little slow to take off, so I walked her a bit and away she went.
Thanks to Adolphus and Eileen for the help, but most of all thank you to my wife for allowing me this crazy hobby and joining me in it. I'm blessed that my best friend is my wife and fishing partner. She knows what she is doing and I'm very proud of her. That was it for that day, but what a great fish.
We were getting down to our last few days of the marathon trip. We fished next on the 27th.
Rods out all day, but Shirley's 30 wide is the one that takes off. It was a strong run. Shirley got her belt on and Adolphus backed her up.
This one put up a pretty good struggle. Shirley still made short work of it. Something looked odd when we pulled it out. Then it hit me, this was a Sandbar shark. I did not think the water was cold enough, but I checked and it had an inter-dorsal ridge. It was 6'9" and a new species for Shirley.
We had trouble getting it to settle down on the beach. Shirley stayed way back for the picture to keep from getting slapped. This was supposed to be our last day. We will be packing all day tomorrow.
Well, tomorrow came, we started packing up and I could not help but run out my Everol 14/0. That was it. I ran it out with the center section of a good size ray on it early that morning. It set there until 5pm then took off. No fooling around on this one. I had the drag set about 30lbs and it was peeling line. Shirley heard it go off and yelled at me. We both ran to the beach, grabbing gear here and there that was all out of place due to the packing. Thank goodness my wife had that end of it under control. Again this one was a heavy fish. It fought me all the way in. Once again we see the big tail come out of the water and we can hardly believe we have another tiger on the line.
Adolphus and Eileen had seen us running to the beach and came to give us a hand.
We pulled her up in the shallows, but she flipped and rolled her own self out on the sand. This was another female Tiger 8'5". She did not want to settle down.
She scuffed me up a little, just enough to make it sting when saltwater gets in it, but not enough to really take hide.
We got her back in the water and she was gone.
That was it for the longest fishing trip we have ever been on and probably ever will be on. About four weeks in, we felt like we had had enough, but I'm glad we stayed until the end. We got to see the season change and the different fish that came with it. I got my fill of dragging gear back and forth to the beach. I want to thank everyone that helped us, at the beach and especially at home.
I also want to thank everyone at my job for covering for me. I owe you.
I want to thank my wife again for hanging in there the entire time.
Thank You SOS